..:: The Subaru Impreza Story
1. The Subaru Impreza Story, as told by me
2. The History of the Subaru Impreza
3. Special Editions
4. Image Galleries
5. My 2001 Subaru Impreza WRX - Red Mica
---
..:: The History of the Subaru Impreza
Subaru is a subsidiary of Fuji Heavy Industries. Which was originally Nakajima Aircraft back in 1917. It's wasn't until 1954 before Fuji Heavy Industries took on the challenge of building a road car. The name of this car was the P-1 (Nothing like the modern Subaru Impreza P1) which stood for Prototype-1. This name was later changed to the Subaru 1500. And here the Subaru was born. The name Subaru Closely translates to reference the star cluster Pleiades, which is the same famous star cluster that we see make up the subaru logo today. over the decades Subaru continued to build motor cars and in 1972 made it's first 4WD car with the Subaru Leone 4WD Station Wagon. From that point onwards Subaru made something for a name for it's self in the 4WD motor car department, almost like a trade mark. Think Subaru, think All Wheel Drive. However it wasn't until 1992 that the Subaru Impreza was born. So let's pick up the story from there.
1992
The Launch of the Subaru Impreza (Japan) The Subaru Impreza was developed after rule changes in the World Rally Championship (WRC) demanded a replacement to the Subaru Legacy which was previously used by Subaru in the WRC. The changes meant that a new smaller, lighter and faster car was required in order to compete in the WRC. So even from day one, the Subaru Impreza was developed for rallying.
1993
The Subaru Impreza reached the UK. Initially the Subaru Impreza was available in both Front Wheel Drive (FWD) and All Wheel Drive (AWD) versions. However the FWD was soon dropped in preference of the trademark Subaru AWD system.
1994
The Turbo Charged Impreza 2000 AWD reached the UK (Known as the Subaru Impreza WRX in Japan). Also in 2004, Subaru Technica International (STI) was born and we started seeing STI versions of the Subaru Impreza Turbo. The Subaru Impreza WRX STI meant much more than an extra badge on the body. The STI stood for a full upgrading of the Subaru Impreza Taking was was learned on the World Rally stages and incorporating developments into the road car. Many areas were upgraded for the Subaru Impreza STI versions. Engine, Suspension and overall performance and handling greatly improved over the standard car. Top speed was limited to 155mph and 0-62 came in at just 4.7seconds for the Impreza STI. These figures made the Subaru Impreza very sought after by the local boy racers. Albeit a bit more expensive than the your every day Peugeot 205 and Vauxhall Nova.
1995
Subaru won the World Rally Championship in a 555 WRC Subaru Impreza driven by fellow Scotsman Colin McRae. A brilliant achievement for both driver and manufacturer. Driver Colin McRae for being the first ever British driver to win the WRC, and Subaru proved that the Impreza was a World Leading rally car. To mark the success of Subaru winning the WRC championship that year, a special edition Subaru Impreza was released in the form of the McRae Series Subaru Impreza.
1996
Subaru took the manufacturer title for a second year in a row, and promptly released another special edition Impreza knows as the Subaru Impreza Catalunya.
1997
Subaru won a hat-trick of manufacturer championships and celebrated once again by releasing a new special edition Impreza. The Subaru Impreza Terzo (Italian for 3rd). Only 333 Subaru Impreza Terzos were made, as a mark of the three championships won with the Subaru Impreza. 1997 also saw a few changes to the Impreza road car. Interior styling was updated including an exclusive MOMO racing steering wheel. Meanwhile STI versions were given an newly designed rear spoiler. In Japan a special 2-door coupe Subaru Impreza was released which was used as the 1998 WRC car.
1998
The Subaru Impreza 22B. A label that often conjures up thoughts of what the ultimate Subaru Impreza might be. The 22B (Note: for the computer geeks out there, 22B in hex converts to 555 in decimal.) provided a 2.2l boxer engine, more hardcore styling all round including 2-doors instead of 4 and an adjustable rear wing made up just some of the key features of the 22B. Only 400 22B's were made in order to celebrate 40 years of Subaru and only 16 of those were destined for the UK. I've seen three in total!! UK versions also had tweaked gearing which was specifically optimised to UK roads. How cool is that!
1999
To celebrate the new driver lineup of Richard Burns in the Subaru World Rally Team, Subaru decided it was once again time for a special edition. This time the RB5 named after Richard Burns. Sadly in November 2003 Richard Burns was diagnosed with a form of brain tumour and later died on the 25th November 2005 from his illness. This makes the RB5 all the more special now. Only 444 RB5's were made, with the option of the WR Sport pack.
1999 Also saw the release of another special edition. The Subaru Impreza P1, which like the Subaru Impreza 22B was a 2-door coupe model, and like the 22B it was only available in WR Blue. However unlike the 22B the Subaru Impreza P1 delivered a 276bhp out of the box, and supporting a whole load of new accessories such as 10-spoke OZ Titanium racing wheels, improved quick-shift gearbox, rear-wiper, new front wing/splitter, new fog lamps and a new exclusive rear wing. Unlike the Impreza 22B there were 1,000 P1's made. Despite this the Subaru Impreza P1 remains one of the most expensive Subaru Impreza's to buy today.
2000
For eight years, the Subaru Impreza remained more or less unchanged (externally) until 2000 where Subaru decided to update the Impreza for the 21st century. This change was met with mixed views. The appropriately labeled Bug-eye version by critics, was just that. Bug-eyed! One can only guess it was Subaru's attempt to make the Impreza all cute and cuddly. But this didn't go down well with the fans. Many NewAge impreza's promptly had their headlights replaces with WRC look-alike HI-Definition (HiD) lamps or the more aggressive looking Morette cluster. What was in favour of the fans was the globalisation of the WRX name. Previously only used in Japan, the WRX badge was now stuck to any Impreza with a Turbo!
2001
To celebrate Richard Burns's win in the WRC and the launch of the of the new model, Subaru decided to launch yet another special edition Impreza. This time the Subaru Impreza UK300. Once again just like the 22B and P1 the only colour available was WR Blue. The UK300 supported new prodrive styled spoilers of which the rear wing looked like was picked from bit of an airfix kit and not put together properly. Thankfully the front end was improved slightly, with the addition of improved HiD headlamps which made the car look slightly less like a bug. Yet no matter what they did, it was still going to be remembered as the Bug-Eyed version. 2001 also saw the arrival of the NewAge (Must stop calling it bug-eyed) Subaru Impreza WRX STI to the UK. Just like previous STI's, this was based on the WRX but tweaked a little by the Subaru Technica International (STI) team. If that wasn't enough there was also the option of a Prodrive Performance Pack (PPP). The Subaru Imrpeza WRX STI saw a few key changes over the standard Subaru Impreza WRX. This time, the addition of a 6-speed gearbox as opposed to the WRX 5-speed. Also a nice welcome was similar headlamps which were found on the UK300.
2002
It didn't take long before Subaru had to give in to pressure from fans and go back to the drawing board (literally) to come up with a new style Subaru Impreza. So in 2002, Subaru announced yet another NewAge Impreza. The MY03. Main difference here was the front end. More or less everything else stayed the same, but those bug-eyed headlamps were out and replaced with slightly less ugly ones. Also a bigger bonnet scoop was included. Not to be outdone, the Subaru Impreza WRX power was increased by 10bhp. Not surprisingly many Bug-eyed Subaru Impreza's were made available on the 2nd hand market as many owners wanted to change their driveway accessory for the new style Subaru Impreza.
Although Turbo versions of the Subaru Impreza were available in Japan and Europe from more or less day one. The US favoured their muscle cars and not these Japanese breed of performance cars. Which meant the Subaru Impreza Turbo's never "officially" reached US soil until the 2002 model. Any previous Subaru Impreza's were Imports. Unfortunately for the US market the famous 2.0l boxer engine had to go. The fuel regulations in the US meant that the high performance expected from the Subaru Impreza could not be achieved from the 2.0l engine with US fuel. Instead, the Subaru Impreza was given a nice new 2.5l boxer engine for the US market, in order to keep the power and performance up.
2004
Another Subaru WRC title win with Petter Solberg at the wheel. Once again sticking with tradition a new special edition was released, known as the Subaru Impreza WR1. I must admit the WR1 is one of my personal favourites, if only because of the unique Ice Blue colour. Only 500 WR1's were made, but Subaru decided to throw everything at it, including PPP and Driver Controlled Centre Diff (DCCD). The Subaru Impreza WRX STI also saw further improvements in 2004 with upgraded mechanics from the Japanese models. This new revised STI saw a new front diff, along with the DCCD system which was found on the WR1 and UK300 models. Nice!
2005
Towards the end of 2005. Again just 2 years after the previous model was replaced, Subaru decided to release another new bodied Subaru Impreza, the MY06. This time with new crystal rear light cluster and yet another new front end. The jury is still out about whether or not it is a hit or a miss. I personally think it looks Awesome. Almost as though Subaru have forgotten the last 5 years and gone back to the aggressive styling of the original Subaru Impreza from the 90's! I admit, it did take a few days to get used to, but after you see past the SEAT grill and BMW headlamps you soon realise that this is the sort of car you want other people to see you in, in their rear view mirror. (Admittedly briefly as you scream past them shortly after words :) Sadly the MY06 marked the end for the traditional 2.0l boxer engine. Instead we saw the introduction of the 2.5l boxer engine into the Subaru Impreza. A sad end which seems to have gone relatively unnoticed. But then think of what they can do with that extra 500cubic centimetres of space. Mwaahaahaahaa!...
2006
Towards the end of 2006. Subaru / Prodrive announced the realease of a new Special Edition Impreza. Sadly without recent success in the WRC. This time the special edition was to celebrate the life of previous Subaru WRC Champion Richard Burns who sadly died 12 months previously due to a brain tumour. The New Special Edition Subaru Impreza was to be named the RB320. That's 320bhp and a limited number of 320 to be produced. Essentially the RB320 is a 2006 model Subaru Impeza WRX STi PPP with just abotu ever add on you can think of, along with bespoke prodrive/blitsen dampers, exclusive obsidian black paint work, black alloys and full dront grill set. All in all making the RB320 very exclusive and ver agressive looking with only small markings on the passenger, drivers doors and boot lid of a small orange RB320 logo. The rest of the car is very much black in respect for the late Richard Burns. A true trubite to a great champion!
2007
I have yet to come up with a word that describes Subaru in 2007. At the time of writing Subaru had recently announced the drascically redesigned 2008 model of the Subaru Impreza (You can see some photos here) Make your own mind up about what you think of it. My initial thoughts are yuk.. And I have to say my thoughts are still more or less the same. The car does NOT look agressive as it shoudl and just looks like any other family hatchback on the road. a fair pecentage of the Impreza's appeal has always been it's agressive shape and styling. Even teh bugeye version admitedly wasn't welcomed by many had the trademark styling that for every other angle you knew it was an Impreza and more importantly a car to be reckoned with!. This new one doesn't do much for me I'm afraid. Doesn't excite me when I see pictures of it like previous styles. The same recipie is still there usign the same 2.5l boxer engine from teh MY06 models, a new intercooler has been shoved in. Power remains teh same at 225ps for the WRX model, awd as standard of course :). However the tyres are narrower than previous versions. Also it's worth noting that at time of writing there are no plans for a WRX version or saloon version for the UK. Instead we'll have the basic models then a jump up to the STi's I see this as a mistake as the WRX hits a just about affordable market for most peopel who cant afford te £25k price of the STi. However somethign new for the MY08 Impreza will be the introduction of a 170bhp Diesel Impreza. Thats right diesel. Should be interesting...Watch this space...
---
..:: Featured Motoring News feed
Audi RS2 Avant vs Volkswagen Golf R Estate - comparison
The RS2 Avant put the room into vroom in the 1990s and now its stablemate, the Golf R Estate, is doing the same today. Can the new-age VW eclipse Audi?s old hand?

These two cars are separated by little but time.

Just nine horsepower. Seven pounds feet of peak torque. Two kilograms of unladen mass. They share precisely the same manufacturer claim for standing-start acceleration: 4.8sec, 0-62mph. And yet one of these two founded the automotive market niche that, decades later, the other has graduated into: that of the performance-tuned estate.

One of these cars was revered; given an instant and permanent place in fast-car folklore. It became the answer to a pub quiz question that anyone who read car magazines in the 1990s remains, to this day, ready to answer. The other, hidden in the shadow of its five-door sibling, has scarcely been given a fraction of the attention it may deserve.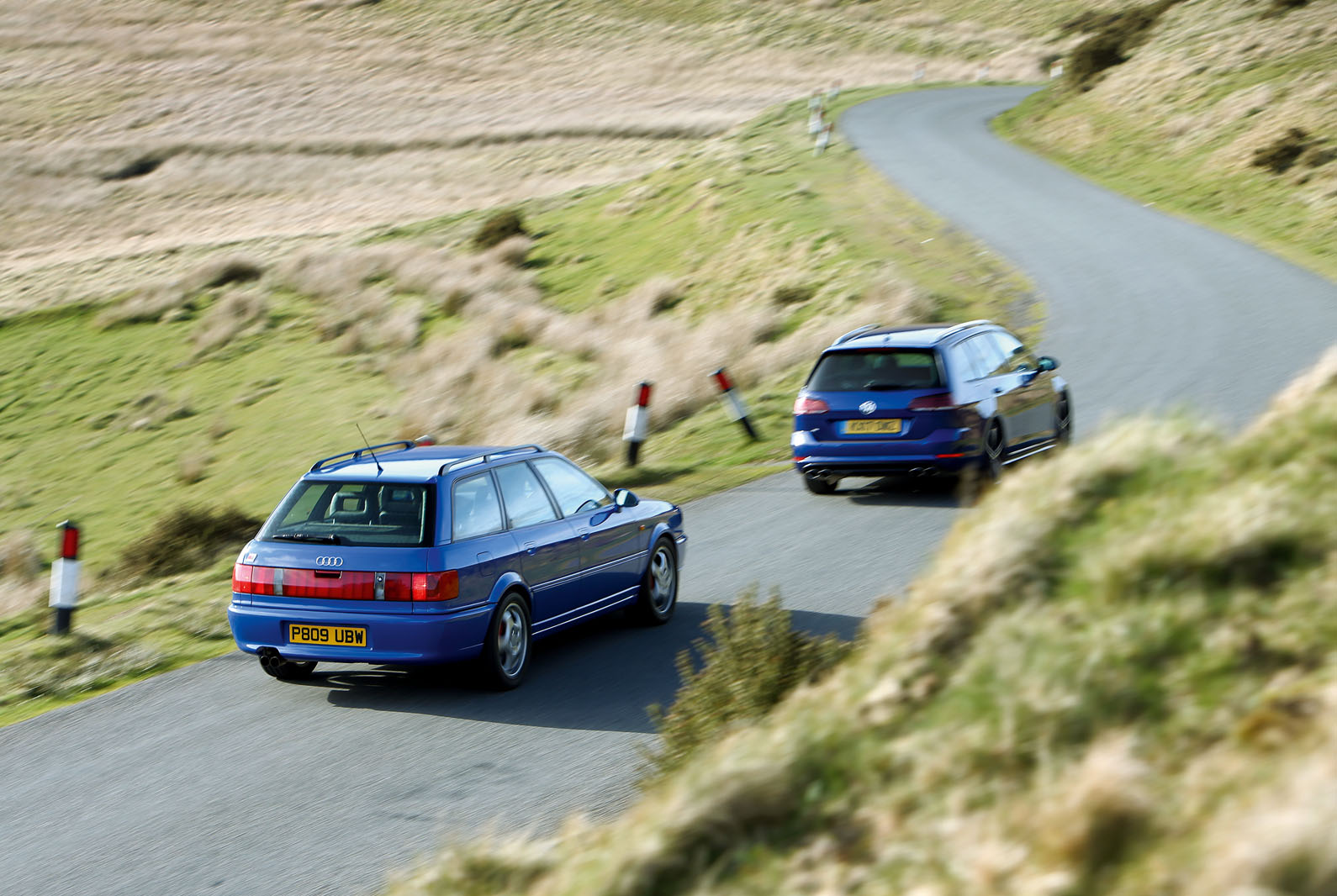 Time to see where the credit is really due in the cold light of 2017. Has the Audi RS2 Avant, Ingolstadt?s fabled supercar-slaying original firebrand shooting brake, finally been upstaged by another big-hitting, even more affordable alternative: the latest Volkswagen Golf R Estate?
The RS2 Avant cost almost £46,000 when it was launched in 1994. At the time, a Porsche 911 cost almost exactly the same. If Audi introduced an equivalent model today, I reckon it?d have to be a 600bhp, £100,000 car.
And even then, it wouldn?t have the RS2?s pioneering status. This was the original ?RennSport? Audi: a limited-run toe-dipping exercise with wheels, brakes and tyres taken from a Porsche 968 Club Sport. The five-cylinder engine under its flatnose bonnet had been donated by the venerated Quattro coupé and then boosted to new heights of potency. And when the RS2 underwent the Autocar road test, it memorably proved what a fast 4x4 could do by out-launching the mighty McLaren F1 from rest to 30mph.
Twenty-three years is plainly a long time ? and yet it also doesn?t seem nearly long enough to me to have made such a celebrated giant-killer vulnerable to a giant-killing itself by a modern hot hatchback that has effectively had a kitchen extension. You couldn?t ask for a better example of the pace at which the car industry moves, though. The Golf R isn?t even the quickest hot hatch on the market ? but it is one of the few that combine the availability of an estate bodystyle with four-wheel drive and a power output that exceeds what feels increasingly like the current mark of respectability for the affordable performance crowd: 300bhp.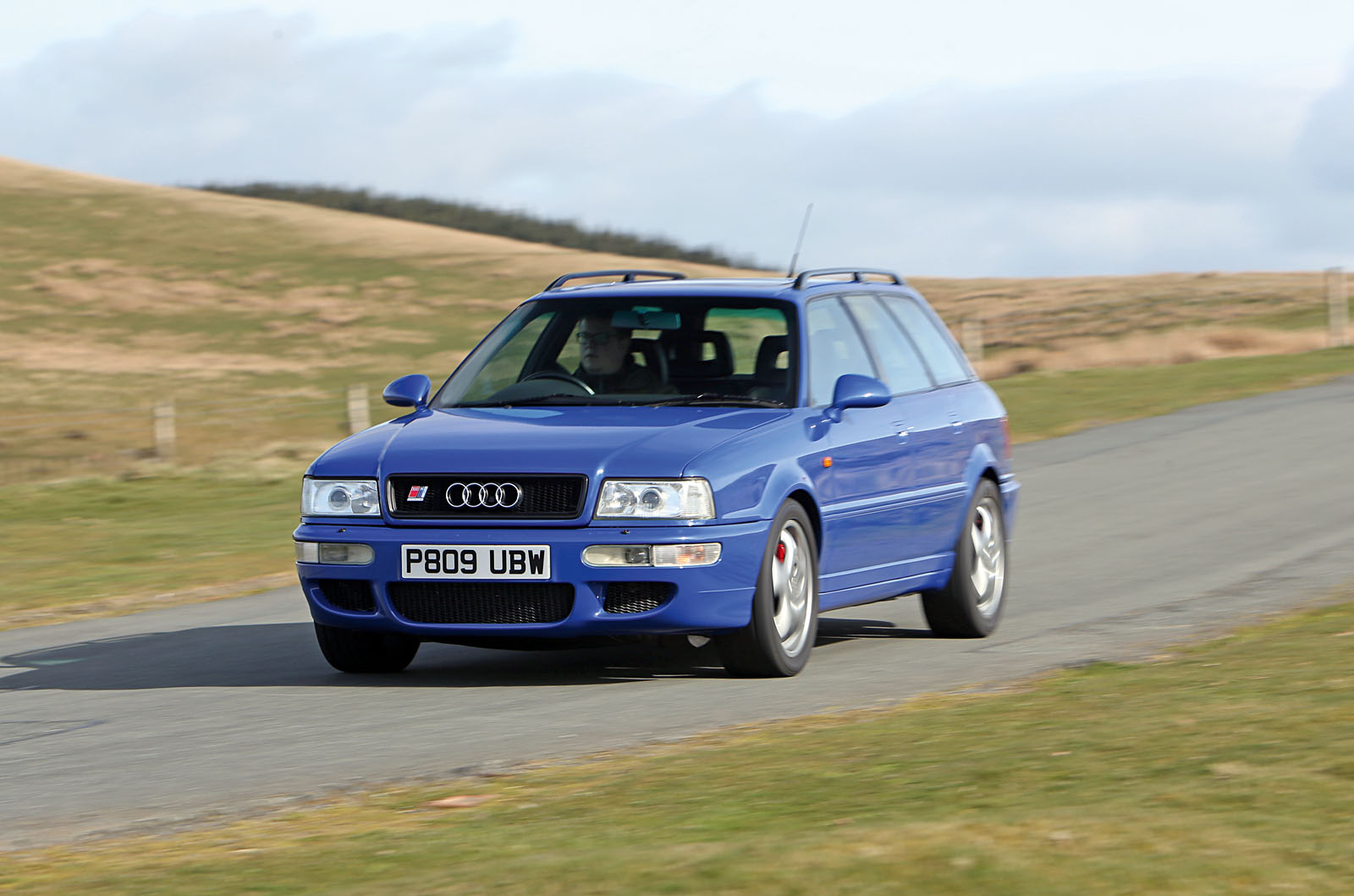 Before we get stuck in, we can agree that chucking any 20-yearold performance car in with a new one and using the latter as a rod with which to beat the former is a fundamentally unjust thing to do ? so I?ll try not to do it. The greatness of the RS2 Avant is not at stake today. That was defined in reference to its contemporaries. But we can at least satisfy ourselves that the particular Audi we?re sampling is a representative example of the car as Audi (and Porsche) created it, rather than as variously abrasive time and use might have otherwise left it. Owned by Audi UK since new, having done fewer than 2500 miles in that time, and still on the Dunlop SP Sport 8000 tyres and original suspension consumables that it rolled out of the factory with, ?P809 UBW? might be the most valuable RS2 in the country ? if it were for sale. It?s not, of course: it?s here, in front of me, ready for one of the handful of occasions each year when it?ll actually get exercise. Yum.
Only one of these cars has silver door mirrors, and it?s not the Audi. Silver door mirrors have become a hallmark of modern Audi RS cars, and one copied by so many. The irony is that the original Audi RS?s mirrors don?t need a silver coating to be drippingly cool: they were donated by the 993-generation Porsche 911.
Even though it has a taller glasshouse, smaller wheels and longer overhangs, the RS2 blows the Golf R into the weeds for kerbside appeal. The Audi?s proportions are plainly so much better, its details that much more distinctive ? the crowning glory being that deliciously 1990s full-width reflector bar on its curvy rump, which makes following the RS2 like having a staring match with Star Trek?s Lieutenant Commander Geordi La Forge in his off-duty Sergio Tacchini shell suit.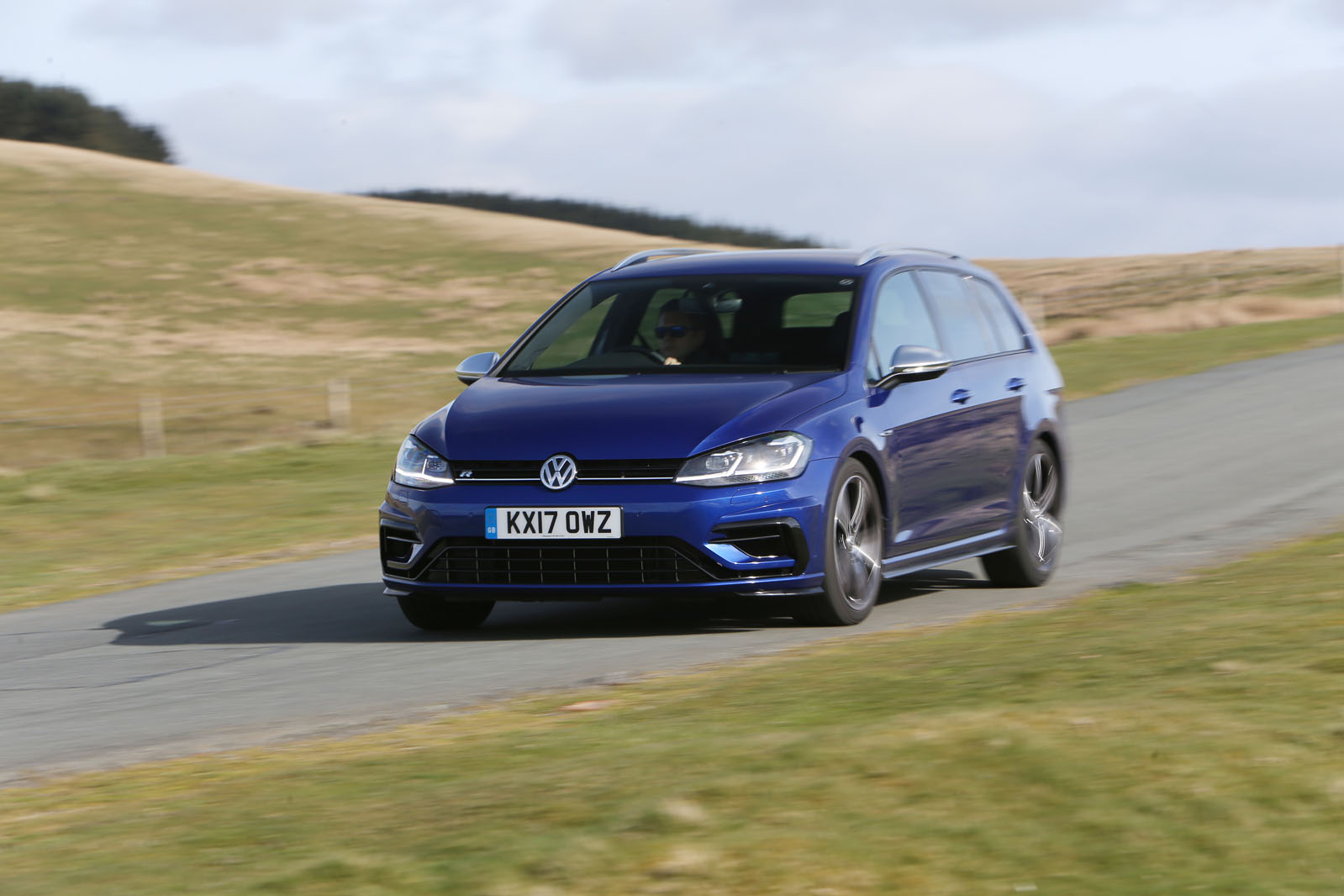 Time for a burble. A really great real-world performance car ought to be fun at low speeds as well as high ones. The RS2 is a joy to simply punt around. Its controls have supreme connected feel. The accelerator, in particular, makes you realise how inauthentic modern by-wire accelerators have become. Long of travel, oily slick and smooth, the Audi?s pedal is a direct and tactile attachment to the throttle body of the car?s five-cylinder engine. It doesn?t store up a disproportionate amount of response for the top half of the pedal travel. It is mostly tuned to make the car easy to drive, and to render the turbo surge of that five-pot Quattro motor possible to modulate and manage. If you want full throttle, you?ll need full  pedal. The last half an inch into the give of the footwell carpet makes a big difference.
By comparison, the Golf R is a relatively ordinary thing to drive slowly. The VW?s steering has greater weight and directness than the Audi?s but a fraction of the feedback. Its DSG transmission simply requires less investment of you and its engine, although effusive for a modern four-cylinder, tries to make up for its relative shortage of mechanical richness and charisma with electronic speaker-born imitation engine noise. You don?t need to be 50 yards off the bumper of a warbling RS2 to realise what a fool?s errand that is.
There again, you might care less about how your Golf R sounds when you realise how quick it is. There is absolutely no question, as it turns out, that the VW is a faster realworld prospect than the Audi. The difference between the cars has more to do with response than outright grunt; because when the RS2 hits its stride, it still feels like a very fast car.
But having passed a national speed limit sign on the edge of a town in the Audi, in the time it takes you to shift down a couple of gears, feed that long accelerator all the way in and wait for the revs to climb to 3000rpm, the turbo to fully spool up and the car to start to go, the VW would have already gone from 30mph to 60mph, shifted up a couple of ratios by itself and settled determinedly into a fast cross-country pace quite a long way down the road ahead. Nowhere is the technological progress of the past two decades more plain than in how much more responsive, flexible and effective the Golf?s engine is than the RS2?s. The Audi?s engine is a delight, but even in the upper half of the rev range, it responds with a moment?s latency when you squeeze that pedal. Which makes for an exciting, immersive driving experience ? but an antiquated one.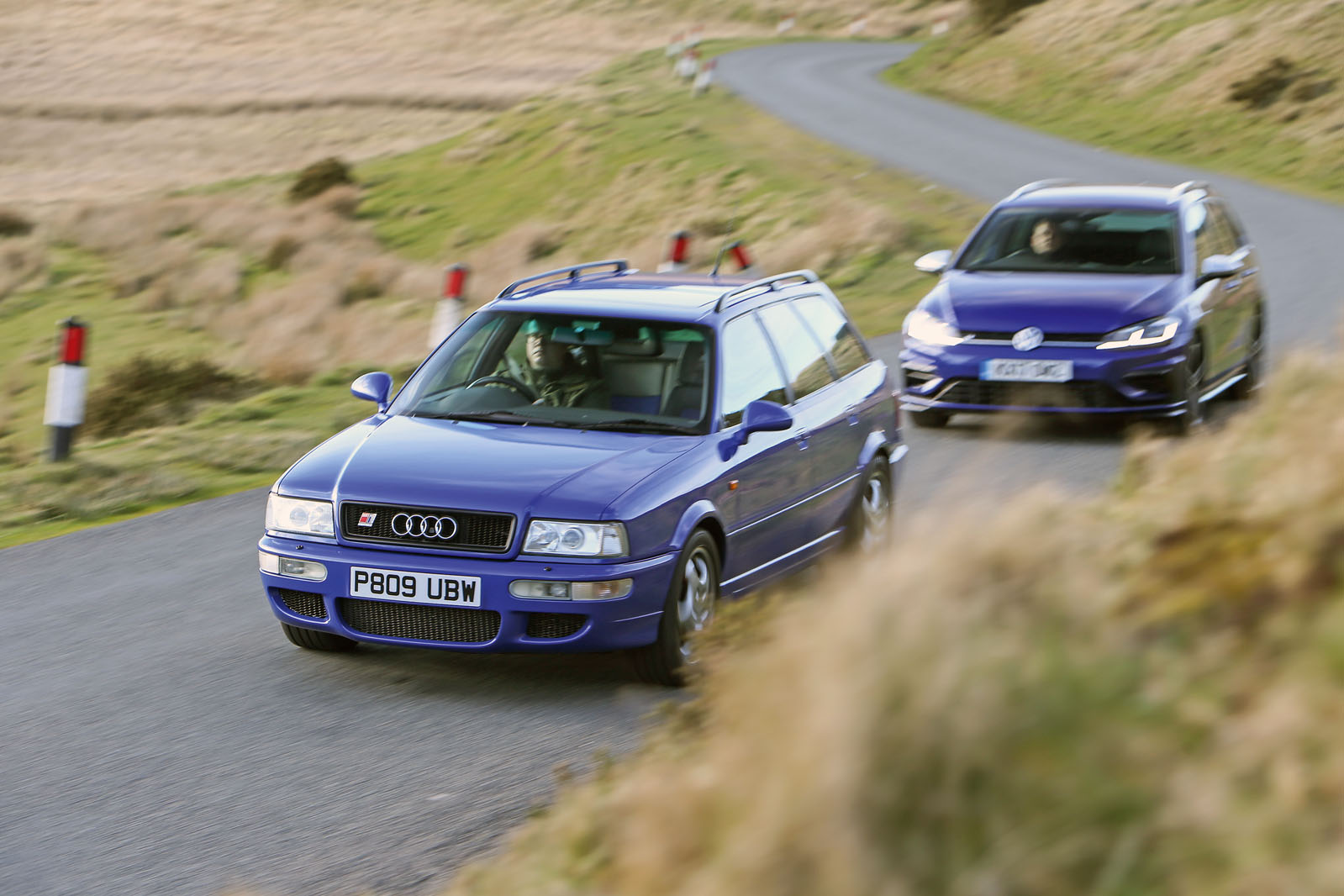 At fast B-road speed, there is as marked a difference in the way the cars ride and handle as there is in the way they accelerate. The Audi is a fast road car done for the road. So much is evident from the softer, more compliant ride it has than the VW, which feels a little bit uncompromisingly damped at all times, but always tightly tied down.
The Golf R steers very well for a modern hot hatch. It?s an instantly pleasing, instinctive, point-andsquirt kind of car. It corners with real bite, excellent balance and very little energy or directional response lost to body roll or understeer. Turning in crisply, settling immediately and passing the burden of lateral grip from its front tyres through to its rears equally smartly, the Golf gets the meat of the bend over in a heartbeat. It invites you to pour on ever greater pace before the steering wheel is even quite straight again. The brilliance of the Golf?s handling is in what it?s holding in reserve: that readiness always to go quicker.
In the Audi, you get something quite different as your prevailing speed increases: the unmistakable sense ? as the car?s body control, lateral grip level, steering authority and power delivery all begin to harmonise at around, say, 60mph and 3500rpm in fourth gear on a really testing B-road ? that the car is at its best. That it?s simply getting on with doing exactly what it was tuned to do.
You can drive the RS2 too hard on the road, if you?re daft enough; feel the steering feedback turn into kickback over harder-charged bumps and witness the handling balance ebb away. If you tackle slower bends with too much gusto, the Audi begins to handle every bit like you?ve read it does: like a half-empty shopping trolley with too much booze stacked in the fruit and veg compartment.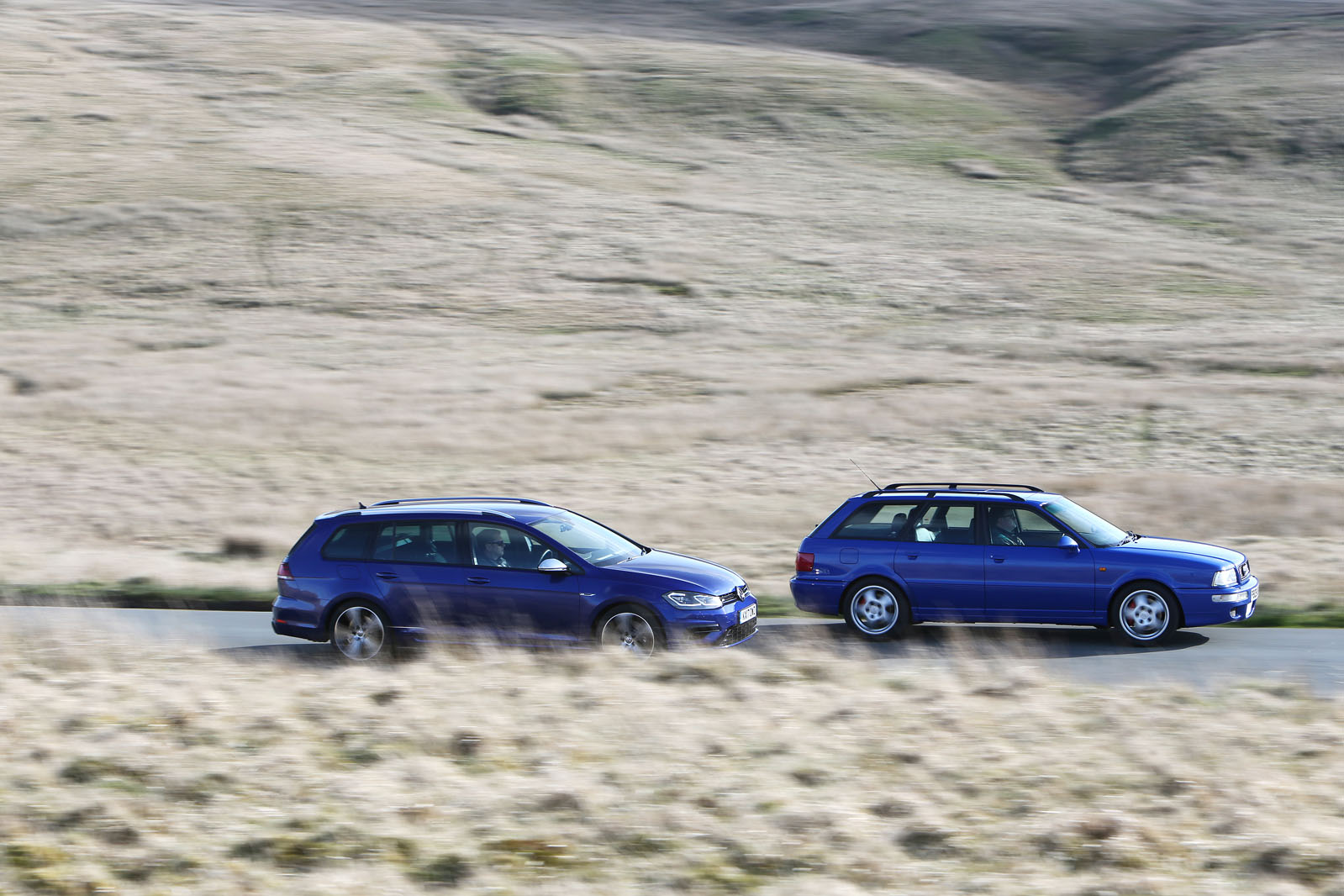 But stick to a brisk but roadappropriate pace and the RS2 gives so much back. The car begins to ride bigger lumps and crests like a hydrofoil hovering above the chop. Its damping is progressive yet still ultimately effective. You negotiate bends in beguiling conversation, committing the car precisely but waiting longer for it to relax onto its outside wheels, and getting a feel for exactly how hard those 20-year-old tyres are gripping, before doling out more boost and trimming your outward line as you go.
Is one car better than the other to drive? Objectively, yes. You simply can?t deny that the quicker, crisper, grippier and better-balanced Golf R Estate would be capable of feats and speeds well beyond the RS2 Avant and, in that sense, the underdog hot hatchback wins the day. It is the better performance machine ? and anyone buying one should know it. The reason that it?s not celebrated in quite the same way as the RS2 Avant is that supercars have developed even further than performance estates in the past 23 years and ?slaying? them is now a job for machines of even greater power and purpose.
But, antiquated or otherwise, the RS2 Avant retains the greater subjective appeal of the two driving experiences. It teaches us, like so many enduring performance greats, that how fast a driver?s car may go, even in 2017, should be regarded as of only equal importance to how it goes fast. The march of technology will always advance one side of that equation, as has become particularly plain today. It?s up to the effort, skill and judgement of car makers to advance the other side.
1st place - Volkswagen Golf R Estate
Price £35,300 Engine 4 cyls, 1984cc, turbo, petrol Power 306bhp at 5500-6500rpm Torque 295lb ft at 2000-5400rpm Gearbox 7-spd dual-clutch automatic Kerb weight 1593kg Top speed 155mph 0-62mph 4.8sec Fuel economy 39.2mpg CO2/tax band 164g/km, 31%
2nd place - Audi RS2 Avant
Price £45,705 (when new) Engine 5 cyls, 2226cc, turbo, petrol Power 315bhp at 6500rpm Torque 302lb ft at 3000rpm Gearbox 6-spd manual Kerb weight 1595kg Top speed 163mph 0-62mph 4.8sec Fuel economy na CO2/tax band na
Fifteeen years have passed since Autocar assembled its original ?100 Most Beautiful Cars? list, and new cars have also been launched in this fresh century at a frenetic rate.
Today?s regulations create interesting challenges, but do they get in the way of beauty? And have ideas of automotive beauty changed in the past 15 years? Autocar?s Richard Bremner investigates in the photo gallery above, with guest appearances from our other experts.
Click the gallery above, and feast your eyes
The Mazda CX-3 range has been updated for 2017 with a new range-topping model called the GT Sport.
Produced in just 500 units, the GT Sport gets new, sporty exterior trim, 18in wheels and nappa leather trim as standard. It?s priced from £22,895.
It joins an updated 13-model range that starts from £18,495 and gets a revised suspension setup to improve ride while boosting handling, as well as increased sound insulation to up refinement.
There are also a few tweaks to the car?s exterior body trim and a new steering wheel inside.
Mazda has updated its i-Activsense technology. It combines the car?s driver assist features to offer assistance in certain conditions and reduce the chances of an accident. The system?s also been made standard across the whole CX-3 line-up.
G-Vectoring Control technology has been added to the line-up as well. It can enhance the car?s agility and reduce the steering inputs required from a driver through a corner by constantly adjusting torque loads to each wheel. It was first introduced in the Mazda 6 late last year.
The pre-update CX-3?s engines are retained with the 2017 model, with a Skyactive 2.0-litre petrol and 1.5-litre diesel available in power outputs of 104bhp to 148bhp. The petrol accounted for 80% of UK sales before the update, so is expected to remain the best seller here.
The engines are mated to either a six-speed manual or six-speed dual-clutch automatic gearbox, with front-wheel drive or all-wheel drive available ? it?s fitted as standard to the 148bhp petrol.
Callum Poole
TRAFFIC:

UK road traffic grew by 2% last year compared with 2015, with vehicles travelling a total of 323.7 billion miles across the 12 months
Vehicles travelled a total of 323.7 billion miles on UK roads last year; cars and taxis accounted for 252.6bn of those miles

UK road traffic volume grew by 2% last year compared with 2015, with vehicles travelling a total of 323.7 billion miles in the 12 months.

Cars and taxis accounted for 252.6bn miles of that total figure, 72.1% of which were travelled on rural A-roads.

UK road traffic at all-time high

Car use has been steadily increasing since 2013, when a trend of decreasing miles that had been in place since 2002 was halted. Levels are now at record highs.

The fastest-growing traffic of the last decade has been on motorways, which now carry 10% more traffic than they did 10 years ago. 21% of all miles driven were on motorways in 2016.

Mark Shankland, managing director of AA Tyres, said the figures illustrated the importance of cars in Britain.
?The new stats bear out how much, as a nation, we?re indebted to our cars. While car stock has continued to rise, the total number of miles driven per person has increased beyond this - reflecting just how reliant we are on our motors for everyday usage," he said.
?With commuting and business trips contributing to the largest share of personal car traffic, it?s clear that drivers are more regularly covering the sort of mileage that used to be reserved for long summer trips.?
British motorists don't trust driverless cars
Shankland said that this ?places even more of an onus on drivers to make regular checks on their vehicles - instead of just ahead of holiday getaways,? in order to ensure safety on the roads.
?Almost a third (32.6%) of accidents in the UK in which vehicle defects were a contributory factor were due to under inflated, defective or illegal tyres, and even if you?re lucky enough to escape unscathed, you could still find yourself hit with a hefty fine for driving with defective tyres - £2,500 per tyre and three penalty points,? he said.