Zenvo TS1
Bugatti, Ferrari and McLaren are three of several car makers that build cars capable of exceeding 200mph. The cars on this list can do significantly more than that...

Speed matters, especially when it comes to the fastest cars in the world.

If the lottery win comes in, many of us will be heading to the showroom that boasts the cars with the biggest top velocities. Ultimate seat comfort, or the finest cupholders in existence, are rather less of a draw.

Admittedly, we might not actually hit the speeds that modern hypercars are capable of. Anything over 70mph on a British road is illegal. Anything over about 180mph is terrifying. But like owning a watch that works on the moon, or a pen that can write at 200m under the sea, it?s nice to know that, in theory, your car can perform miles-per-hour miracles.

With that in mind, here are the fastest production road cars you can get your hands on today. Well, theoretically ? getting hold of a new one is not as straight-forward as you might think.

Bugatti Chiron ? 261mph
We?ve ummed and aahed about including the Chiron on this list, as it?s not been seen at speed yet, and even if you can afford the £1.9 million asking price, you won?t see your car until 2017 at the earliest.
But we have little reason to doubt Bugatti?s credentials after the success of the Veyron. The Chiron will be limited to 261mph at launch, which suggests it?ll easily go faster further down the line.
With the best part of 1500bhp to play with, and driving dynamics that insiders say dramatically improve on the Veyron, it?s surely at the top of the discerning speed merchant?s list.
Koenigsegg Regera ? 248mph+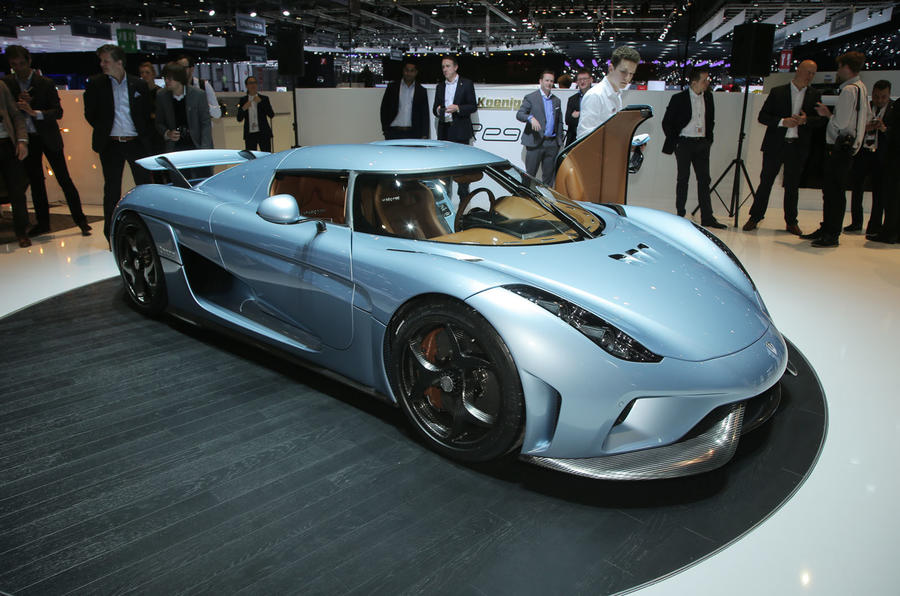 Koenigsegg has been quietly and earnestly churning out massively fast monsters for decades, but the Regera adds a touch of luxury missing from previous machines.
It?s still an absolute barnstormer though, with a hybrid powertrain containing a twin-turbo, 5.0-litre V8 and three electric motors, which combine to produce more than 1500bhp. Although a top speed hasn?t been revealed, Koenigsegg reckons it?ll hit 248mph in 20 seconds. So, at least, that.
Zenvo TS1 ? 233mph 
Revealed at this year?s Geneva Motor Show, the TS1 is an evolution of the stylish, fast but somewhat fire-plagued ST1, which found fame on Top Gear for all the wrong reasons.
Electronically limited to 233mph, it?s available to order now from the Danish manufacturer, and is powered by a twin-supercharged, 5.9-litre V8 with 1085bhp. This one will hopefully be less flammable in its tendencies.
Noble M600 ? 225mph
Hewn from carbonfibre in deepest, darkest Leicestershire, the M600 is powered by a 4.4-litre Judd V8 with a mere 650bhp ? puny compared with some of its rivals. But it?s old school, lightweight, without so much as ABS to sully its purity, and it?s exceedingly fast.
Our reviewer Matt Prior used words like ?astounding?, ?wild,? and ?incredible?, even if the lack of ABS actually scared him a bit.
Lamborghini Aventador ? 217mph
The top speed for all Aventador models is identical, so although the super-mental SV variant is sold out, you can top out at just the same velocity in the standard and still-quite-insane model. A naturally aspirated, 690bhp 6.5-litre V12 does all the necessary thrusting to get you up to 217mph with all the drama that Italy can muster.
Ferrari F12tdf ? 211mph+
The F12 Berlinetta clearly wasn?t insane enough for Ferrari?s bigwigs, so they decreed that it be given a power boost from 730bhp to 770bhp, and a suffix taken from the old Tour de France road race (for cars, not bikes).
The result is an absolute lunatic, with a 6.3-litre V12 up front and power delivered the rear, with a deliriously happy driver sitting in between.
Keating Berus - not known
British manufacturer Keating built a TKR that hit 260mph a few years ago, so it has form for making very fast cars. However, the more recent Keating Bolt garnered quite a bit of negative press for quality and out of date technology.
The Berus is a project that promises big things, chiefly 2000bhp, but it currently exists only as a half scale model. We may see something more tangible in 2017, but we?re not holding our breath.
The harsh reality of the Keating 'The Bolt' supercar
SSC Tuatara ? 276mph
Development on the Ultimate Aero?s successor appears to have stalled, with no media updates from SSC since 2013.
Hennessey Venom GT ? 270mph
As fast as it is, it?s a heavily modified Lotus rather than its own thing. In our humble opinion.
Bugatti Veyron Super Sport ? 268mph
Very fast. Very exclusive. Very sold out.
Lamborghini Centenario ? 217mph+
Wild. Styled. £1.7 million each. Also sold out.
McLaren P1 ? 217mph
British manufacturing at its finest. 375 made. And they?ve all gone.
Ferrari LaFerrari ? 217mph
Part of the great hypercar trio of 2014, just as fast as the P1 and with a much sillier name. And guess what? It?s sold out. Sorry.
Missed the coupé LaFerrari? Great news! The new, yet-to-be driven Spider removes the roof, but keeps? oh wait, it?s sold out too.
Porsche 918 Spyder ? 210mph
Completes the hypercar trio by also being sold out.
Like all internet lists, this one will be subject to controversy. Why haven?t we included your favourites? So many reasons. Largely because you can?t buy them any more, unless you go into the used market, and there are numerous small-volume cars that promise massive speeds, but we haven?t seen them yet proven.
But don?t let our reasoning dampen your rage ? feel free to comment indignantly below on what we?ve missed out.
Phill Tromans
Malcolm Wilson, rally star turned businessman, stands on a little hill in his native Cumbria and looks out across the vast new quarry site that now abuts the imposing HQ he opened for his rally car team, M-Sport, nearly 20 years ago. Soon this will be a test track.
Into this place, over the next year or so, Wilson will pour a cool £19 million ? partly grant funding but mostly his own money ? to establish a huge new factory that will more than double the size of his already generous workshop space, plus a 1.5-mile evaluation circuit to test the cars he will build there. Like everyone who sees it, Wilson has a little trouble taking in the size of the project he has started.
?I can?t quite believe this,? he says, with genuine wonder in his voice. ?We?ve been trying to launch this project for five years, and while it was a grass field, it seemed okay. It seemed doable. But now I see we?re creating something amazing. The main straight alone will be 800 metres long, and the new factory ? over there ? will cover 112,000 square feet. That?s very big.?
The master plan, Wilson explains, is to equip M-Sport with what amounts to a competition car manufacturing plant that can run on shifts and employ the regular rules and procedures that any lowvolume car manufacturing business needs ? quite different from the huge flexibility needed for the nearby rally car preparation and repair business that?s also M-Sport?s bread and butter.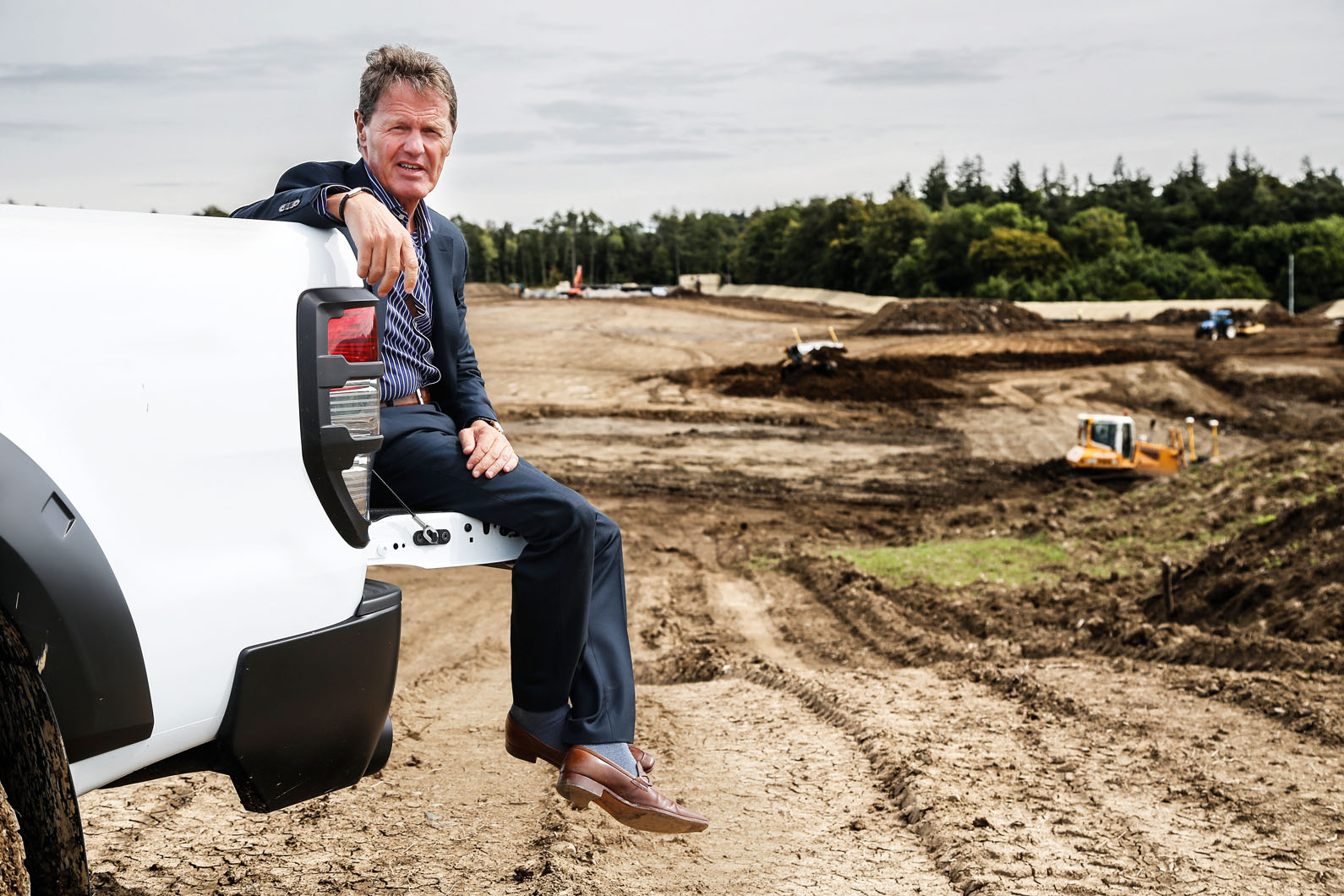 ?We ran nine cars in the Finnish rally that?s just finished,? Wilson explains, ?and four of them crashed. We?ve got to get those ready for Germany, and it?s only a week away, so the guys will work 14-hour days to get it done. That?s very different from a machinist working regular hours in a factory and sometimes the two things don?t mix.?
The driver of M-Sport?s need for expansion is the success of the Ford Fiesta R5, a four-wheel-drive rally car that, to the naked eye, looks every bit as serious as a World Rally Championship car but is a little slower and quite a lot cheaper to run and repair. It?s part of a very successful global formula, and M-Sport?s win record has created a demand for a new £180,000 R5 every week. It has been doing them for three years and will soon build car number 180.
On top of that, the company maintains its team of WRC Fiestas (new regs for 2017 mean a new car is under development), there?s a deal with Ford US to engineer and build rallycross cars for the team run by international driving megastar Ken Block, and M-Sport produces a steady stream of ?starter? front-wheel-drive Fiesta R1s and R2s that provide a staircase for tomorrow?s rally stars.
There?s more. As the result of a deal signed in 2012, M-Sport engineers and runs Bentley?s successful Continental GT3 racing cars around the world. And to top things off, M-Sport now brands a range of dressed-up Ford commercials ? Transit Custom, Transit Connect and Ranger ? which are showing plenty of sales potential. The M-Sport Custom alone, built in Abergavenny by Van Sport, has sold 600 copies in the past year. The M-Sport Ranger, which draws eyes in any crowd and which today we?re lucky enough to drive, will be on stream next month at prices north of £30,000.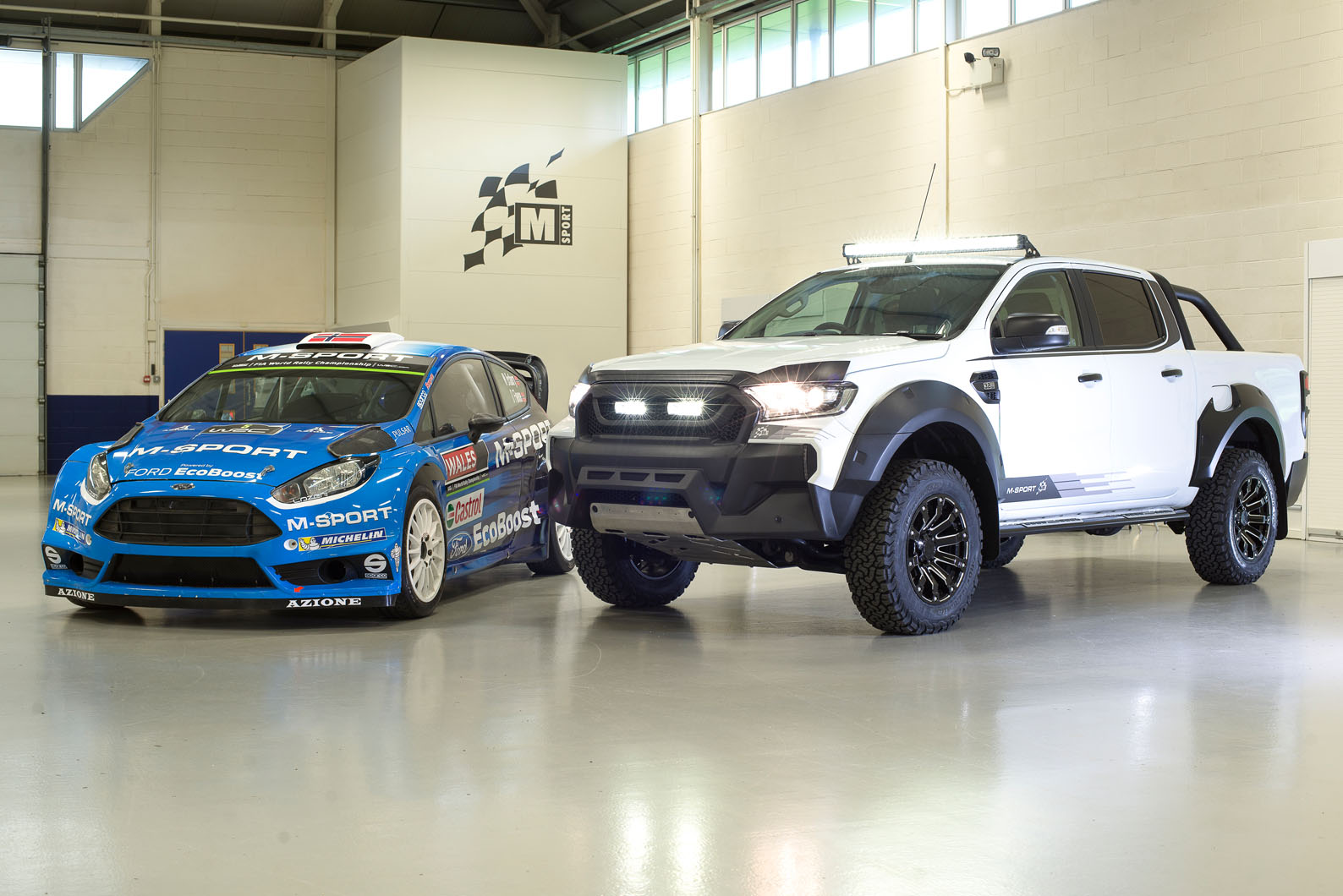 All this growth of volume and complexity throws light on the need for the new test track, cutely labelled ?evaluation centre? to acknowledge local planners? stipulation that it should never be used for competition. Until now, M-Sport has been hiring an airfield 20 minutes away for car testing, with all the inconvenience and cost that implies. But Wilson also sees the client appeal.
?We think it?ll open a new door,? says Wilson. ?Now, if a customer wants to come and test his new car in a controlled environment, we can invite him in and look after him while he?s here. Maybe we can also invite other car companies in, perhaps to test prototypes.
?What?s more, the new workshops will give us scope for manufacturing on a scale we haven?t had before. I?m a great believer in having the best technical equipment, because clients can see us as a kind of one-stop shop for test and engineering facilities. That?s part of the plan, anyway.?
Wilson believes M-Sport could even establish a small production line for low-volume vehicles ? perhaps 200 a year. At present, he?s thinking about modified versions of existing cars (an M-Sport road-going Bentley drawing on the race car?s styling would be an interesting possibility) but, for the moment, he?s not being so prescriptive.
For good measure, M-Sport is also in the throes of building a smaller outpost in Krakow, Poland, following a realisation (on a tourist trip to the former concentration camp at Auschwitz) that Krakow was ideally placed to draw customers from all over Europe to an engineering centre. It began as a base to build 20 ?junior? Fiestas for rallying in just 12 weeks, but soon it?ll be twothirds the size of M-Sport?s current base in Cockermouth, Cumbria, the home town that Wilson has always refused to leave.
Most of this expansion has come in the four years since M-Sport unexpectedly lost a long-standing contract to design and build WRC cars for Ford and run its team. Since it was the Ford deal that brought M-Sport to global prominence in the first place, many presumed its ending would scupper the business.
?It was definitely the worst phone conversation I?ve had in business,? Wilson recalls. ?We?d just had our best Rally GB result ever. I think we?d filled six of the first eight places. So when Ford?s chairman, Steve Odell, rang the next day, I thought he was ringing to say well done. But he was ringing to end the programme, and not in a year?s time, as the contract specified, but straight away.
?In fairness, Ford had their own big problems at the time. Their press release linked the end of our contract with the closure of their plant in Genk, Belgium, which was big stuff. But it was still a huge shock.?
Luckily, the Ford ?starter? cars were going gangbusters and have continued that way. A new sponsorship link with Qatar allowed the WRC programme to continue.
Then into the fray, just few weeks after the Ford deal collapsed, walked Bentley?s competitions director, Brian Gush, with a plan to involve M-Sport in a new Bentley GT3 racing programme. The deal was done very quickly, and on a handshake, before the protagonists had even discussed schedules or budgets, but it has worked very well. The Bentleys have been fast and reliable from the beginning, if not always lucky.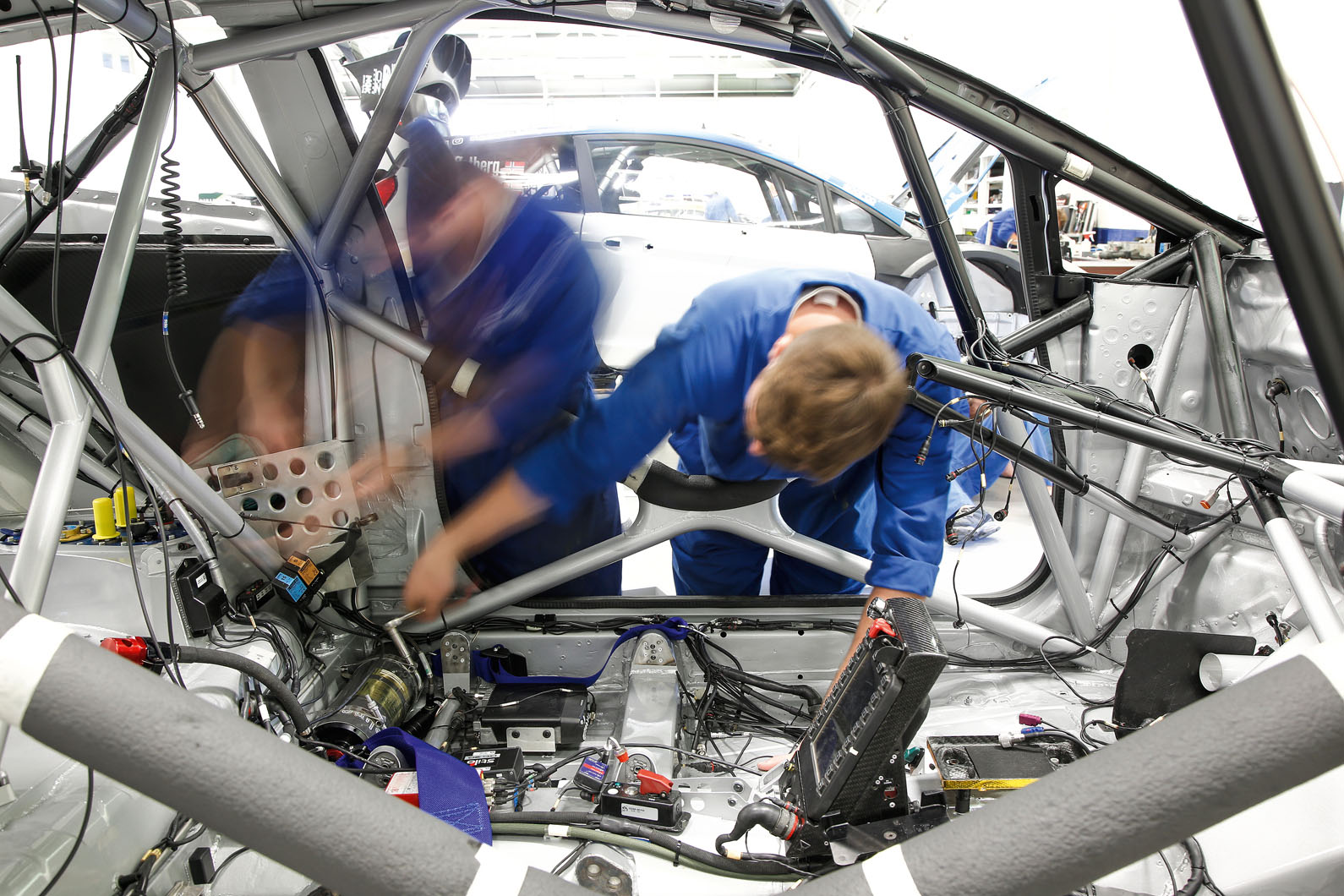 The upshot is that M-Sport is bigger than ever ? at 230 employees, the region?s second-biggest local employer ? and by the time the new factory is percolating, beyond 2020, there will be another 100 people on the payroll.
In short, M-Sport will soon be the envy of every OEM (original equipment manufacturer) in the country. M-Sport is bound to go on building winning competition cars, but it could also become an important engineering outpost for much bigger car companies, or even a base for low-volume car production.
Nothing is certain, Wilson believes. Even when things look bad, you must stay open to unforeseen opportunities; the Ford and Bentley deals have taught him that. But you can always improve your chances of success by effort. Work hard, grab opportunities when they arise, chase quality and do the right thing by your workforce and success comes closer.
The Ford Fiesta ST200, Renault Clio RS 220 Trophy, Fiat 124 Spider, DS 3 Performance and Mazda's MX-5 battle it out to be named the UK's best driver's car on track. 
Here?s the deal, then. To be here, a car has to be in some way new, cost less than £25,000 and be in with a realistic chance of victory in this contest.
The question is ?how much fun can you sensibly have for less than £25k?? and, frankly, we?re not going to bother including cars that are obviously going to lose.
That means the field is tight for cars that are newish, funnish and goodish. I?ll start with the obvious candidate, the Mazda MX-5, because we had it here when we posed the same question last year. You could argue it?s back as either a defending champion or in a new Sport Recaro form but, either way, it?s basically the car that won last year. It has a 2.0-litre engine, a limited-slip differential, Bilstein dampers, the pleasing Recaro seats that give it its name and a £24,295 price.
It will not have escaped your notice that Mazda did not develop the MX-5 architecture just for itself, and finally here?s the alternative model in the UK. Fiat?s own variant, the 124 Spider, has a turbocharged 1.4-litre petrol engine that gives out 138bhp, instead of the Mazda?s naturally aspirated 158bhp.
But there are other changes, too. The 124 Spider is longer, bigger of boot and softer; it?s a slightly different proposition for its £23,205. The pair mark the resurgence of the traditional way you?d have fun for less than £25,000: two-seat roadsters that represent up-to-1960s visions of having affordable fun.
And they?re joined by the post-1970s version of how to have fun on a budget: three hot hatchbacks, all front-wheel drive, all entertaining.
All owe something to their companies? recent past, mind. Let?s start with the DS 3 Performance ? a long-awaited reawakening of a performance DS 3 after the Racing of half a decade ago. In its ethos, it?s similar to that: a 15mm lower ride height than other 3s and a 1.6-litre turbo engine making more than 200bhp (205bhp here), but now it has a limited-slip differential and its own chassis tuning.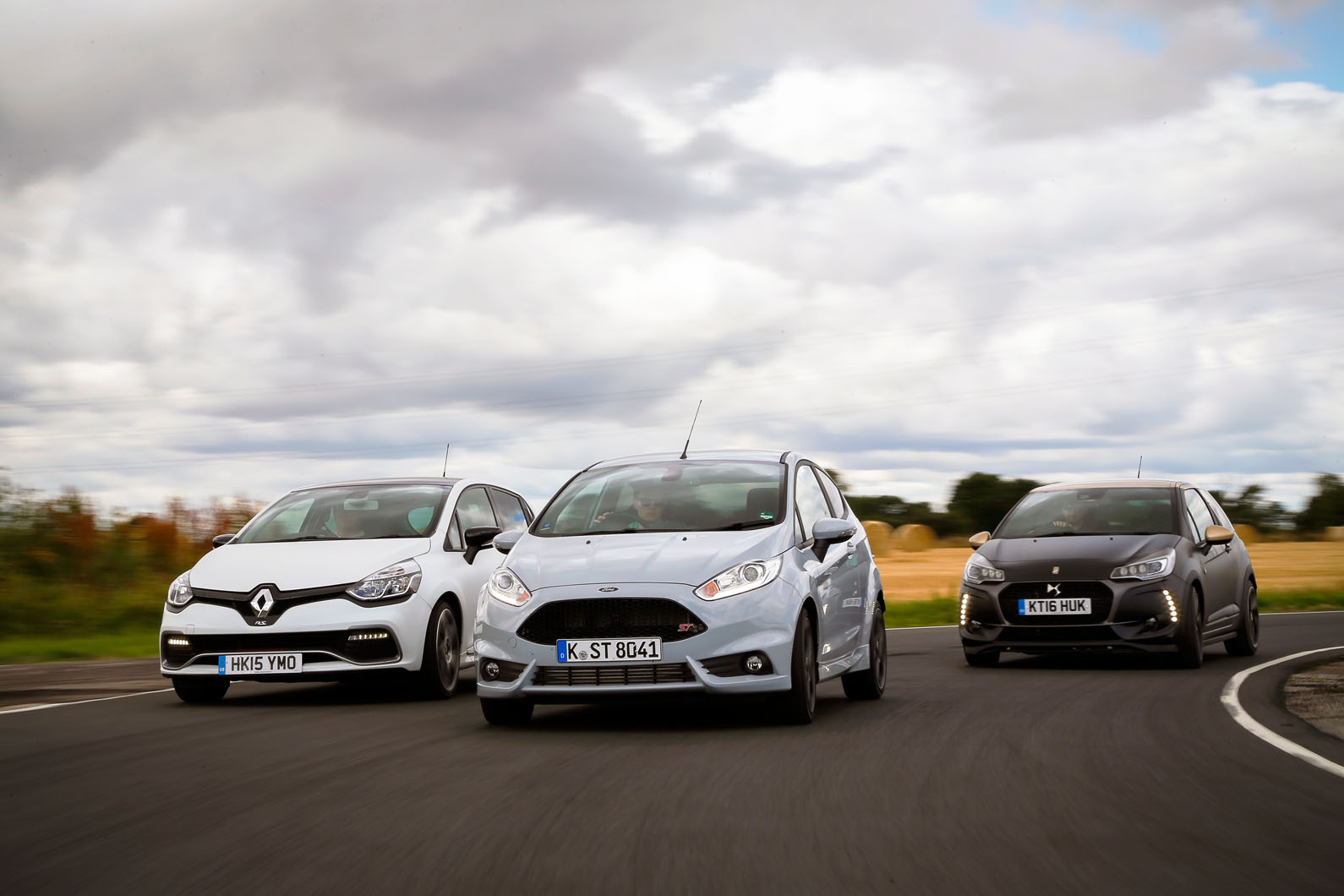 Also above the 200bhp marker is the Renault Clio RS 220 Trophy, which has just become a mainstay, rather than a limited-run model, in the Renault Sport line-up. Our test car doesn?t have the changed aesthetics of the facelifted model that?s due imminently, but it?s mechanically the same, so it?ll do. It still has a dual-clutch gearbox for its turbocharged 1.6-litre engine and hitherto we?ve found this Renault Sport hot hatchback to have a competent chassis but not necessarily a great powertrain to match it.
And finally, there?s our favourite hot hatchback of recent times, whose power has latterly been tweaked to give it the chance to compete with cars like the 3 and Clio. The Ford Fiesta ST200 always made 197bhp anyway, but only on overboost for 20 seconds. So now it makes 212bhp for 20 seconds and 197bhp all the time. There are chassis changes, too: additional roll stiffness has enabled Ford to slacken the spring rates, and the steering is retuned.
Thing is, where could you spend 20 seconds on full throttle? Not somewhere like Blyton Park in Lincolnshire, which is the right kind of size for cars like this, because it was designed not as a race track but as a handling circuit for road cars. That?s one reason we like coming here with road cars like these. They won?t, as they might do on Silverstone?s GP circuit for example, feel like they?re lost in the grandest of spaces. They?ll feel like they belong. 
I'll start with the MX-5, which we?ll let lay down some kind of benchmark in the same way that a Caterham used to when we invited it to Autocar?s Handling Day solely for that reason. If you?re wondering why a Caterham or other lightweight track car is absent from this contest, incidentally, it?s because the action in most of them happens well above £25,000, and because this is a road car test. We?ll deal with the true sports cars later. 
Mazda might argue that the MX-5 is a true sports car, but there is a difference between it and a proper lightweight. No lightweight sports car would put you this high on its seats, which I still think is a genuine MX-5 problem. Likewise, the absence of steering wheel reach adjustment.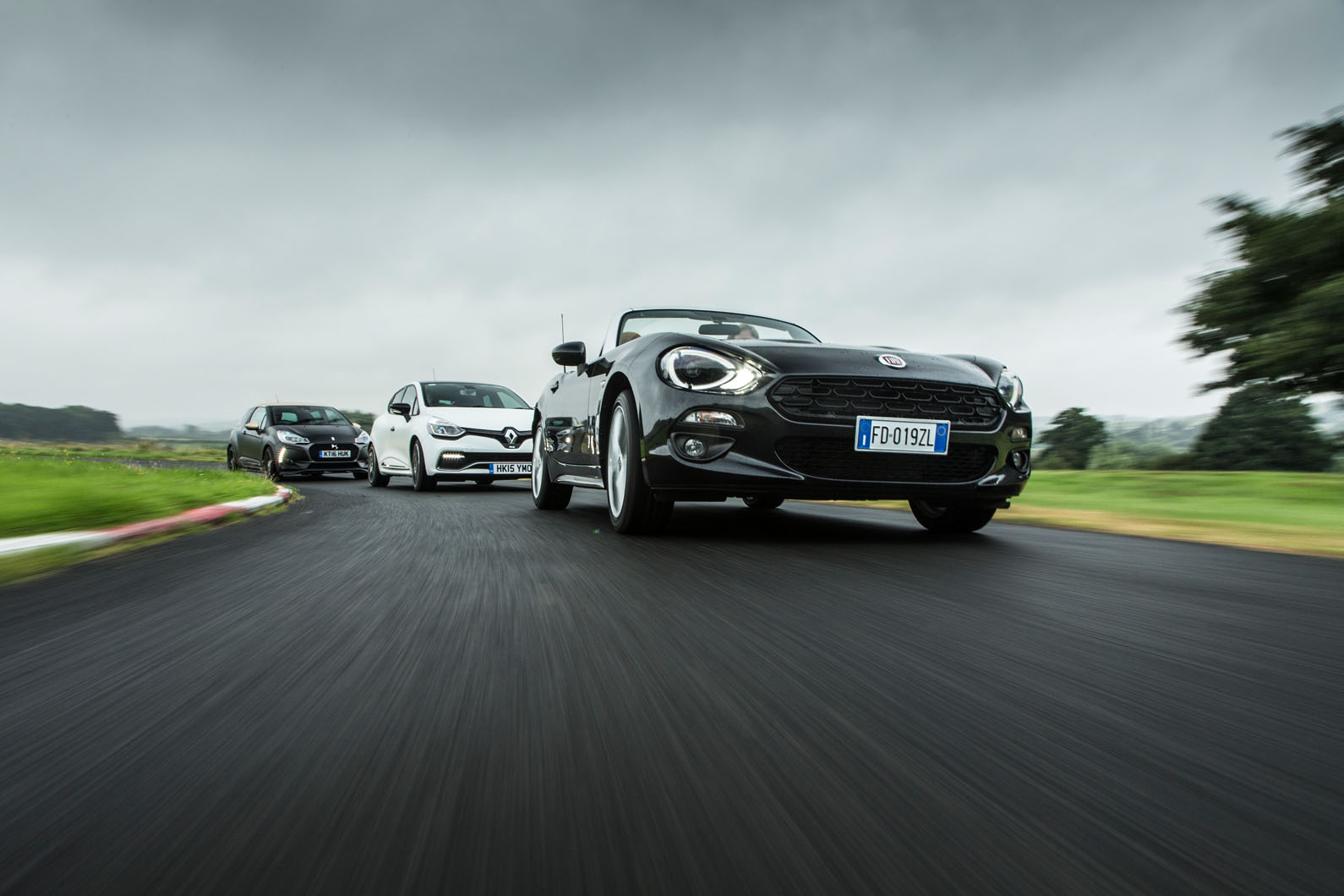 But as soon as you start throwing the MX-5 around a circuit, you begin to realise where its magic lies. On Bilstein dampers, it resists tipping into corners as easily as lesser MX-5s do, has fine body control and, with a limited-slip differential and 158bhp, how you corner is largely up to you in slower bends. Its natural tendency is relatively neutral: not a lot of understeer, not a lot of oversteer. But because its limits are modest and it?s easy to get near them, the power of its engine is enough to adjust its cornering line. It steers with precision, the gearshift is snickety and the engine revs out well. You return to the pits from a few laps at Blyton and think: ?You know, I don?t think anything is going to beat that.?
Then you get in a 124 and realise that, certainly, this isn?t going to. Not on track, any rate. It?s softer, slower and, in fairness, designed to fulfil a slightly different brief. The engine has low-rev lag but high-end reluctance to reach the redline. There?s a fair degree of roll and longitudinal pitch as you accelerate or brake, so you revert to tiny, fingertip inputs, to keep it stable. Otherwise, should it get unsettled, it?s like driving a hire kart: you lose the momentum, and it doesn?t have sufficient power to haul itself away again. It?s not an unpleasant experience ? just nothing like as incisive and controlled as the Mazda. It?s a pity because the basics are there. Maybe in being softer, it?ll make a more pleasing road car.
So to the hot hatches. I begin in the DS 3 because, from what I?ve read, it?s the one I?m expecting to like least.
Within about half a minute, I know I?m wrong. It?s genuinely entertaining. It steers lightly but with real response and precision, there are hints of information among some torque steer ? and, hey, mild torque steer is information of a sort, telling you how hard a time the front wheels are having and that the engine is zingy enough at the top end. Given that it has a limited-slip diff, it puts its power down well, never feeling like it?s going to overheat its front tyres as a large hatchback would.
It?s a reminder that this is where the best hot hatchback track action remains, with superminis that don?t overwhelm their consumables like the latest 1600kg, 300bhp monsters. And the 3 is fun. Its gearshift is only fine ? a little notchy ? and the engine good, but the handling?s propensity to pitch a rear wheel into the air during cornering and grip on is entertaining. It?s not massively oversteery, but it is surprisingly fast, and a bit serious. It?s not just the rock solid bruiser I expected. There?s real dynamic depth to its character.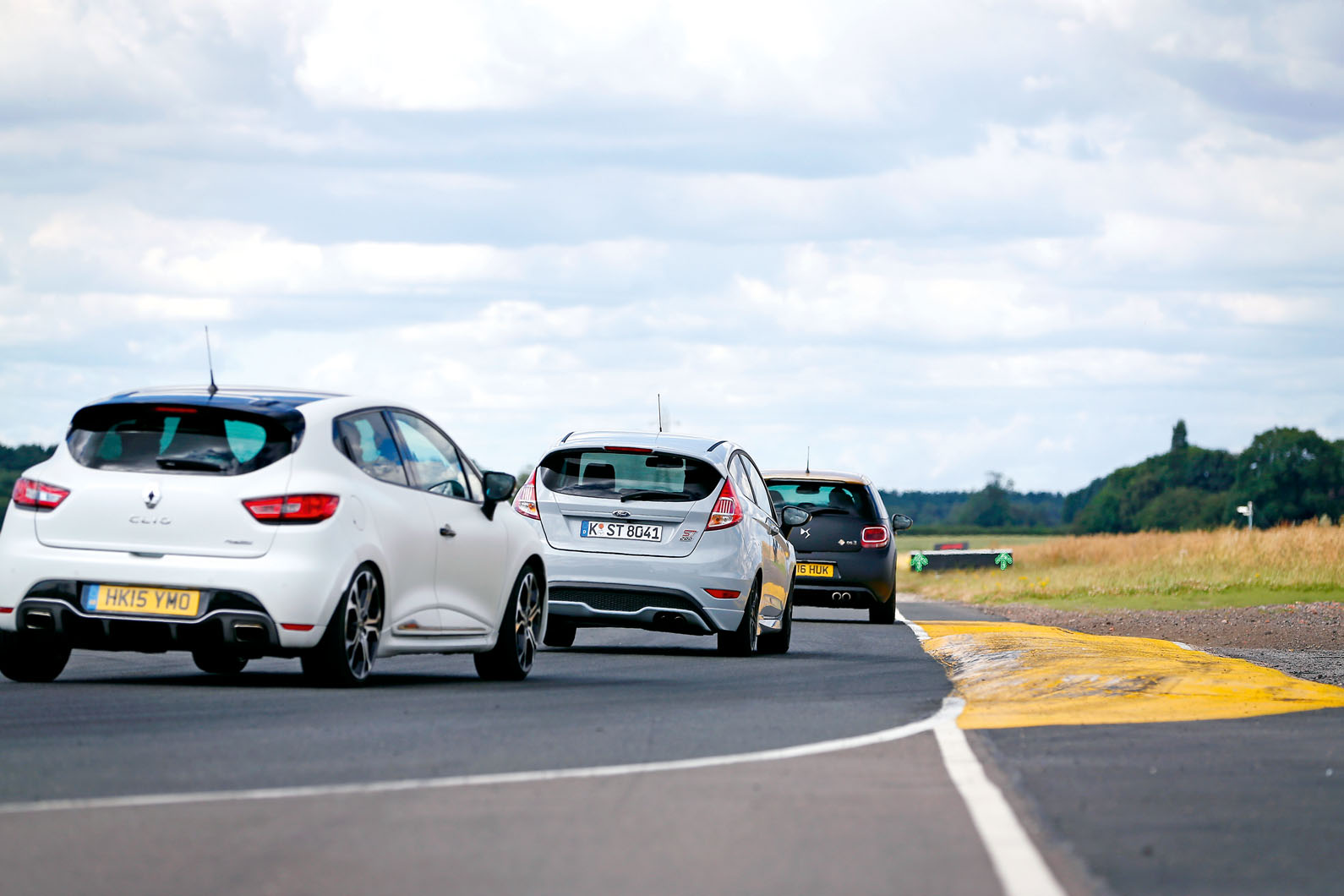 Also serious on a circuit is a Clio Trophy. In terms of its chassis, the Clio has latterly been more serious than it is fun, and when you drive one, you realise it is built to go fast and be agile and adjustable. If you trail a brake towards a corner, the back will let go more readily than the 3?s, but that ability is the peak of its power. The steering is light and accurate, lacking in ultimate engagement, and its powertrain is still a problem for a car setting out to entertain. Despite its extra power over the other two, it?s just not engaging enough. It?s just quick. Sometimes that?s okay, but not in a car from Renault Sport, from whom we?ve come to expect feel and feedback in spades. I?m inclined to think that the Clio is less entertaining than the 3.
Neither is as much fun as the Fiesta, though. The ST200 combines a level of seriousness and fun that the other hatches simply cannot match. Its responses are sharper, there?s more immediacy to its handling, its gearshift is sweeter and its steering is more weighty, accurate and feelsome, with a touch of torque steer. The ST?s balance is fairly neutral, but you can play around with the chassis, encouraging a rear wheel to lift or step slightly out of line. The result is a really incisive, capable hot hatchback from the oldest school. Some things are frustrating still: the ergonomics of the dash-top are hopeless and the driving position is only adequate. But the poise, agility and balance mark out the ST as something special.
If you haven?t driven an ST for a while, as I hadn?t, I?m not sure you?d notice the ST200?s extra urge, but it makes a more engaging, brappy noise than before and goes quite hard. I?ve no qualms about saying it?s the best hot hatch in this company. 
The Karma Revero is on course to arrive in Britain in late 2018, according to the company's chief revenue officer, Jim Taylor.
Speaking exclusively to Autocar, Taylor explained that the hybrid sports car was undergoing late development testing ahead of its full reveal in the US next month. It would then take more than 12 months for the business to evolve to a point where entering European and Asian markets was viable.
The hybrid-electric model is essentially a successor to the Karma of now defunct car maker Fisker, and it builds on that car?s overall design with a largely unchanged exterior. The fitment of new solar panels on the Revero?s roof is a significantly upgraded feature, however, and one that Taylor confirmed can power the four-door model?s electrified drivetrain.
"The energy collected from the solar panels is supplied directly to the car's high-voltage battery, which in turn powers the electric motors," explained Taylor. "Our solar panels are twice as powerful as the original ones."
While no charge time has been revealed, Taylor suggested that the strong Californian sunshine would enable owners to leave their car parked outside all day and return to it with more charge. "We're still a long way off from being able to charge it up significantly in a few hours, but if you left your car parked in an airport car park for a couple of days, you'd see more energy," added Taylor.
The input of the sun's energy will be displayed on the Revero's infotainment system, so drivers can see when energy is being captured, even when on the move. 
This is a previously unseen feature on a production vehicle. Most other solar panel-equipped models, such as the Nissan Leaf (which offers it as an option), use the sun?s energy to power in-car accessories.
The Revero will use an updated version of the old Karma's drivetrain and battery system, with new parts supplied by BMW.
The original Fisker Karma was built around an aluminium spaceframe and featured a turbocharged 2.0-litre four-cylinder engine and two electric motors. The plug-in hybrid system could offer more than 30 miles of pure-electric range.
Taylor refrained from revealing what range could be expected with the new car, but hinted that both that and straight-line performance are being improved.
"The improvements are in the electrical areas, in software reliability and battery chemistry," he said. "The mechanical parts and suspension are pretty much unchanged."
Inside, the Revero will use a new infotainment system that "represents a departure from the norm", suggesting it'll be a defining feature of the car.
As a hybrid model the Karma Revero will straddle the lines between all-electric rival the Tesla Model S, and more conventional alternatives, such as the Porsche Panamera. Porsche's future Mission E production model could also be an eventual rival.
Karma will fully reveal its new Revero next month on the 8 September and will start taking orders later this year. Cars will be built at the firm?s California factory, with production limited to around 1000 units in the first year.
The newly formed Karma Automotive has been built upon the remains of Fisker Automotive, which closed for business in 2013 because of a lack of funding. With new Chinese owners Wanxiang Group providing a stronger financial backing to the renamed Karma, insiders are anticipating a more productive future for the American company.
The Lotus Elise 250 Special Edition has been revealed to celebrate the manufacturer?s 50th year at Hethel, priced from £47,900.
Based on the Elise 250 Cup but lighter, this special edition model weighs 899kg thanks to the addition a carbon front splitter, rear wing, and boot front access panel as standard, and only 50 will be made.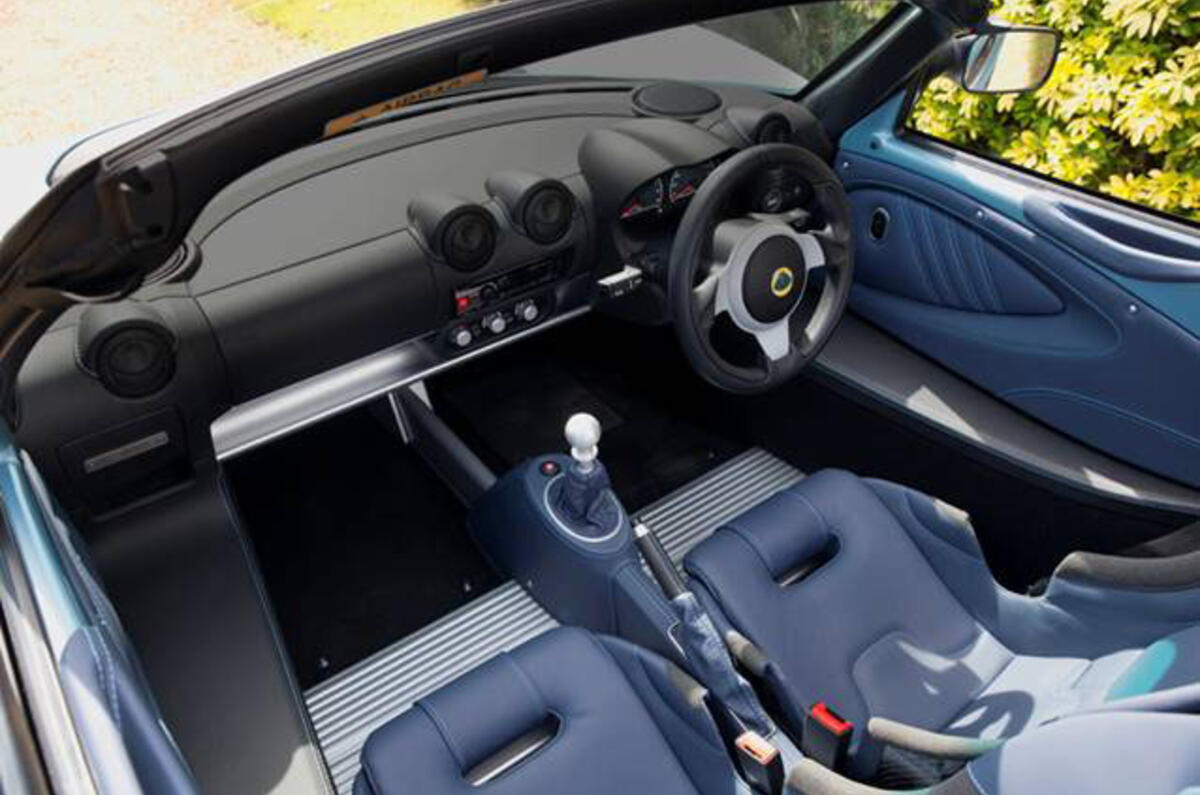 It is mechanically identical to the Elise 250 Cup, powered by the same supercharged 243bhp 1.8-litre engine, giving it a 0-60mph time of 3.9sec. Around 20kg lighter than the Elise 250 Cup, Lotus claims a power-to-weight ratio of 270bhp/tonne for the Elise 250 Special Edition.
Available in a choice of four colours ? blue, red, yellow and white ? an optional carbon fibre hardtop roof panel is also available as well as leather seats with contrast stitching and silver or black alloys.
Lotus Elise Cup 250 versus original Lotus Elise S1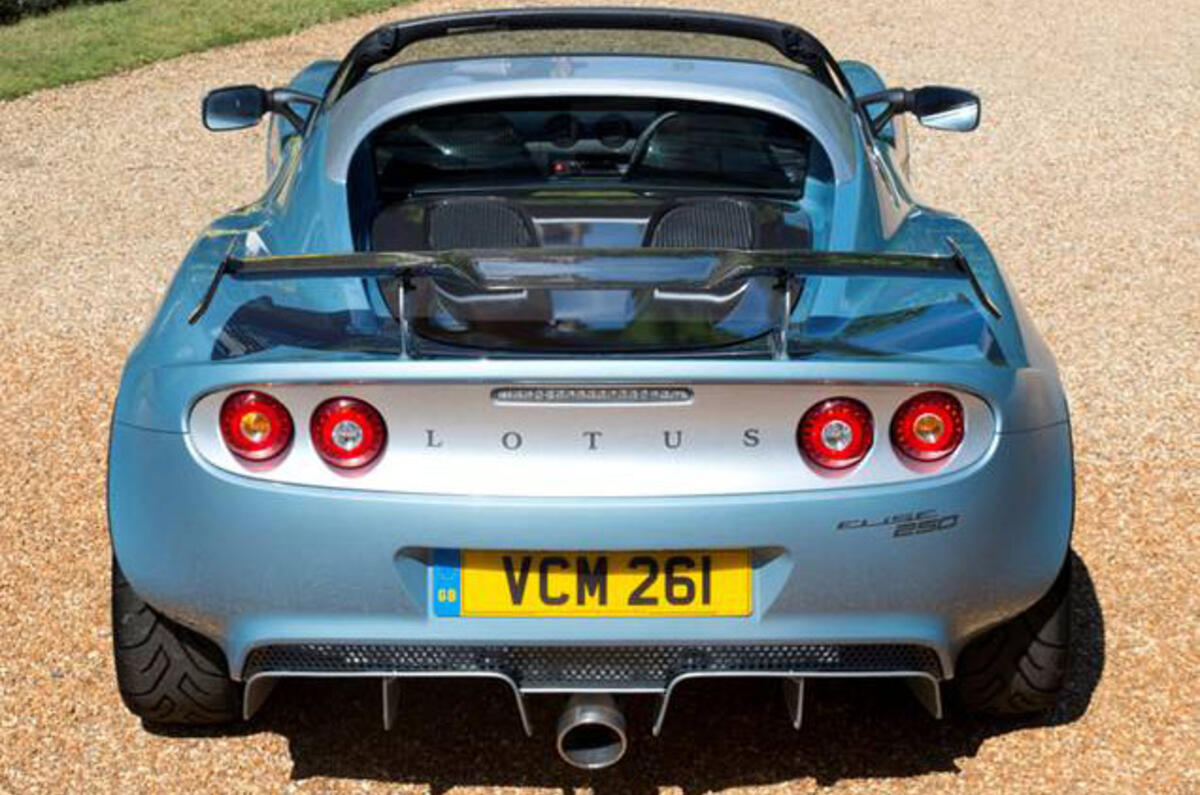 At £47,900 it is the most expensive Elise in the range, sitting above the 250 Cup which costs £45,600, and Lotus says it will be sold on a first-come, first-serve basis.
Lotus unveiled the Evora 400 Hethel Edition earlier this year to also commemorate 50 years at its Norfolk-based plant.