Nissan's Sunderland plant employees 7000 people
Nissan's continued investment in its Sunderland plant could be the catalyst Britain needs to save its car industry

Once again, Nissan has shown leadership in UK car manufacturing at exactly the moment it was most needed.

Thirty-two years ago it signalled a renaissance in British car manufacturing by building a mammoth plant in fresh car-making territory at Sunderland, just as British Leyland was beginning its terminal decline. This week, Nissan has underscored the UK?s continuing suitability as a car-making country by announcing not only that production of the next-generation Qashqai SUV will remain in Sunderland, but that it will be joined in due time by the larger X-Trail.

The decision will have deep implications. It will give UK negotiators something to fight with as they flesh out post-Brexit trade deals. It will help maintain the growth of the UK?s slowly expanding components supply industry, which government-industry bodies have worked so hard to revive in recent years.

It will help stiffen the sinews of other manufacturers with important decisions to make (are you listening, Vauxhall?) and it will help reassure concerned members of the public (including 7000 Sunderland plant employees) who have always seen Nissan UK?s fortunes as an important bellwether of UK industrial progress.

When Nissan chairman Carlos Ghosn met prime minister Theresa May in Downing Street a fortnight ago to discuss matters of mutual interest, he departed ?expressing confidence?. Stand by for the honorary knighthood.

The next-generation Bentley Continental GT has been spotted testing in convertible GTC form ahead of the new model's expected launch in 2018. 

Both the 2018 GT coupé and GTC convertible feature new front-end styling that appears to draw from the EXP 10 Speed 6 concept first seen at last year's Geneva motor show - including a lower front and rear than the current car, as well as shorter overhangs and a shorter wheelbase.

Despite receiving new styling features, the Continental still carries Bentley's hallmark design, including plenty of cues from the current model.
The next Continental will be based on a new platform called MSB, which has been co-developed by Bentley and Porsche. It will also be used in lengthened form for the next-generation Panamera, which explains why the test mule in earlier spy pictures used a shortened current Panamera bodyshell with an altered ride height and cooling to meet Bentley?s specifications.
The Continental range will be significantly lighter than the outgoing model, Bentley boss Wolfgang Dürheimer has said.
Like the firm?s Bentayga SUV, the Continental?s bodyshell will be a hybrid-materials structure, with assorted high-strength steels reinforcing a body made mainly from aluminium. The current car is steel-bodied.
This change is part of a mass-reduction effort that should drop the car?s weight substantially below the 2375kg of today?s GT. However, it will not fall below two tonnes, Dürheimer said.
Powertrains will include the all-new 600bhp W12 that?s making its debut in the Bentayga and an updated 4.0-litre petrol V8. There will also be a petrol V6 plug-in hybrid, which will use a set-up that develops 410bhp in today?s Porsche Cayenne plug-in hybrid.
It?s unlikely that Bentley will offer a diesel V8 option in the Continental. This engine is soon to appear in the Bentayga with around 400bhp, rather than the 380bhp that it develops in the Cayenne.
Speaking at the Bentayga's launch earlier this year, Dürheimer said his ?personal goal is a sustainable, stand-alone business with an annual production volume of 20,000 units?. He envisages seven model lines, although the Bentayga-derived sports SUV and the production version of the EXP 10 Speed 6 coupé that would be the sixth and seventh ranges have yet to be signed off.
Talking about the advantages of Bentley being part of the new Sports and Luxury Group at Volkswagen, Dürheimer said the VW Group test drives that take place in Namibia will now be split among the new groups and involve fewer cars. More can be achieved this way, he said.
Another gain will be sharing research and development skills, as well as a supplier base suitable for high-performance and luxury models from Porsche, Bentley and Bugatti. Dürheimer added that Lamborghini?s absence from this group ?makes no sense?. 
Hyundai Ioniq hybrid and electric models are now on sale in the UK, priced from £19,995 and £24,495 respectively.
In comparison, a key rival for the new car, the hybrid Toyota Prius, costs from £23,295.
The third and final model in the new Ioniq line-up, a plug-in hybrid, will be launched in the second quarter of 2017. It's pricing will be confirmed in the coming months.
The Ioniq is Hyundai's first dedicated hybrid and full-electric model and also the first car from any manufacturer to be offered with three electric powertrain options within a single body type. We run through its technical specifications below. Click here to read our review of the Ioniq hybrid model.
Engine and gearbox
The most affordable powertrain, the hybrid, is comprised of a 1.6-litre Kappa GDi engine that produces a peak of 103bhp and 108.5lb ft of torque, and a lithium-ion battery-powered, permanent magnetic electric motor, which contributes a maximum of 43bhp and 125lb ft of torque. The Ioniq hybrid is claimed to have a thermal efficiency of 40% - which conveniently matches its arch-rival, the Prius.
This efficiency is possible thanks to the combustion engine's use of optimised cooling and a 200 bar six-point direct fuel injection system, while the electric motor benefits from declination coils that allow it to work with a claimed 95% efficiency.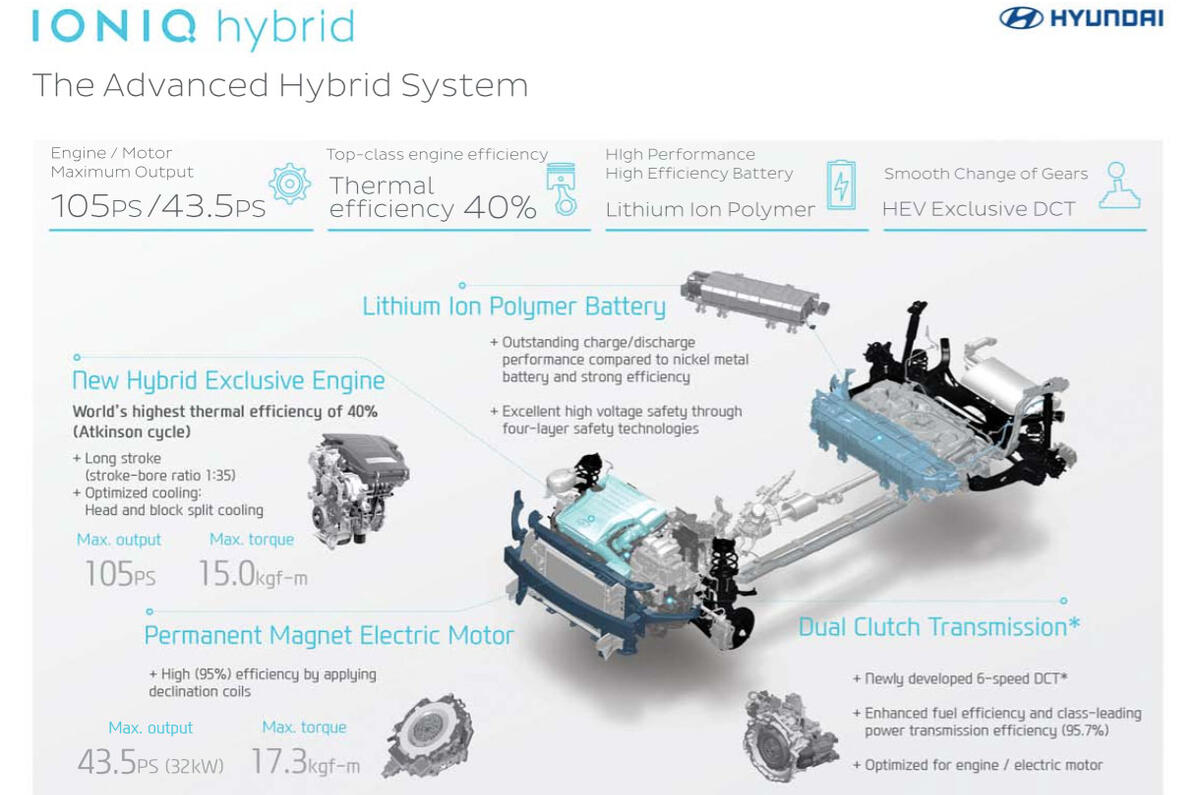 Drive is sent to the front wheels via a six-speed DCT dual clutch transmission that's been optimised to offer as much as 97.5% efficiency - another class leading feature, according to Hyundai.
The following plug-in hybrid variant of the Ioniq will use the same 1.6-litre engine and electric motor combination, but with electric power boosted to 51bhp, giving a combined total of 155bhp. It's capable of travelling for 31 miles on electric power alone, and emits 32g/km of CO2.
The Ioniq Electric features an uprated lithium-ion battery pack, and is good for an estimated 155 miles of pure electric driving. Its electric motor produces 118bhp and 218lb ft of torque, with drive channelled through a single-speed transmission. In this form, the Ioniq has a top speed of 103mph.
A key standard feature of the electric model is rapid charge compatibility: it can be charged to 80% capability in 33min from a 50kW CCS Combo Rapid public charger. Owners can also plug their car into a conventional domestic charger. To help boost energy when on the move, the Ioniq Electric features regenerative braking, which can be adjusted via steering column mounted paddles.
Chassis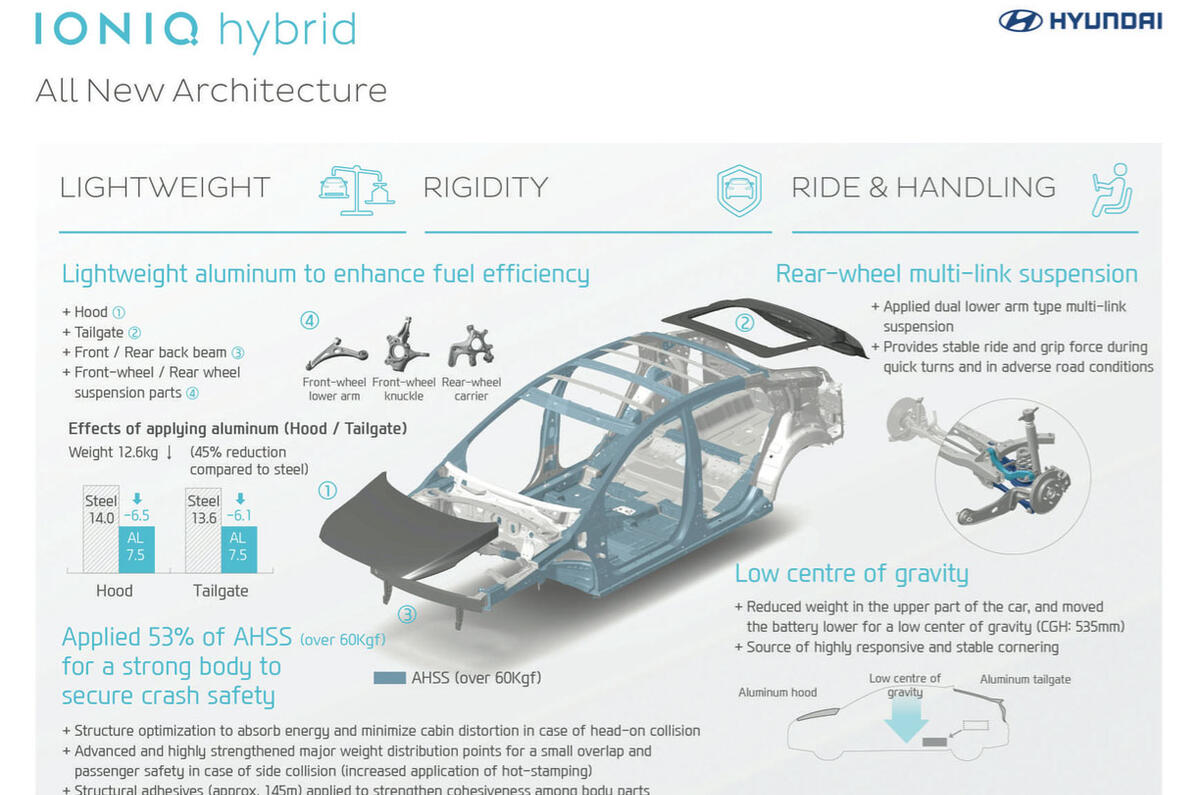 The new model is built on a brand new platform, which is shared with sister brand Kia for the new Niro, also due to launch this year. Hyundai says the new model's chassis has been optimised to deliver "responsive handling while remaining efficient in each of its three powertrain configurations". It's made up of a mix of Advanced High Strength Steel - the material contributes a significant 53% to the structure - and aluminium, which is used for the bonnet, boot and suspension components and shaves 12.6kg off the car's weight.
Hyundai's handling claims appear to be backed up by the fitment of dual-lower arm multi-link suspension at the rear, while the batteries have been located in the car's floor to lower the centre of gravity.
Aerodynamics
The new alternatively fuelled Ioniq will also offer ?class-leading aerodynamics?, according to the Korean manufacturer. 
The vehicle?s exterior styling is said to make it very slippery through the air, reducing drag and enhancing fuel economy. At the front Hyundai?s hexagonal grille incorporates moving ?flaps? that can direct airflow over the car.
Interior
Hyundai has gone for a clutter-free approach, combining ?efficient use of interior space and a clear, logical approach is applied to the layout of control functions?. The interior is said to be constructured with eco-friendly materials - though the manufacturer hasn?t elaborated on what those materials are yet, the latest interior picture shows soft-touch plastics, leather with contrasting stitching and chrome-coloured trim.
Android Auto and Apple CarPlay feature on the Ioniq, plus satellite navigation provided by TomTom's Live service. A wireless charging mat for mobile phones is also available.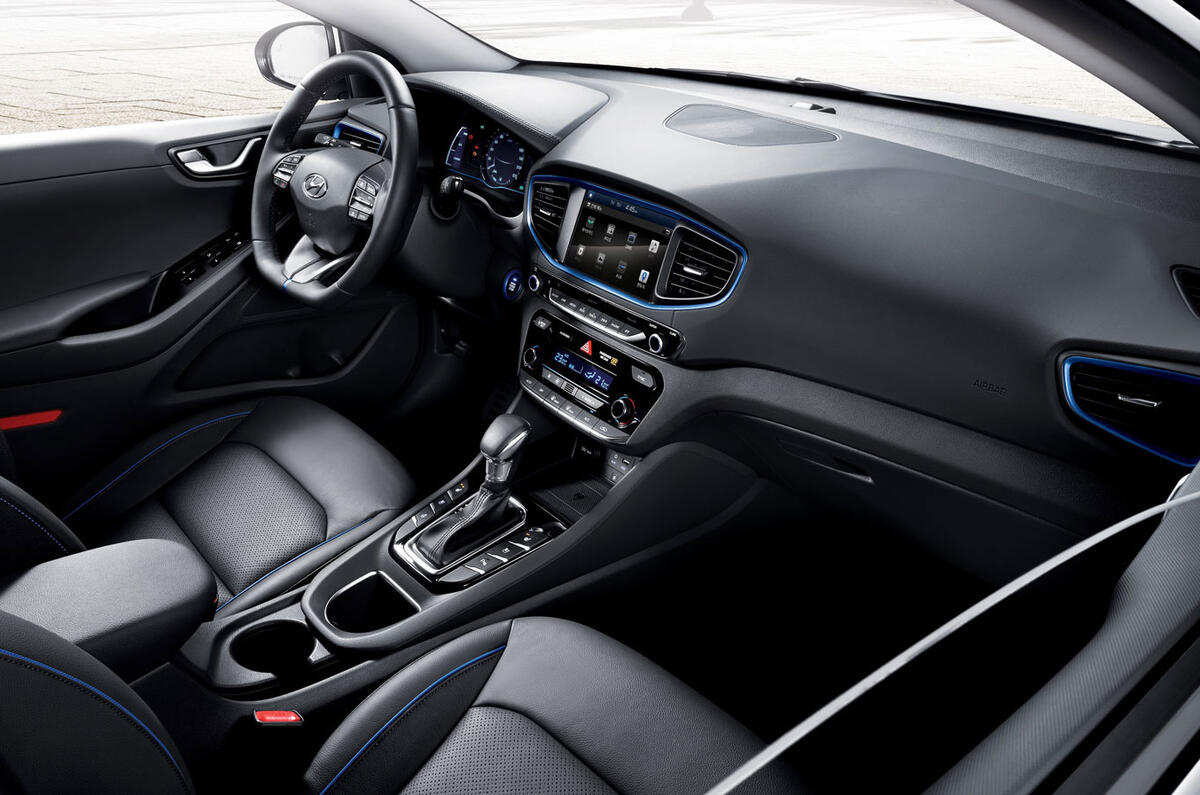 The dashboard's shape and layout appear very similar to the Hyundai Tucson's - there's even the same digital touchscreen display housed between the two central air vents, and the heating controls look nearly identical.
In terms of safety technology, the Ioniq features autonomous emergency braking, lane keeping assistance, blind spot detection, rear traffic alert and adaptive cruise control.
While all three models of the Ioniq look broadly similar, the two hybrid versions have blue trim accent colours, and the electric model gets copper accents.
More details
Hyundai says the Ioniq "breaks the mould for hybrid vehicles. As the world?s first model to offer customers the choice of three powertrain options, the Ionic combines class-leading fuel efficiency with a fun, responsive drive and attractive design - a unique mix not yet achieved by a hybrid vehicle."
It?s no surprise to see Hyundai developing a dedicated hybrid model, as sales of alternatively fuelled vehicles continue to grow in Europe and the UK. Figures from the Society of Motor Manufacturers and Traders (SMMT) show that sales of AFVs have grown by 130% year-on-year in this country.
The launch of a dedicated hybrid model will also help Hyundai reach the strict 95g/km CO2 regulations coming into force in Europe in 2020.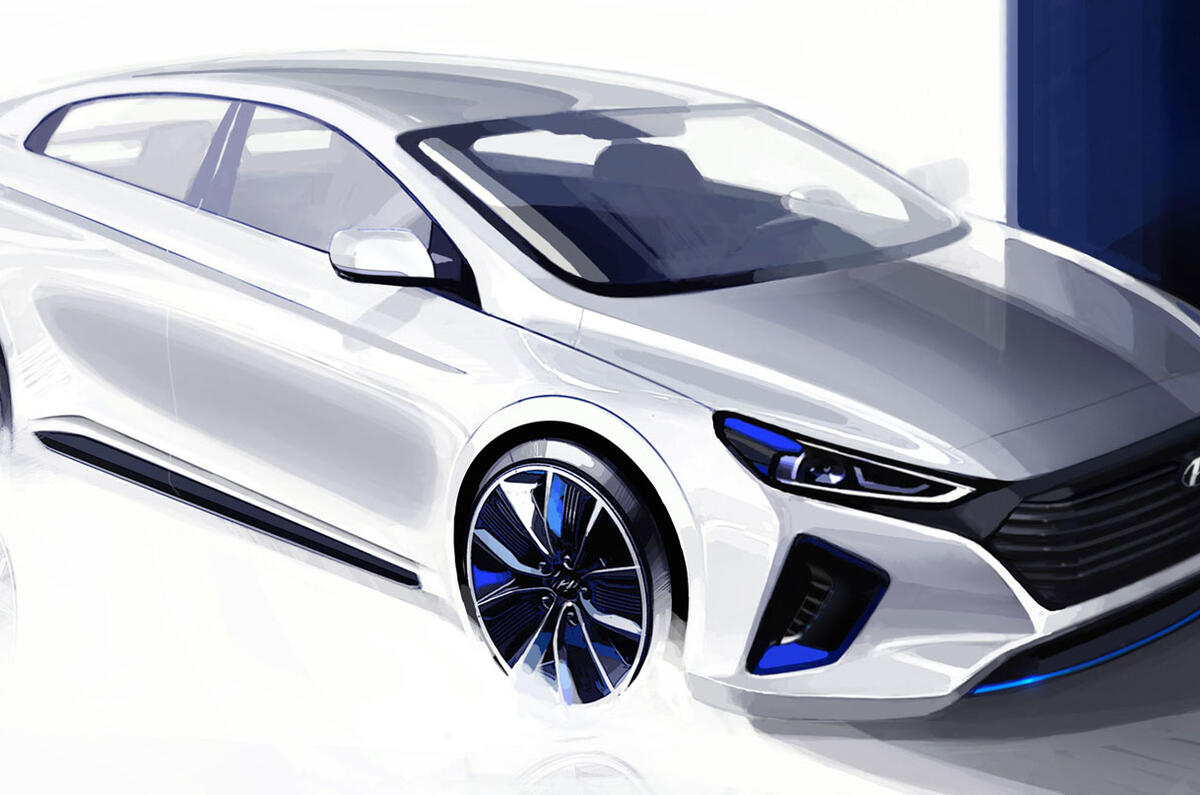 Head of Hyundai Motor R&D Center Woong-Chul Yang said: ?We are proud to advance our eco-friendly car line-up with the introduction of Ioniq. Our vision for future mobility focuses on choice, with a variety of powertrain options to suit customers? varied lifestyles, without compromising on design or driving enjoyment. Ioniq embodies Hyundai Motor?s vision to shift the automotive paradigm and future mobility; Ioniq is the fruit of our efforts to become the leader in the global green car market.?
Hyundai UK boss Tony Whitehorn has already said the best way to introduce more hybrid technology to the firm?s line-up is to start with a dedicated car. Speaking to Autocar, he said: ?Probably the best way to do that is with a standalone model, as Toyota has done. Toyota started with the Prius and has expanded that range; it has said, 'Let?s make a statement' but ultimately has taken that technology [for other models].
?If you just restrict hybrid technology to one vehicle, you?ll never get the revenue. You have to put it in other cars,? added Whitehorn. 
Plans for Hyundai's hybrid project go as far back as 2010, when the firm showed its Blue-Will concept car. That model featured a 1.6-litre petrol engine working in conjunction with a 134bhp electric motor. Early-stage test mules were then spotted testing in August 2015.
Hyundai recently celebrated selling one million cars in the UK. Speaking at an event to mark the occasion earlier this year, Whitehorn said low-emissions vehicles would be integral to the firm's ongoing growth. Hyundai plans to introduce 28 such vehicles by 2020.
?Next year we are looking at hybrid and EV technology coming out, and that will just escalate,? said Whitehorn. ?I see electric vehicles, hybrids and plug-in hybrids as a way of bridging the gap between the internal combustion engine and pure fuel cell technology. How long that bridge lasts for is uncertain, but it is interesting to see manufacturers such as ourselves going for a variety of technologies.?
Read more - 2016 Hyundai Ioniq driven
Nissan's Sunderland plant opened in 1986 and has produced almost 9 million cars since
Sunderland will also continue to produce the Juke, making it a European hub for Nissan SUVs and quelling fears Brexit could shrink the site

The next-generation Nissan Qashqai and X-Trail models will be built alongside the Juke at the Nissan?s Sunderland production plant, meaning the factory in the north east of England will become a European hub for crossover production.

The move will ensure the survival of more than 7000 jobs in Sunderland, with Nissan confirming that the decision was made following strong support from the British Government, which is working to ensure the UK?s automotive industry remains strong during Britain?s ejection from the European Union.

Nissan's announcement ends rumours that the Sunderland plant could downsize following the Brexit vote.
Chairman and CEO of Nissan Carlos Ghosn (pictured above) said this morning ?I am pleased to announce that Nissan will continue to invest in Sunderland. Our employees there continue to make the plant a globally competitive powerhouse, producing high-quality, high-value products every day.
?The support and assurances of the UK Government enabled us to decide that the next-generation Qashqai and X-Trail will be produced at Sunderland. I welcome British Prime Minister Theresa May?s commitment to the automotive industry in Britain and to the development of an overall industrial strategy.?
The news follows the announcement from the Office for National Statistics that Britain's economy grew by 0.5% between July and September.
The next-generation Qashqai will arrive next year with sophisticated autonomous technology. The future X-Trail will also arrive in 2017, and was previewed in a concept earlier this year.
Opinion: Nissan's commitment to Sunderland is a big boost for Britain
The Vauxhall Insignia Grand Sport name has been confirmed for the next-generation hatchback model, due next year.
The hatchback will be joined by an estate version, called the Insignia Sport Tourer, and possibly a more rugged model that could adopt the name Country Tourer.
Autocar has already sampled a prototype version of the 2017 Insignia Grand Sport - click here to read our review - and early impressions suggest the new name will be accompanied by a more eager chassis set-up. But the car won't make its official debut until December.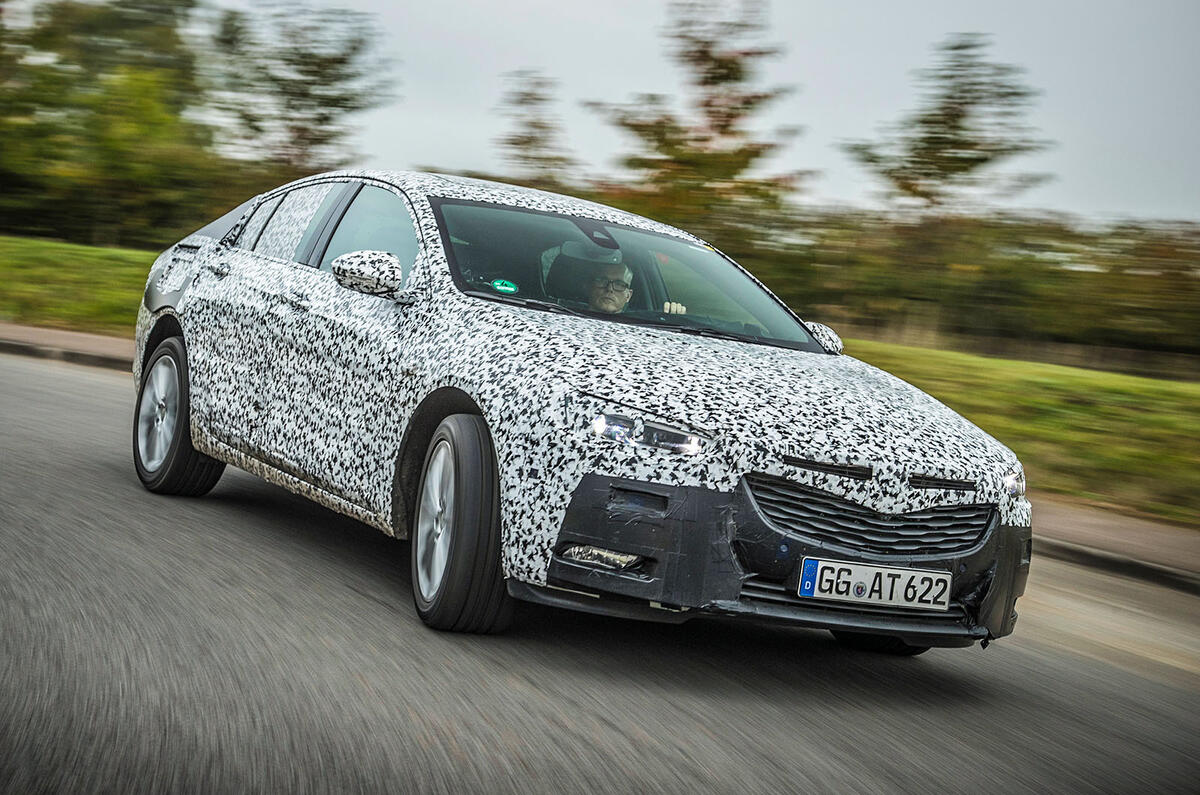 Design
The future Insignia will be larger, lighter and more efficient than the current model; the biggest changes are a small elongation of the wheelbase and the shedding of around 150kg.
The next Insignia will be a global car, sold under the Vauxhall, Opel and Buick badges across Europe, the US and China. Here in Britain, it will remain a key rival to the Ford Mondeo.
Read our full review on the outgoing second generation Vauxhall Insignia
The new Insignia will have an evolutionary look, with only minor styling changes to bring it into line with the rest of the Vauxhall range. Although the spotted cars wear cladding that hides the majority of the styling, it's clear the new model has a new swooping roofline, which is higher and wider at the very back.
As well as increased rear space and easier access to rear cabin, thanks to the taller doors, the second-generation Insignia will get a bigger and more user-friendly boot. A new tailgate design with redesigned tail-lights will help to make the boot deeper, wider and taller boot than before, with a 565-litre capacity that will match that of the Skoda Superb.
Engines and gearbox
The Insignia is based on a moderately updated version of GM?s familiar Epsilon 2 architecture. In European markets, the most important engine upgrades will be the debut of the new 1.6-litre CDTi diesel, which will replace today?s 2.0 CDTi unit.
General Motors will be targeting best-in-class refinement for the diesel Insignias. The new 1.6 CDTi engine will be offered in a range of outputs, starting at 136bhp and rising to around 170bhp.
Today?s Insignia is already available with GM?s new 1.6 SIDI turbocharged petrol engine in 168bhp form. This engine will also be offered in two lower-powered versions.
The Insignia will be offered with a new eight-speed automatic transmission, which is expected to improve overall fuel economy by around 3% compared with the six-speed manual versions.
Hilton Holloway and Sam Sheehan