The SsangYong Korando Sports pick-up will form the basis of a new one-make racing series in Britain next season.
The SsangYong Racing Challenge has been developed to be an affordable route into circuit competition and is being set up with the blessing of SsangYong?s UK importer. A demonstrator vehicle, developed by ABG Motorsport, was unveiled at the Silverstone Classic this weekend.
Vehicles used in the new series will be subjected to tightly controlled technical regulations to keep budgets affordable and to ensure close racing.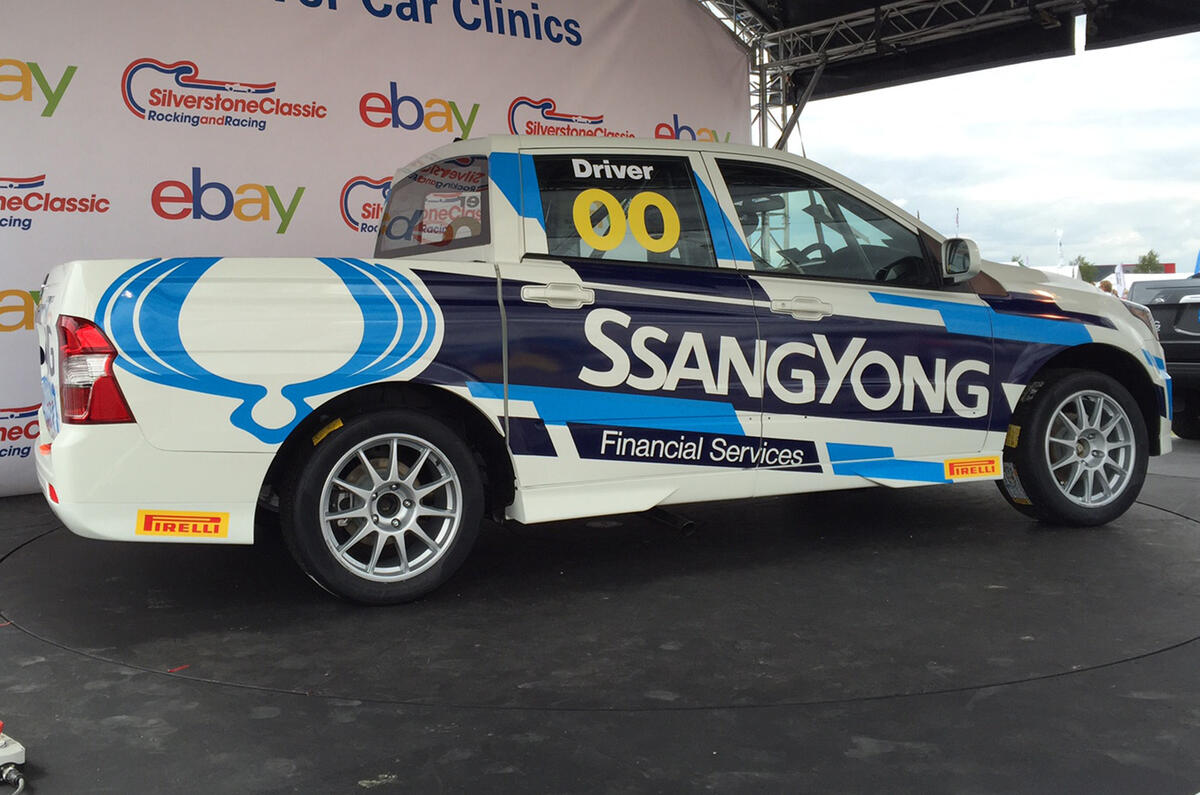 The amount of funds needed to buy a competition-prepared vehicle and compete in the SsangYong Racing Challenge hasn?t yet been finalised because series chiefs are still fine-tuning the package, which is expected to include race suits, technical support and on-event driver coaching.  
The racing truck will use a six-speed manual gearbox and be built to full Motor Sports Association safety regulations. Power will come from a 2.2-litre diesel engine generating around 200bhp that will be sealed by series technical chiefs to ensure no performance upgrades can be made.
Drivers aged 14 and upward will be eligible to take part, with the emphasis on amateur competitors and aspiring professional drivers making their first steps from go-karting to full circuit racing.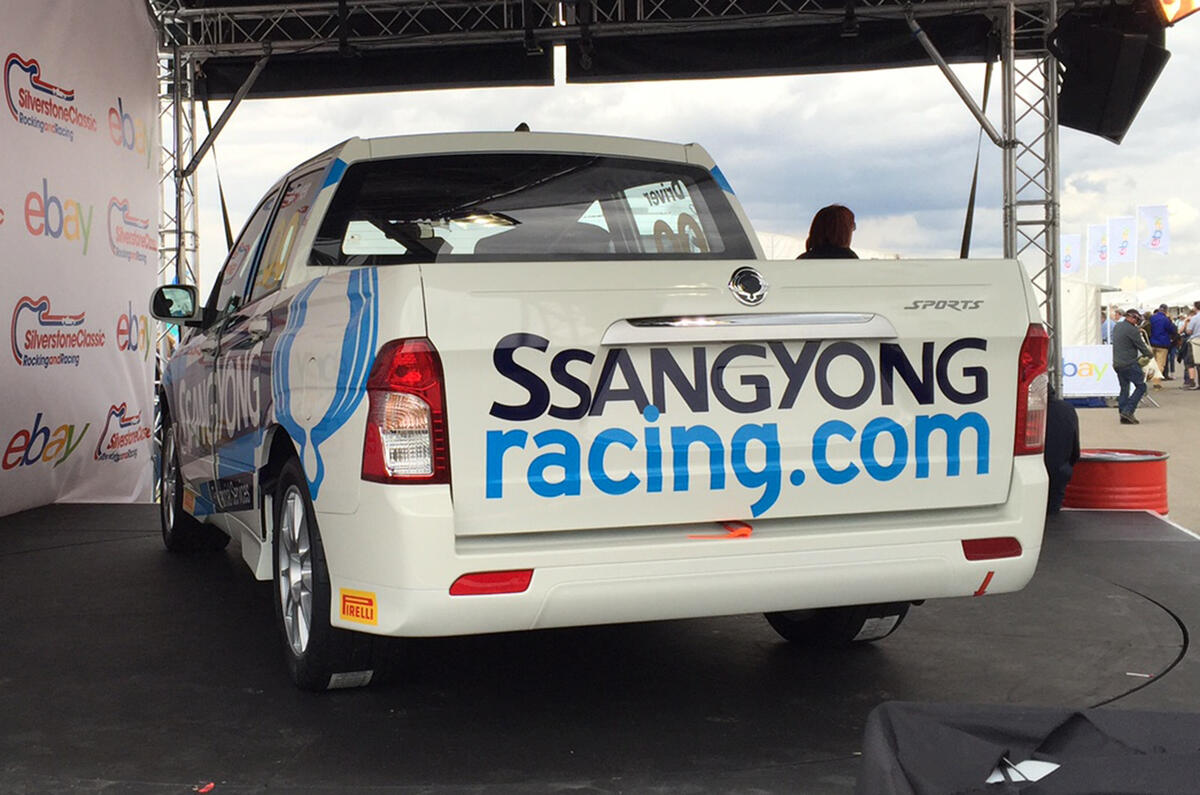 Six events will be organised at circuits around Britain and three 15-minute races will take place at each meeting.
SsangYong dealers will be encouraged to participate and there will be a separate competition within the main series for dealer-supported entries.
Two experienced racers, Glynn Geddie and Marcus Clutton, have been appointed as development drivers. A series of taster sessions will take place between now and the start of the inaugural series to allow prospective customers to sample the race-bred Korando Sports.
A similar series, the SsangYong Actyon Ute Racing Series, exists in New Zealand and attracts about 30 entrants. 
Off-roading is illegal in Iceland. Seriously.
It could cost you £2800 and two years inside, because tyre tracks cut into the country?s delicate, lightly grassed volcanic tundra take decades to heal. Unlike, say, the moon or Hollywood Boulevard, no one will hail you for leaving your imprint here.
But, wonderfully, there is an exception, and it?s called Formula Offroad.
In this sport, mad machines driven by even madder men battle it out over land and water ? yes, over water ? to compete for the Icelandic Formula Offroad title.
In a stark white Land Rover Defender 110, we?re heading for a sunken gravel pit at Hella, an hour east of Reykjavik, for the first of the 2016 season?s five rounds. We?ll be following the exploits of 25-yearold defending champion Snorri Thor Árnason and his V8-powered beast, christened Choirboy.
I heard Choirboy sing at Árnason?s workshop earlier and immediately grasped the severity of the misnomer. It?s a demonic chainsaw of a noise that would give Aled Jones an instant nosebleed.
It?s so loud, fierce and guttural that it might have caused that bothersome ash cloud in 2010. The engine is a GM LS3 stroked from 6.2 to 7.0 litres and enriched with a shot of nitrous that triggers when the throttle is mashed.
It can make up to 1000bhp and, at 1100kg, Choirboy is a flyweight by Formula Offroad standards, with more power per tonne than a Bugatti Chiron.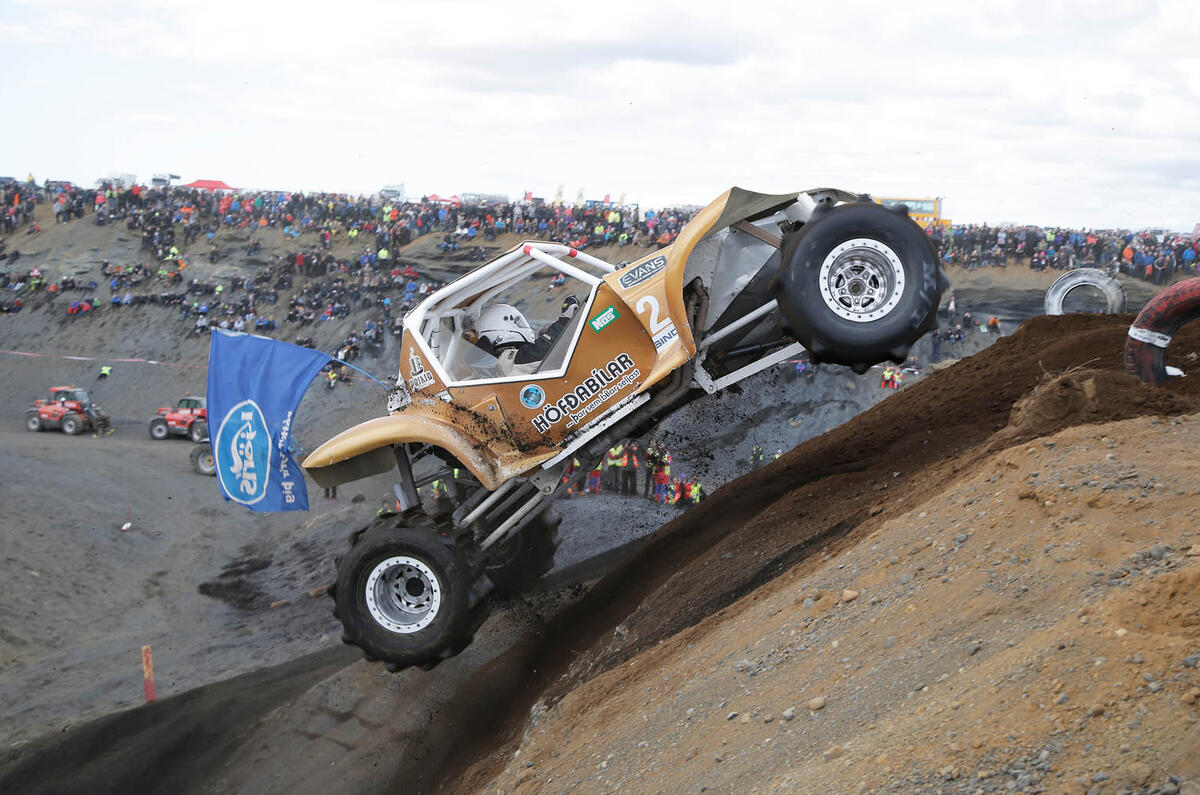 Lively chief mechanic Gummi Gustafsson explains that there?s a high-pressure oil pump to defend against bouts of adverse gravity, and the air intake has been relocated to avoid gravel and dust ? although he still scoops masonry out by hand between stages.
The car wears huge ?super scoopers? ? dragster tyres with giant spades attached to help grapple through sand and clamber over rocks. They run at just 4-7psi and cost £600 each. Choirboy?s arches barely cast a shadow on them.
The tubular steel chassis wears adjustable Fox shocks, with shorter, supplementary units up front for extra compression in extremis. Forklift-sourced steering winds just 1.2 turns between locks, and the GM Powerglide transmission has only two speeds.
Torque is split 50/50 between two truck axles, each of which houses a locked differential. Gearing is offset so the front wheels turn a little faster for more responsive steering uphill and a braking effect on descents ? ?an Icelandic trick?, says Árnason, beaming.
He explains the format: five technical stages and one timed stage on day one, then three technical, one timed, one water and one mud on day two (if you and/or your car don?t expire first).
The shorter, sinuous technical stages use one side of the giant, ragged half-pipe that is the gravel pit, with competitors negotiating tight gates and vomitous inclines as they go.
As in a hill trial, the farther you get, the more points you bag, with deductions for clipping gates, stopping or, Odin forbid, reversing. The maximum score is 350 points.
Timed tracks are much longer ? up to 700 metres ? and more frantic. The fastest man scores 350, his rivals shedding a point for every 0.1sec they lag. The show-closing water and mud tracks are a law unto themselves, but more of them later.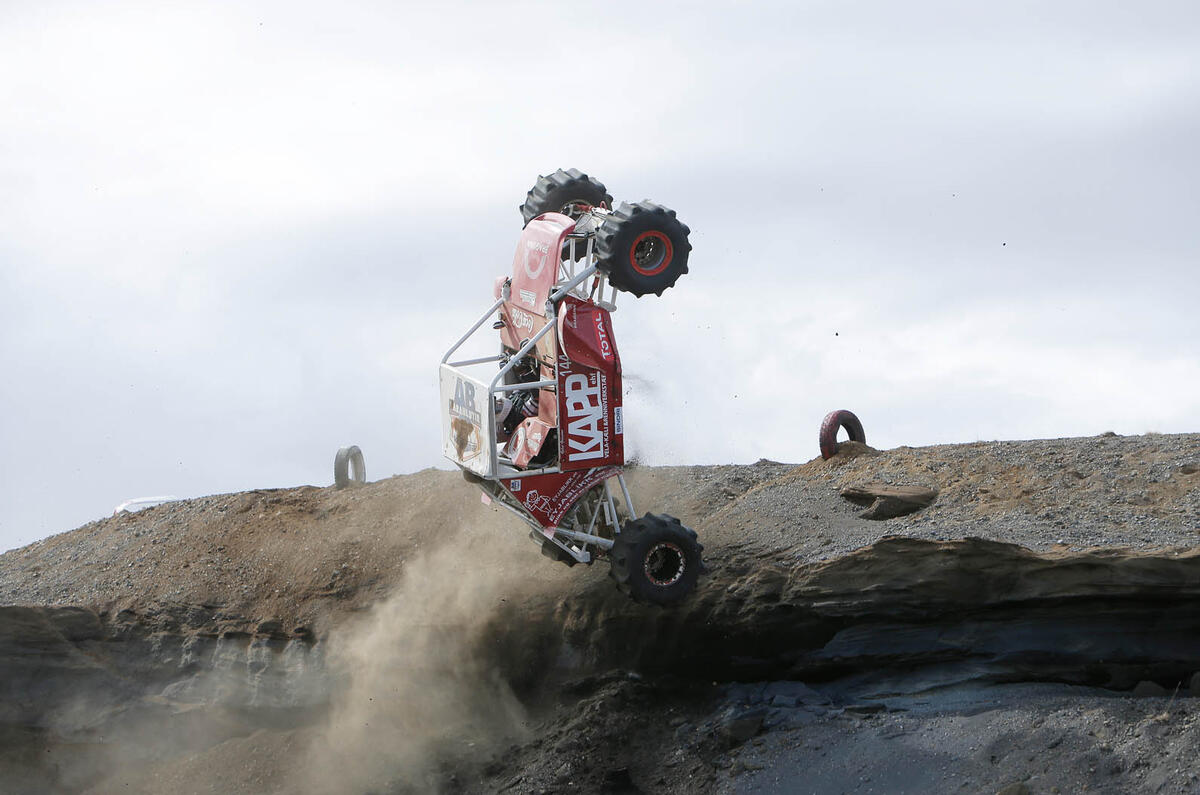 We arrive in Hella to see the action on the first morning. The gravel pit is up to 150m wide and 700m long.
There?s a dusting of weary-looking yellow grass along the plain that leads to glacier-filled mountains beyond, but the pit is barren, its sand and boulders weathered into a rusty grey.
Its shallowest slopes are about 35deg (the world?s steepest public road is 19deg) and stubborn outcrops of volcanic rock jut horizontally along the rim. This is no lunar landscape; it?s Martian. But there?s no shortage of life.
Thousands of spectators coat the far side of the pit, filling every foothold and ledge like Jawas on Tatooine.
The motley crew of 22 cars assembles. Most use turbocharged V8s, but there are other nitrousequipped cars such as farmer Bjarki Reynisson?s Land Rover Series 2-bodied creation, known as The Animal. (His mechanics are The Veterinarians.)
Gudni Grimsson?s 144 car uses a turbocharged 2.4-litre four-pot Honda engine, while Thor Palsson in his 1200bhp Spidermanliveried machine is known for his flat-out antics.
Drawn to race before Árnason on each stage is the 47 car of Olafur Jonsson, champion until our man stole his crown in 2013. Grimsson sets off. He edges over a giant tectonic stub, then creeps down the unthinkably steep slope before an ultra-tight right turn for the first gate.
The car slips sideways as the sand gives way, freshly exposed grains of jet black basalt seeping like crude oil from beneath its tyres. The front wheels dig in and the car buries itself.
Somehow, a combination of steering wiggles and gear shuffling sets the car free and Grimsson hurls it back up through the next gate, the blow-off valve chattering furiously.
Then it?s another careful descent, traverse and uphill attack, but this time his right front wheel slams the bluff.
The car rebounds violently, pointing skyward before leaving the ground altogether, rolling backwards onto its roof and, eventually, its wheels.
The crowd erupts. His run is Formula Offroad in microcosm: multiple bouts of disaster interspersed with skill, power and drama. I like this very much.
Árnason tiptoes off the cliff. The rear differential clatters an outcrop, but when all four tyres touch down, it?s full right lock and the fronts dig in like grappling hooks as a bootful of throttle pivots the back around and he shoots neatly through the first gate.
He fires back up and over the crest, powersliding left, peppering several faces ? including mine ? with stinging volcanic shards. The wall that defeated Grimsson is dispatched with similar aggressive efficiency.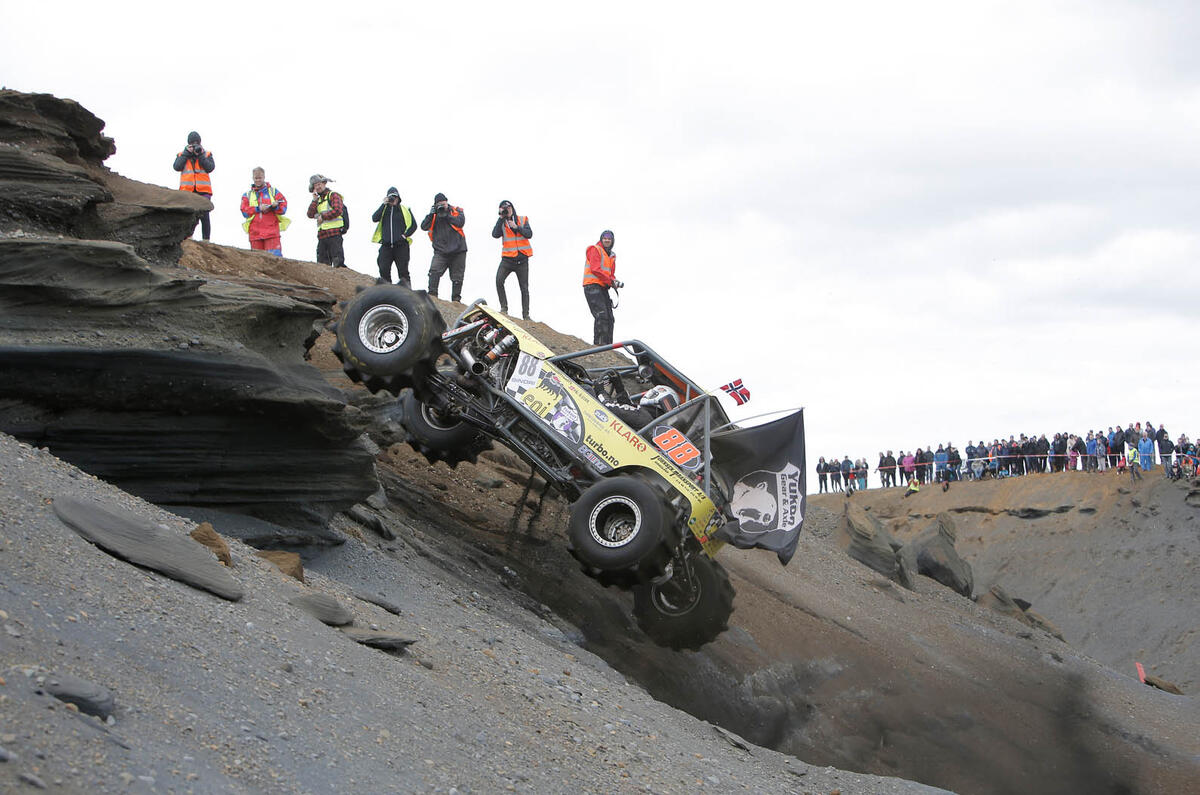 Árnason explained his technique earlier: ?The nitrous helps a lot uphill. You need 80% throttle, and when you approach the top, you give it the nitrous. The suspension extends, so when you hit the hill, you get all of the shock. Otherwise, you get steel to steel and bounce backwards.?
And so it goes: Árnason uses the outcrop as a ramp, hurling the car into the air, then landing foursquare on the precarious ledge. The suspension soaks it up, and before gravity can wreak revenge, he guns forwards and across the line, spitting in his wake a thick jet of dark dust that lingers over the valley.
I?m speechless. Terrain you wouldn?t climb without ropes and carabiners has been mauled by a machine, and it?s staggering.
It?s the same throughout the day?s technical stages. Árnason drives beautifully, traction-hunting hands whirling while somehow threading a howling Choirboy through the gates. He?s a crowd-pleaser, too, giving a snarling pump of the throttle as he leaps through one finish line a good 10 feet nearer St Peter.
In the stramash of power and rocks, others struggle. Stricken cars ? stuck, rolled, overheated or a wheel short ? are forklifted away and frantically repaired.
The teams help each other out while the whole entourage ? marshals, crowd and classic rock-blaring sound stack ? shuffle along to the next track. Then comes the timed stage, in which the drivers launch themselves off the cliff, race around the valley floor and fly back up the hill.
I watch with Icelandic Motorsport Association president Tryggvi Thordarson, who literally wrote the rulebook. Even he?s shaking his head at the banzai tactics on show.
Alexander Steinarsson over-eggs it in his 91 car. He pitches over the crest and finds himself facing the ground, travelling 25m with the car on its nose, tipped just past vertical.
Unbelievably, he lands it. Then the car snaps to the right, but Steinarsson corrects, transitioning neatly into a leftwards drift through the first gate.
It?s the most jaw-dropping manoeuvre I?ve ever seen. The crowd goes wild. Árnason drives with typical style and skill, finishing with a delightful uphill drift, but the stage is abandoned because of timing issues.
Even so, he hasn?t dropped a point all day ? a new record ? and leads Jonsson by a couple of clipped gates.
An evil technical stage begins day two, with many failing the sheer final ascent. One car sheds a driveshaft and there?s a 10-minute delay as marshals hunt for it in the sand.
Árnason goes clear but nicks a gate on the second stage, fails to complete the third and suffers a puncture on the timed stage. Jonsson?s fortunes are also mixed, so it?s still tight as they enter the water course.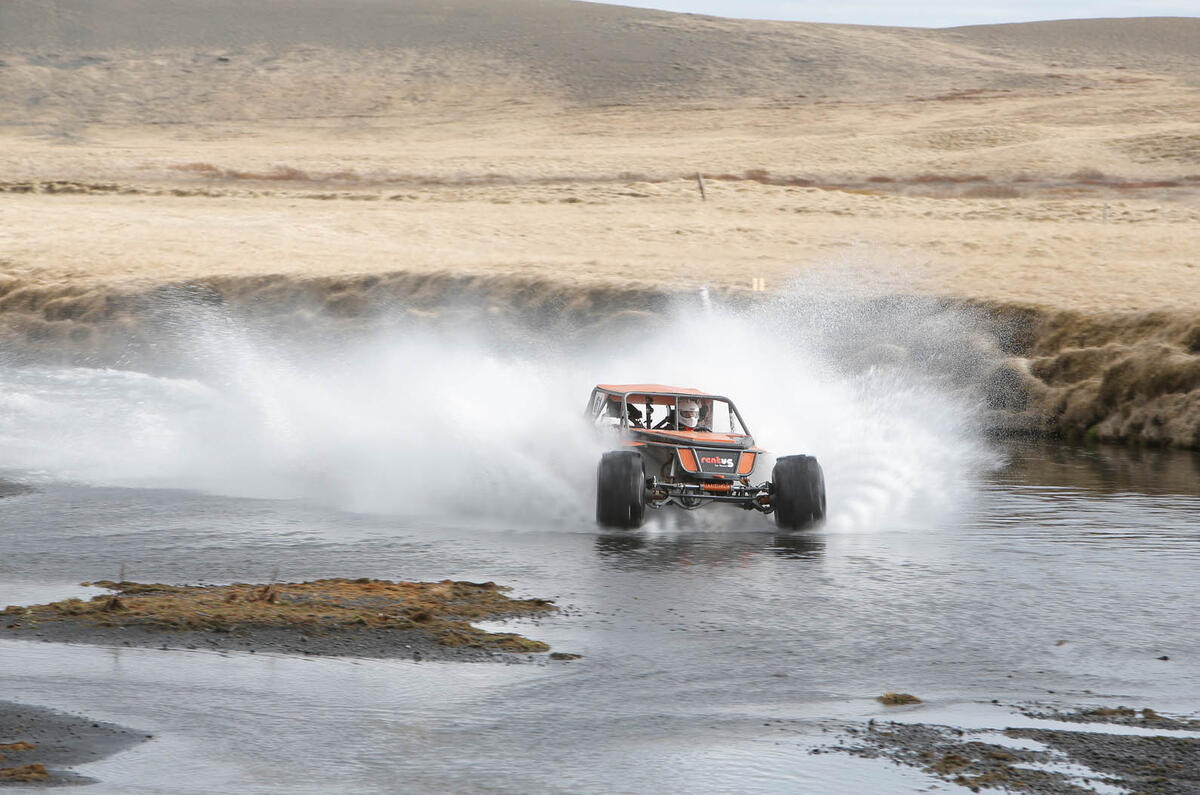 Here, Formula Offroad goes into proper lunatic mode, with a generous sprinkling of slapstick. Suited in plastic, competitors drive across ? not through ? a 200m-long stretch of river.
Yes, these tonne-plus machines go full New Testament and drive on the water, skimming like a stone (a massive, roaring, four-wheel drive stone with a terrified human strapped in).
With his nitrous turned up in preparation, Árnason explains the technique: ?You get lined up and just hit it ? and hopefully you get over. If the revs drop, you sink. If the intake gets wet, your engine?s ruined.?
Not to mention, if you flip, you might drown?
A small island of gravel halfway up the river has some doubting its depth, but poor Atli Ásgeirsson discovers otherwise as he fluffs his entry and his car trickles into the water before completely disappearing below the surface. Deep enough, then.
Jonsson, however, nails his approach, pointing at the island and pinning the throttle.
It?s as if the water has spontaneously frozen over. He scarpers across at 50mph, working the steering wheel to tame the flailing rear, the tyres roaring like jet engines.
The gravel patch lends a moment of traction, flinging the car across the final stretch and back onto dry land. It?s a masterly job. With a clear run, though, Árnason can edge to victory.
He makes a shorter approach, but the revs shoot up in time and Choirboy launches onto the water. The car is less balanced than Jonsson?s and its axles start to tramp violently. But the islet provides respite and the car stabilises for the final charge, Árnason showboating with hands aloft.
He confirms victory on the mud course, Choirboy turning from gold to brown in moments as Árnason wrestles it through a boggy field in a haze of vaporised mud.
A delighted Árnason collects his trophy, with Jonsson just 29 points adrift.
Win or lose, everyone?s buzzing. It has been a riot for competitors and spectators alike. I highly recommend you go. I?ll see you there.
Taxi of Terror
Cars 61 and 90 are unusual for having a passenger seat, and you can spend seven to 10 minutes being thrown around in one of them from £500. They both have nitrous-boosted V8s and are run by a father and son team from Reykjavik.
Unreassuringly, they?re called Zombie and Insane (the cars, that is). See offroadiceland.is for details.
Hella Good
The 2016 Icelandic Formula Offroad Championship culminates at Akureyri in northern Iceland on 20 August, but the new season begins next May at Hella, which features the longest water stage. Dates will be published at ais.is/calendar.
We rented our Land Rover Defender from Europcar Iceland (europcar.is) and discovered spectacular local sights, including geysers, majestic waterfalls large and small, otherworldly lava fields and bizarre black dunes. Although ?off-roading? isn?t allowed, many tracks are suitable for 4x4s only, so there?s plenty of potential for exploring the wilds, fording rivers and visiting glaciers. See iceland.is and south.is for visitor information.
This is the Volkswagen Phideon. No, you can?t have one. Not unless you live in China, in which case, fill your boots.
You can?t have one because it's the new Phaeton, if you like ? the contradiction that was the people?s car not built for the people. The car that was a rip-roaring success story, in two places, at least: China and Wolfsburg.
Wolfsburg, home of VW, misses out this time. Although it is mostly German-developed, the Phideon is a car for China and China alone. They like big saloons in China, you see. Mostly black, often ugly. Some 60% of Bentley Flying Spurs are sold there. That?s why they liked the Phaeton.
There?s some Bentley beneath the Phideon, VW says. The Phaeton was a technological showcase for VW and only VW. The idea of it was conceived by the chairman of the supervisory board at the time, Ferdinand Piëch, who, you might recall, was a bit of a stickler for things.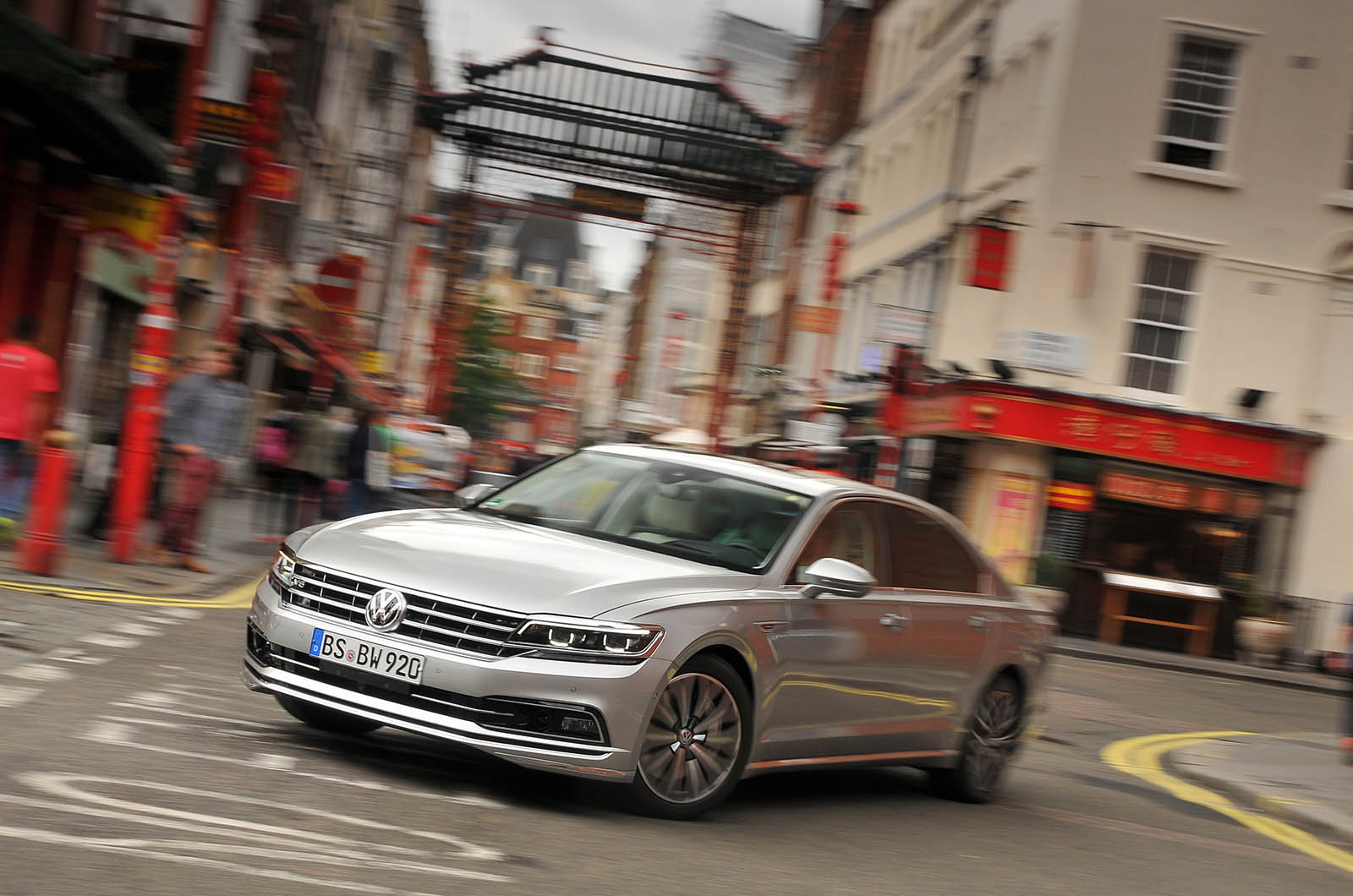 He wanted VW to build a luxury car that, among other things, could be driven all day at 186mph (300km/h) when it was 50deg C outside, while the air conditioning kept the interior at a steady 22deg C. And, no question, the car he conceived was massively impressive.
Piëch was, it?s said, partly motivated by the arrival of the Mercedes-Benz A-Class. Annoyed about the makers of the S-Class muscling in on Volkswagen?s territory, he decided Volkswagen should do the same in reverse. So he made a great car ? and you all bought S-Classes anyway. Except in China, where preconceptions about badges mattered less at the time and any big, technically sophisticated European car could be a hit.
The Phaeton?s popularity there explains why, when the time came to replace it, the glass-fronted factory in Dresden was quietly forgotten and Volkswagen?s Chinese partner, SAIC, was engaged to assist in the development ? although given that most of it was completed in Germany, the majority of the work rested with VW. Phideon assembly will be at the VW/SAIC Anting plant in Shanghai.
Which is why they said: ?Go to Chinatown, Prior, the one in London, in the Phideon we?ve got hold of, and have some photographs taken of it.?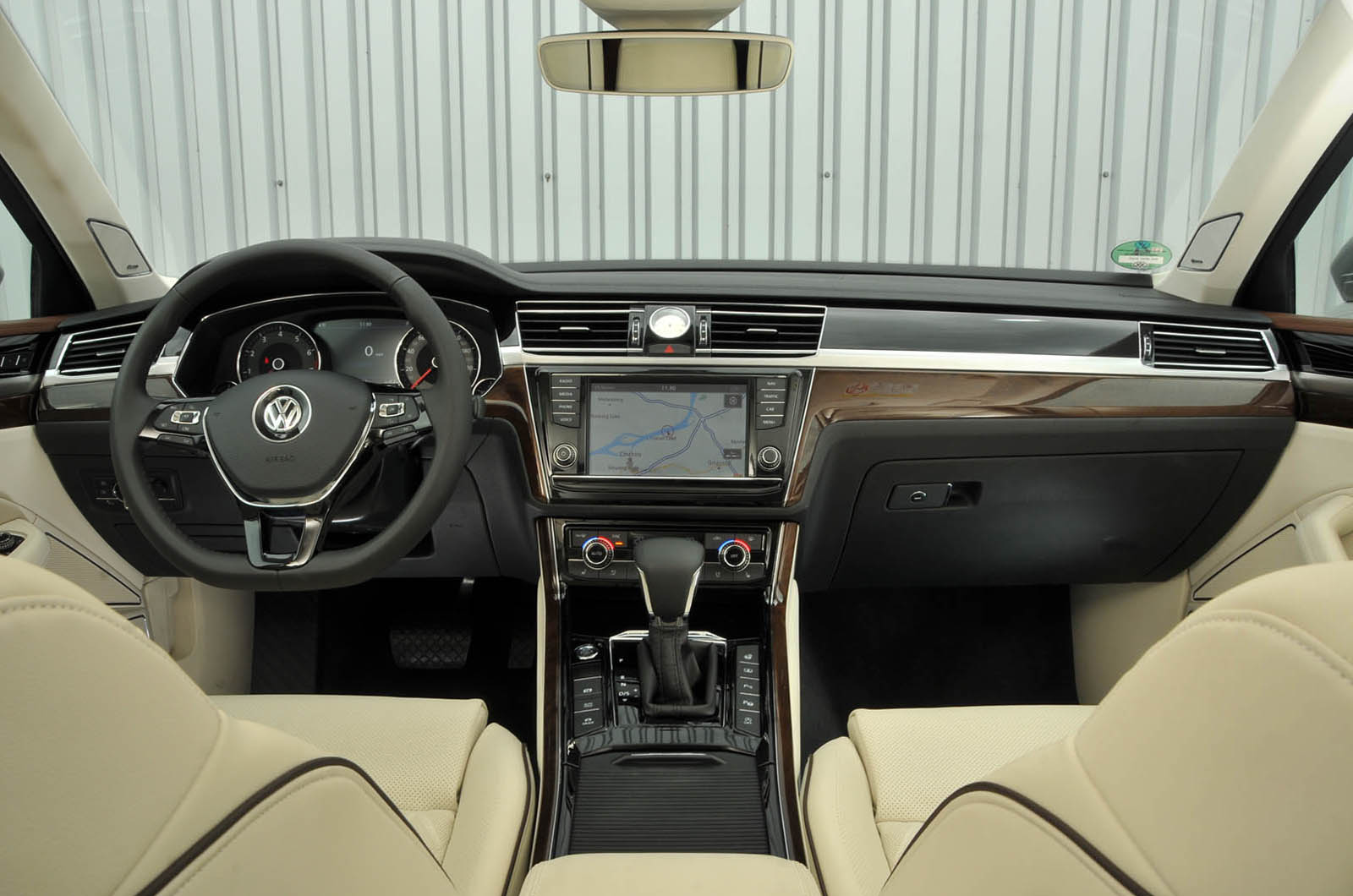 Fabulous, thanks fellas. Because if there is one thing I know about Chinatown, it?s that it is not the ideal location for a car photo shoot at lunchtime on a Monday, because it is both pedestrianised and full of people going for their lunch.
But we?ll be able to get close enough for a bit of flavour, reckons photographer Bradshaw ? although not with enough time for actual flavour, which is a shame ? and London is, after all, the kind of busy, bustling city that China?s urban areas specialise in. Although if my experience of Beijing is anything to go by, driving standards are even worse there than they are in London.
In a way, then, it?s as good a chance as we?ll get to see the Phideon in close to its natural habitat. Not that it feels terribly unusual; if globalisation of the industry has done anything, it has left luxury cars designed for a market 10,000 miles away feeling remarkably like luxury cars that could be sold anywhere. Were it not for the fact that the satnav insists we?re halfway between Hangzhou and Wuhan, you could be in any big, left-hand-drive Volkswagen. Which is, presumably, precisely why the Chinese liked the Phaeton in the first place.
Mind you, material fit, finish and appearance are better than those of most Volkswagens. Tolerances are millimetre-perfect, and two materials trying to approximate wood and aluminium respectively feature prominently. I couldn?t tell whether either is actually wood or aluminium (I suspect the former is but the latter isn?t, given how shiny and knurled its finish is), but in China they like conservative big cars with conservative interiors and that?s what they?ve got here. There?s ample room in the front, too, on broad, comfortable seats, and a very Volkswagen, very logically laid-out dashboard. I?ll come to the back in a minute.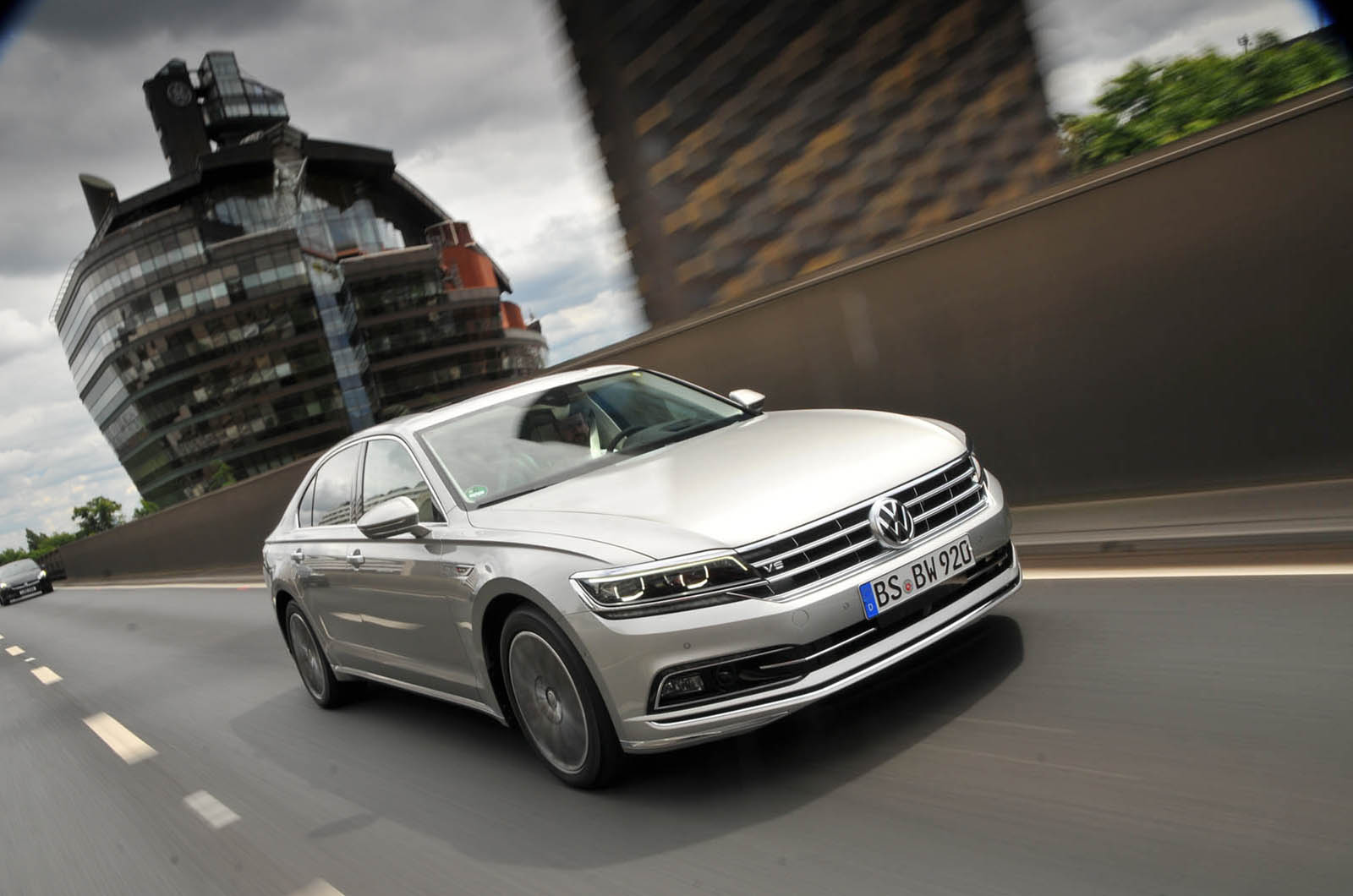 VW makes a fairly big thing of the Phideon?s features. It?s the first car to be based on the firm?s new Modular Longitudinal Matrix (MLB) platform, it has a 296bhp 3.0-litre V6 petrol engine and 4Motion four-wheel drive in this guise (a frontdrive 2.0-litre version can also be had and a hybrid will come later, but no diesels) and it?s the first VW to have a camera-based night vision system ? although given that we?ve only got a few hours in the car, it?s a week after the longest day of the year and we?re heading to one of the most brightly lit areas of one of the most brightly lit cities on the planet, assessment of that particular feature will have to wait until another time.
Push the button. Start the Volkswagen. Listen. I can hear a plane on its final approach to Heathrow but not a great deal in the way of an engine. Which is good. The gear selector for the eight-speed automatic gearbox is one of those old-school items that actually moves between slots and slips into Drive easily. And we?re off.
Well, this is? expected. There?s a just-right amount of creep as you ease off the just-right weight and feel of the brake pedal. The throttle pedal is large and ? guess what ? just right in its weight and response. The big engine hums away in a fashion that?s only matched in its imperceptibility by the gearchanges. Almost. You get less sense of integrity and technical sophistication here than you did in a W12 Phaeton ? less occasion, certainly, although the Phaeton wasn?t exactly big on drama either ? but if you?re looking for traditional big-saloon-cum-limousine traits, you?ll find them plentiful. A BMW 7 Series or a Mercedes S-Class has more to keep you entertained and occupied, and both have interiors that feel notably more innovative and special than the Volkswagen?s, but I wouldn?t have expected otherwise.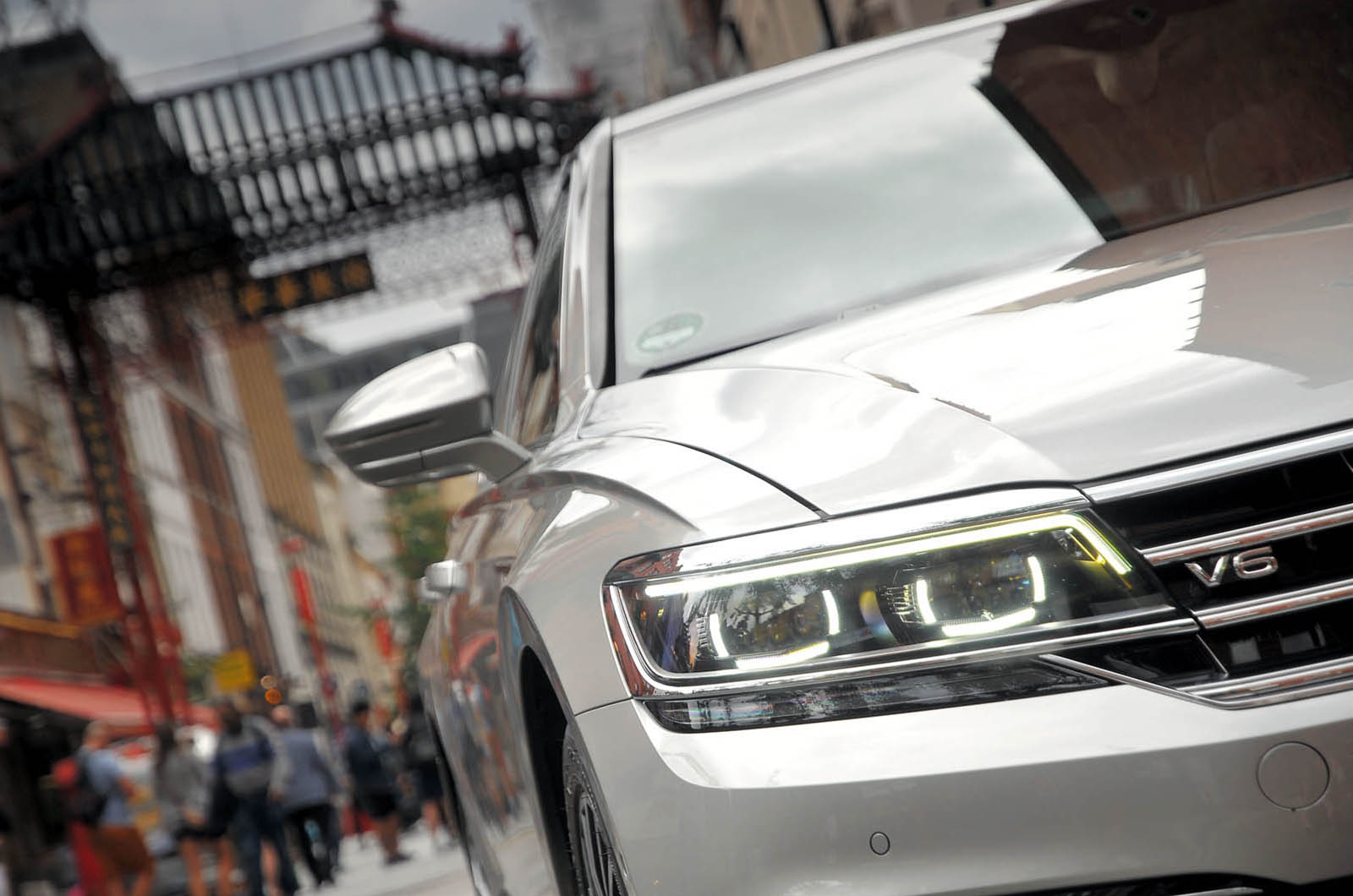 The air-sprung ride soothes away most surface imperfections, although, like most air-sprung cars, if the suspension is already in any way loaded and you find a pothole, there?s some hollow, harsh ?sproing? to its response. (No idea if that?s a technical word or not, but somehow I think you?ll get what I mean. Imagine sitting on a pressurised plastic water butt and whacking it with a rubber mallet.) But it?s comfortable enough, this car.
And ? as I discover time and again when making turns and manoeuvres of dubious legality around the periphery of Chinatown, the turning circle is excellent. Visibility isn?t bad, either. VW says the styling suggests that the future of the Passat is hinted at here, which is no bad thing. Not outlandish ? when is a Passat? ? but there?s a bit more aggression and edge to it.
Plus, Londoners with Chinese roots know what it is. It?s a pretty rare thing when people take selfies of themselves with Volkswagens in the background, or point animatedly at a VW saloon car, but as much as Londoners show interest in anything other than their own business, they show interest in the Phideon. I?m fairly busy inside trying not to upset couriers, van drivers and cyclists, but our photographer and an assistant are pretty busy fielding questions. Yes, it?s coming to China in the third quarter of this year. Yes, it?s built there. And yes, it?ll cost the equivalent of £115,000.
In terms of interest, it?s like doing a shoot in a supercar, only without the massive inconvenience of being unable to see anything or turn around, or having to deal with an obstinate low-speed clutch and scraping the wheels at every other kerbside.
The Phideon is a big car at 5.05m long and 1.87m wide, but it has such easy, smooth steering and it turns so readily that it?s pathetically easy to drive, even in these busy conditions.
But, still, a lot of Chinese executives only experience it from the back seat, so I do too. There are three seats back here, but the centre will mostly be used as an armrest. The big unit swings down with controls for the seats (massage, heat, cool, not much recline), audio and climate control. There?s a couple of inches of spare head room and about half a foot of knee room.
There?s a table mounted to the back of the front passenger seat, too, although its finish is on the shiny side. Material quality is the same in the back as it is in the front, which means it feels meticulously well put together, albeit from slightly lower-grade materials and with less fascination than an S-Class or 7 Series or even the VW Group?s own big executive car, the Audi A8, which, for the most part, the VW undercuts a bit.
It?s no bad place in which to spend time, though. Noise levels are just as low as they are up front, but the ride has a touch more intrusion, because you?re seated closer to an axle. It?s a good car.
Would it work here? I doubt it, which is why Volkswagen won?t bother offering it to us. A VW?s badge marks it out as premium in the supermini or pick-up segments, but not when it?s up against genuine luxury rivals. So just know that the Chinese keep their version of the Phaeton but that we?re not really missing out.
Daimler has purchased a controlling stake in taxi e-hailing company Hailo in order to merge the firm with its own Mytaxi service.
The move will see Daimler?s service connect 100,000 taxis in 50 cities across nine countries, making Mytaxi a stronger rival to Uber and a leading force in Daimler?s move to offer more mobility services.
Daimler brand Mercedes has emphasised particular interest in offering such services, with sales and marketing boss Ola Källenius telling Autocar earlier this year that the brand was already investigating increasing its involvement in car hire and sharing services.
On top of its Hailo purchase, Daimler has invested more than £420 million in its mobility services and platforms to date. Klaus Entenmann, chairman of the firm's financial services, has said the company is prepared to make further strategic investments as it continuously build its "mobility eco-system".
?By combining Hailo and mytaxi, we have created the largest European taxi e-hailing company,? said Andrew Pinnington, CEO of Mytaxi. ?We bring together world class technology, an iconic brand, high-quality people and the financial backing of our shareholders.?
Daimler?s purchase of Hailo represents a continued shift from selling products to offering more services to its customers. The trend is becoming increasingly common in the automotive industry. Just yesterday the PSA Group (responsible for Peugeot, Citroën and DS) announced a leader for its newly formed Mobility Services Department. The brand's department will compete with the likes of BMW and its DriveNow car hire service.
Mercedes to launch all-electric brand to rival BMW i this year