The new Volkswagen Golf, which is due to be unveiled next month before going on sale next year, will not be available in as many variants as it is now, as the scandal-hit firm focuses on increasing profit margins, boss Herbert Diess has revealed to Autocar.
VW?s operating profit margins are famously slim and dipped to 1.7% in the first half of this year. Diess has already signalled his intent to turn that around, both by renegotiating labour and supplier deals and by reducing the complexity of model line-ups.
?We need to simplify the product offering of the next Golf and have fewer variants, because we have got to get more cost-effectiveness into our company,? said Diess. ?We need to be more agile and more innovative, and this is one example.?
The current Golf is available in hatch, estate, convertible, Alltrack and SV bodystyles. Diess did not specify which were likely to be cut, but the recent decision to stop selling the convertible in the UK ? traditionally one of the stronger markets for open-top cars ? is believed to give an indication of the plan to focus on core models in future.
Diess is said to have pushed engineers and managers to reduce the expense of the MQB architecture on which the Golf sits, believing it has been over-engineered for the price points of the vehicles it underpins. It is also possible that the powertrain line-ups will be rationalised, with a greater emphasis expected on new mild hybrid 48V powertrains.
Diess?s push to raise margins is also believed to be a result of growing concerns that the firm?s £1.5 billion investment in a far-reaching electric car strategy ? based around the newly developed MEB platform on which the Paris motor show ID concept was based ? will put further pressure on the company?s profitabilty.
?One of the biggest hurdles we still have to take is a new deal with the unions,? said Diess. ?I am looking for higher productivity and to restructure the value chain to focus on new technology. We are talking, and I hope we can have an agreed plan to have a fix in place by 2020.?
Diess is also reported to have accelerated VW?s plans to launch more SUVs, which are more profitable and have a wider global appeal than other bodystyles. This is expected to include a Polo-based Nissan Juke rival, a Golf-based SUV to sit below the Tiguan and a large seven-seater aimed at the US and Asian markets. ?We will add some higher-contribution products as we prepare for 2020 onwards, when we will have a clear indication of our future,? said Diess.
In this week?s Autocar we drive the 11 contenders up for the title of Britain's best driver's car, including the Porsche 911 R, Ford Focus RS, BMW M2 and Ferrari 488 GTB.
There's a full introduction to the new Mini Countryman, which moves up in size and price bracket, and a first look at Lync&Co's 01 SUV and its accompanying car sharing services.
Another hello comes from the Mercedes-AMG E 63, replete with its 603bhp peak power output and a 3.4sec 0-62mph time, and there's also news on its Mercedes-Benz sibling, the X-Class pick-up truck concept.
We also catch a glimpse of a Seat Ateca Cupra prototype and imagine what Jeep's future Grand Wagoneer will look like.
Also in this issue:
First drives come from the Audi S5 Sportback, which is powered by a turbocharged V6 engine producing 349bhp and sports the looks to match, and we meet the Ssangyong Musso Ex, a rugged pic-up truck rival to the Toyota Hilux.
We get a first taste of the BMW M140i and its new straight-six engine, and subject the 429bhp Audi SQ7 to the full Autocar road test.
Our main feature, Autocar's annual best driver's car shootout, pits the above mentioned contenders up against six other hopefuls from the likes of McLaren, Aston Martin and Honda on some picturesque Welsh roads and the Angelsey circuit. Which is our favourite?
We examine that Formula 1 picture - you know, the one where Nico Rosberg's car is seriously loaded up at Suzuka - with input from Mercedes' chief race engineer Andy Shovlin.
Ahead of this weekend's Wales Rally GB event we get behind the wheel of a full-on WRC-spec R5 Ford Fiesta to get a taste of what the drivers will be experiencing.
Our long-term test cars:
New to the fleet is a Jaguar XF in 3.0 V6 diesel guise, so it gets an introductory once-over, while the Morgan 3 Wheeler continues to charm Autocar staffers, this time with a trip to a country manor hotel.
Our Honda Jazz meets its predecessors for a quick recap of how things have progressed, our Ford Edge squares up against its S-Max sibling and the Peugeot 308 GTi takes to the track at Autocar's handling day.
Deals:
James Ruppert says now is the time to buy a used Mini as prices finally hit rock bottom, and John Evans looks to the Mk1 Audi TT for his used buying guide, before we dive into the classifieds to find five compelling alternatives.
Where to buy:
Autocar magazine is available through all good newsagents and for download from Zinio and the Apple iTunes store.
You can also buy one-off copies of Autocar magazine from Newsstand and Magsdirect, delivered to your door the morning after.
Alternatively, never miss an issue ? subscribe to Autocar magazine today.
The third-generation Mercedes-AMG E 63 has been revealed. It's the fastest accelerating model ever produced by Mercedes?s burgeoning performance car division with an official 0-62mph time of 3.4sec in range-topping S 4Matic+ guise.
The car will make its public debut at AutoMobility LA (the Los Angeles motor show) in mid-November, and UK sales will begin during the first quarter of 2017. The new E 63 also holds the distinction of being the most powerful series production four-door model from AMG to date.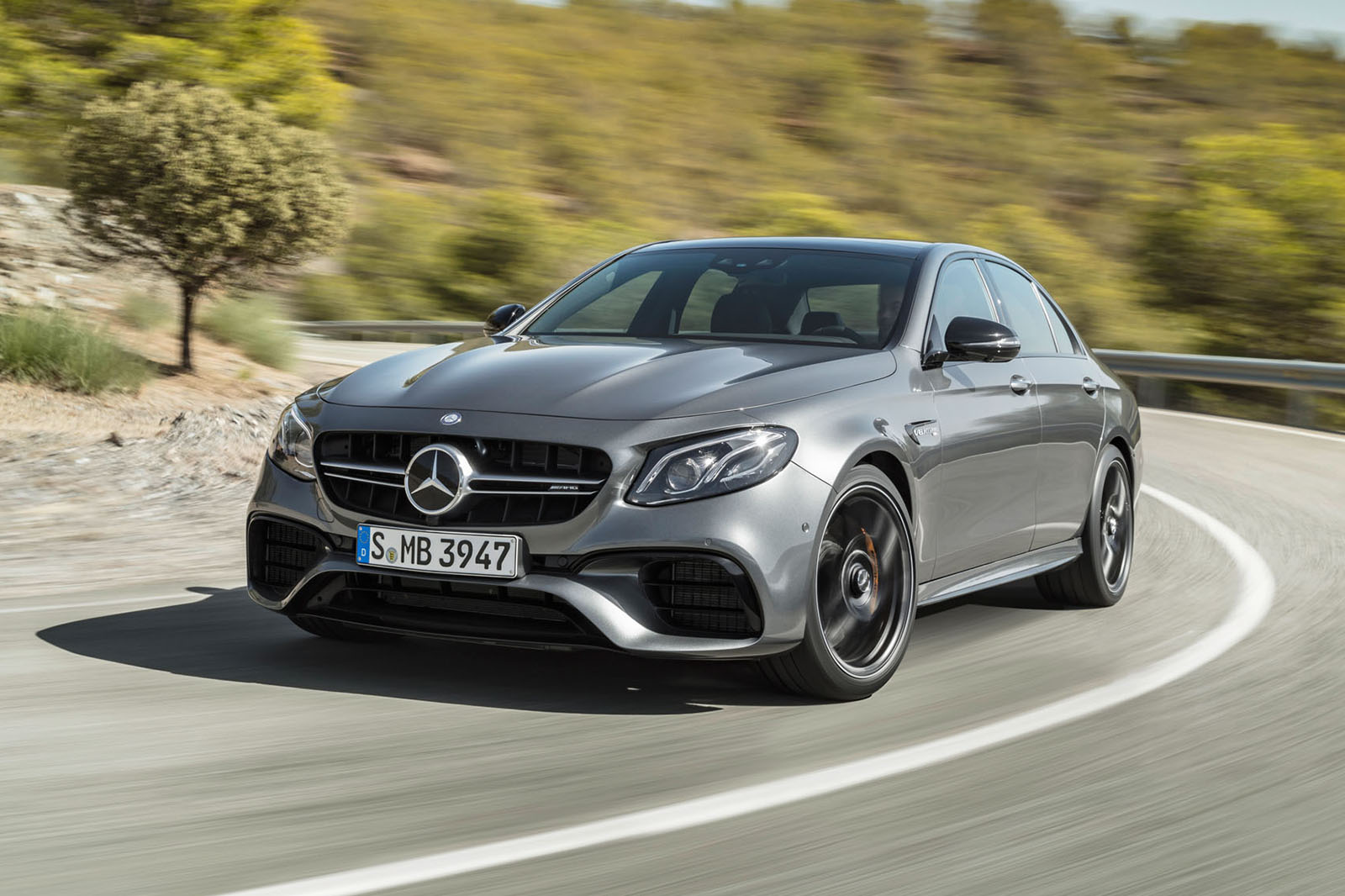 Fitted with AMG?s twin-turbocharged 4.0-litre V8 engine, the new E 63 will continue to be sold in two distinct versions. In standard E 63 4Matic+, it has 563bhp and 552lb ft of torque. The most popular model, however, is expected to be the range- topping E 63 S 4Matic+, which has added turbocharger boost pressure and other power enhancing tweaks, allowing it to produce a stout 603bhp and 626lb ft.
The recently unveiled BMW M5 Competition Edition?s twin-turbocharged 4.4-litre V8 engine serves up 592bhp and 516lb ft, while the Audi RS6 Plus?s twin-turbocharged 4.0-litre V8 gets 597bhp and 553lb ft.
The E 63's new engine, which is mounted on dynamic mounts in the E63 S 4Matic+, replaces the older twin-turbocharged 5.5-litre V8 used in the outgoing second-generation car, providing the standard model with an added 14bhp and 29lb and the S with an extra 26bhp and 37lb ft over its predecessor.
For the first time, AMG has fitted its 4.0-litre V8 with a pair of new twin-scroll turbocharger for use in the E 63, which claimedly will improve induction boosting properties and further enhance throttle response.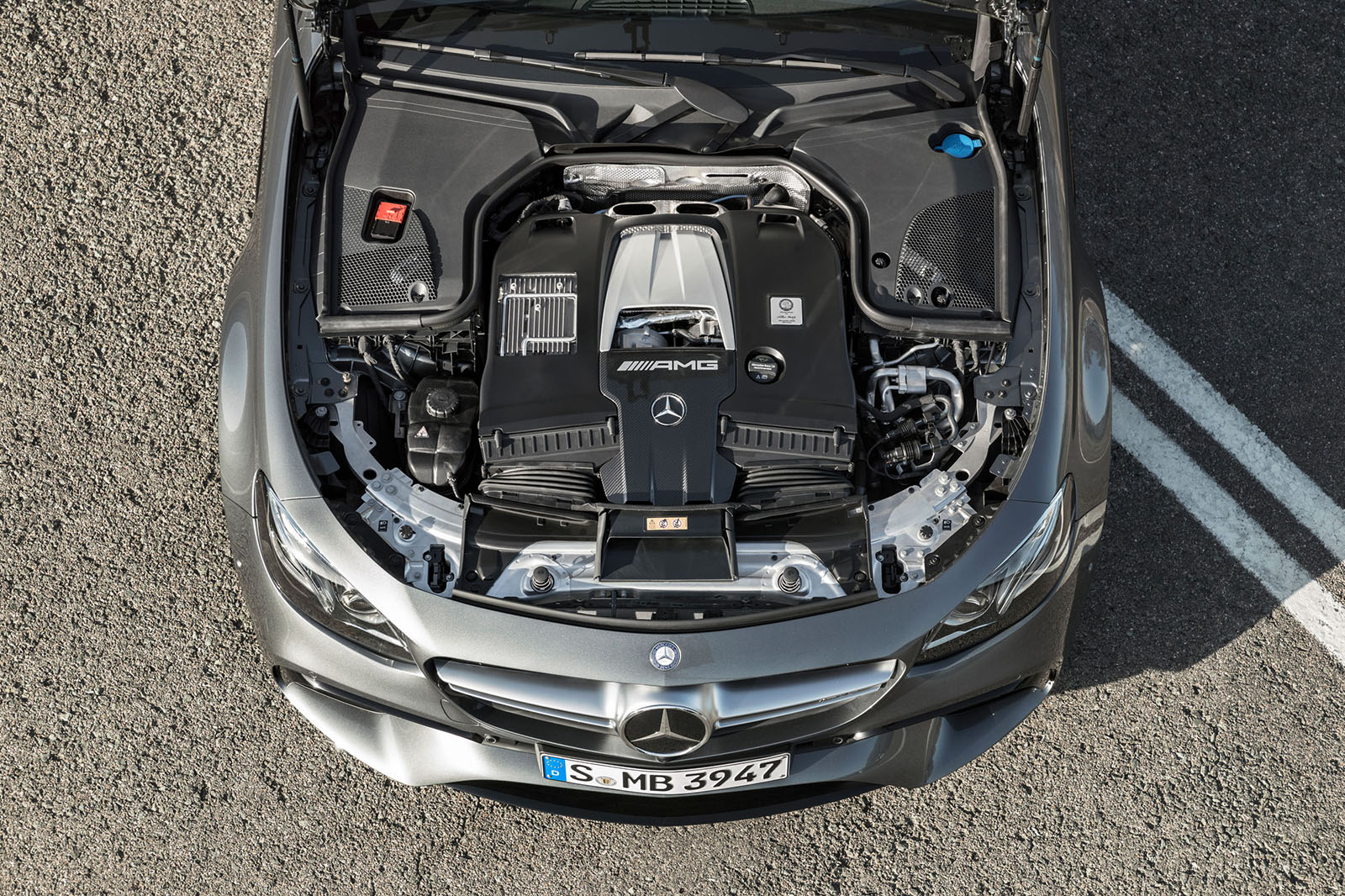 In its most extreme state of tune, as fitted to the E63 S 4Matic+, this new engine develops a specific output of 151.4bhp per litre ? some 16.6bhp per litre more than the engine powering the M5 and 2bhp per litre more than the RS6 Performance's engine.
This endows the new 1880kg E 63 S 4Matic+ with a power-to-weight ratio of 321bhp per tonne, an improvement of 12bhp per tonne on the old 1865kg E63 S 4Matic it replaces.
The engine also has AMG Cylinder Management for added fuel savings on part throttle loads. In city driving, four cylinders are deactivated between 1000 and 3250rpm when the engine is switched to comfort mode.
As in other recent AMG models, the driver can choose between four driving modes: Comfort, Sport, Sport Plus and Individual, via a Dynamic Select button on the centre console. In Comfort mode, a coast function decouples the engine from the gearbox on extended periods of trailing throttle at speeds between 37-100mph for better fuel efficiency. A fifth driving mode, Race, is also included on the E63 S 4Matic+.
The gearbox in the new E 63 is a nine-speed Speedshift MCT (Multi Clutch Technology) automatic, featuring a so-called wet start off clutch and steering wheel mounted shift paddles. Further driveline developments include a mechanical differential lock for the E63 4Matic+ and faster acting electronic differential lock on the E 63 S 4Matic+.
Both models will be available only with AMG's Performance 4Matic+ four-wheel drive system, which offers fully variable distribution of drive between the front and rear wheels for the first time.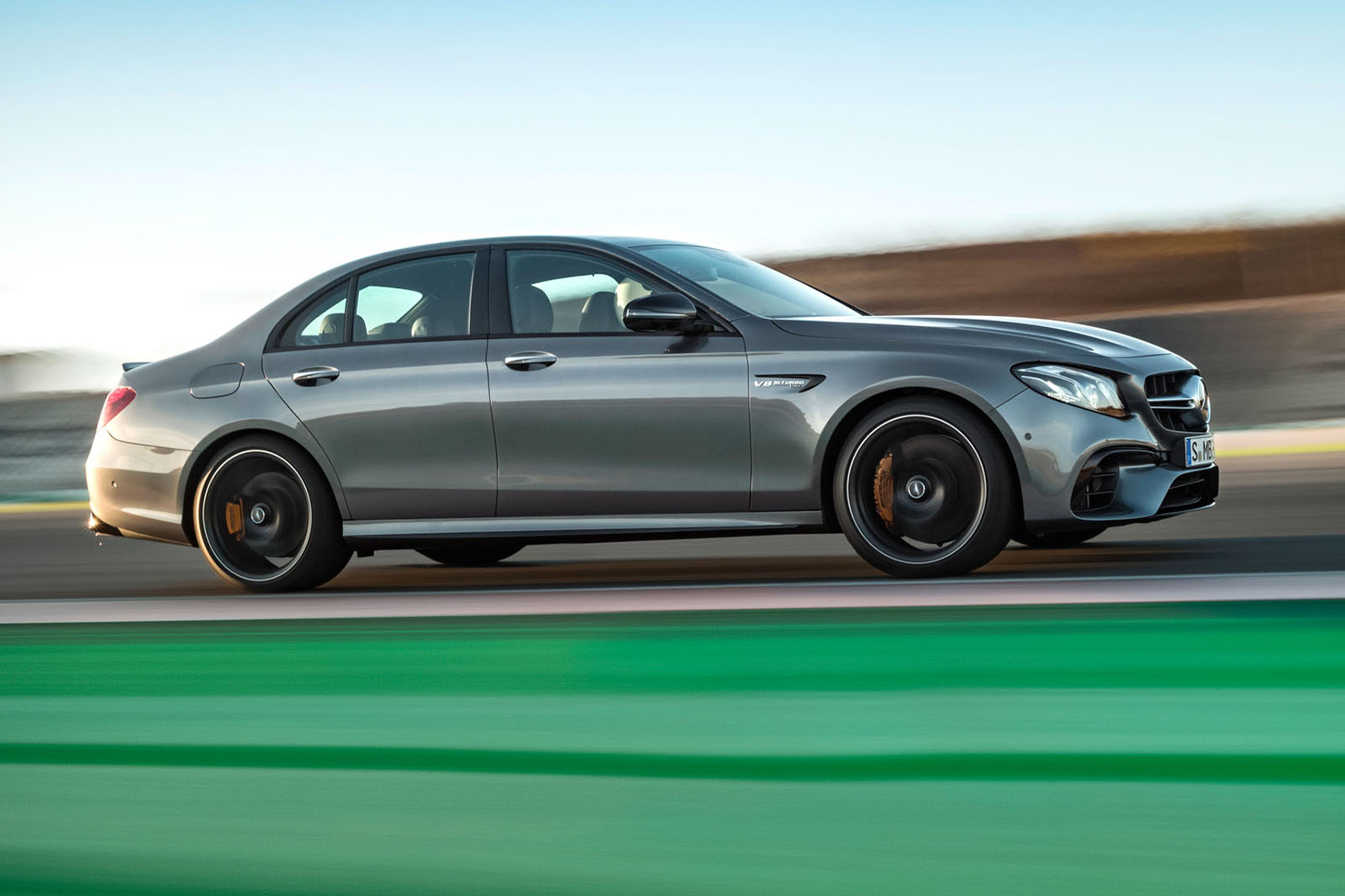 The E 63 4Matic+'s 0-62mph time is 3.5sec, and the E 63 S 4Matic+'s is 3.4sec. The top speed of both models is limited to 155mph, although buyers can specify an optional AMG Driver?s Package, which extends its maximum potential to a limited 186mph.
Despite the use of four-wheel drive, AMG says it has ensured the car retains its reputation for promoting oversteer when the conditions allow through the inclusion of a what it calls Drift mode. Activated by the shift paddles, it prompts the four-wheel drive system to deliver drive exclusively to the rear wheels, remaining engaged until the driver deactivates it.
The car's suspension is a specially tuned version of the sixth- generation Mercedes-Benz E-Class?s Air Body Control system, linked to unique tracks widths and wheel carriers. This gives the E 63 greater camber control than its predecessor.
The brakes are 360mm discs with six pot calipers up front and 360mm discs with single pot calipers at the rear on the E 63 4Matic+, while the E 63 S 4Matic+ has larger 390mm discs up front. Optional ceramic carbon discs measure 402mm up front and 360mm at the rear.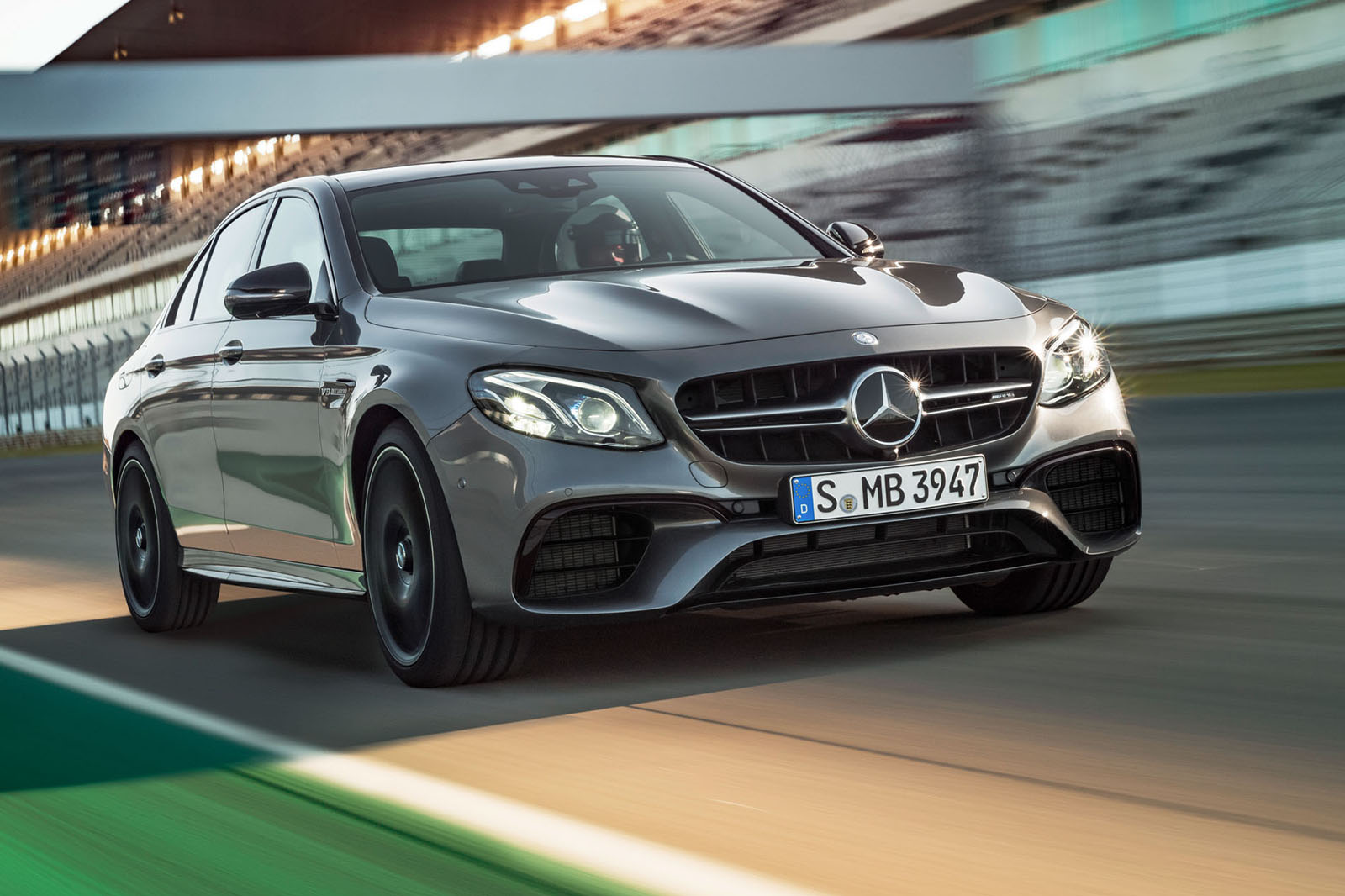 AMG has provided the new E 63 with a comprehensive styling package that not only makes it look sportier but also sets it further apart from regular E-Class models than previous generations of the AMG car.
At the car's front, there's a model-specific front grille, bumper, bonnet and fenders. The whell arches extend 17mm beyond those of the standard E-Class to house the E 63's wider front track and 20in wheels shod with 265/35 front and 295/30 tyres (standard on the E63 S 4Matic+ and optional on the E63 4Matic+).
The changes up front are combined with black exterior mirror housings, widen sills, boot deck mounted spoiler, new rear bumper and four traditional trapezoidal shaped tail pipes.
Mercedes-Benz has previewed the name and appearance of its upcoming mid-sized pick-up with the unveiling of a pair of concept cars conceived to set the scene for the introduction of the company?s newest commercial vehicle model.
Called the X-class ? a name it will retain for production, the new dual cab Mercedes-Benz pick-up has been depicted in two distinct forms by the German car maker?s in-house design team in the run up to a planned launch in the UK during the third quarter of 2017.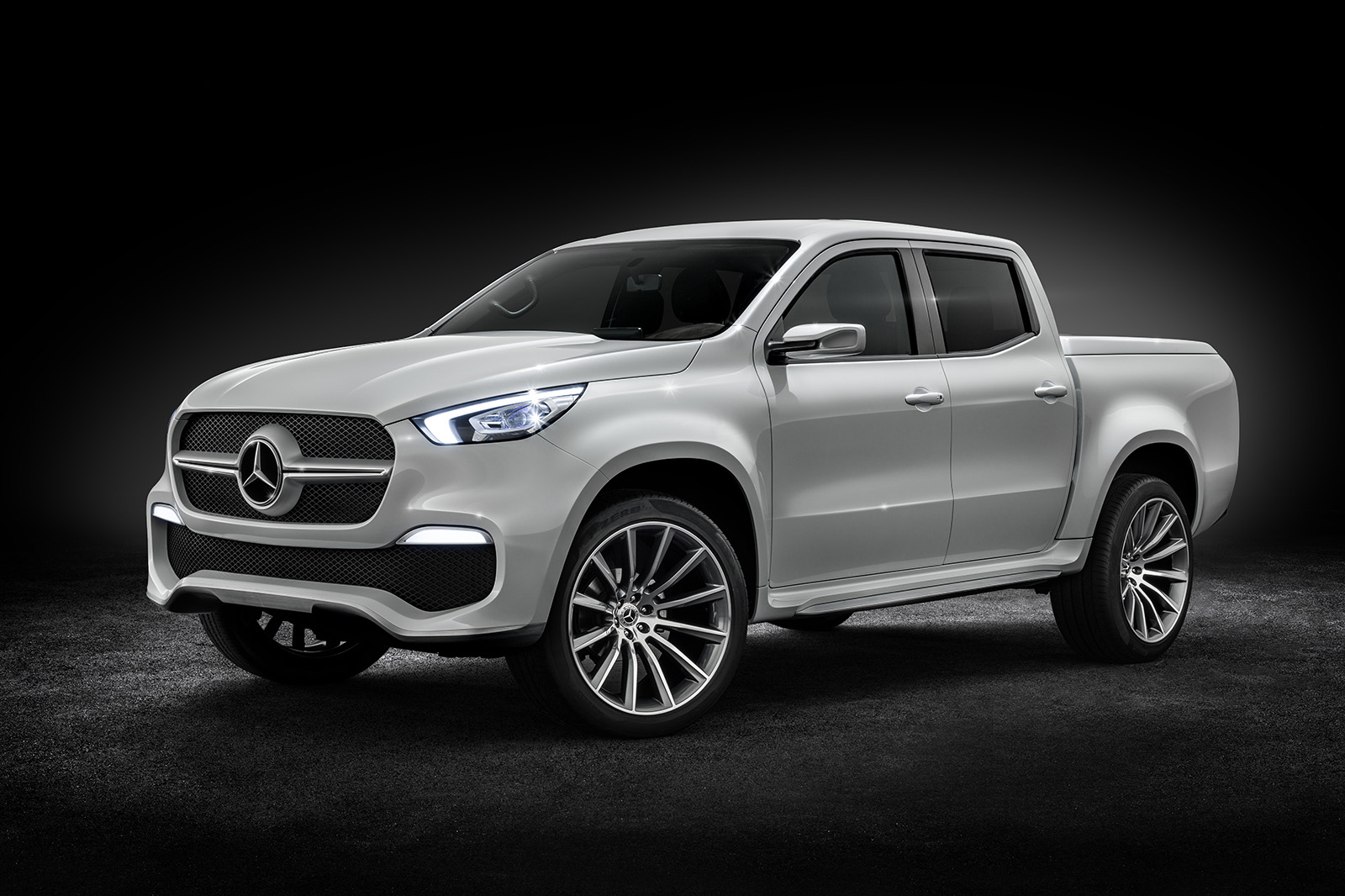 As the so-called stylish explorer, the new Mercedes-Benz concept is said to closely preview the initial X-class model, featuring a largely production ready steel body, an on-road road biased wheel and tyre package, moderate ride height and a luxurious leather lined interior.
A second variant of the new Mercedes-Benz, known as the powerful adventurer sets out to project a more rugged for the X-class in a concept that appears ready to storm the desert with generous ground clearance, four-wheel drive, additional wheel arch and body side cladding and off-road wheel and tyres.   
Read more: Seven more pick-ups that should be made
?With the X-class, we will close one of the last gaps in our portfolio,? says Mercedes-Benz chairman Dieter Zetsche. ?Our target is to offer customers vehicles matching their specific needs. The pick-up will set new standards in a growing segment.?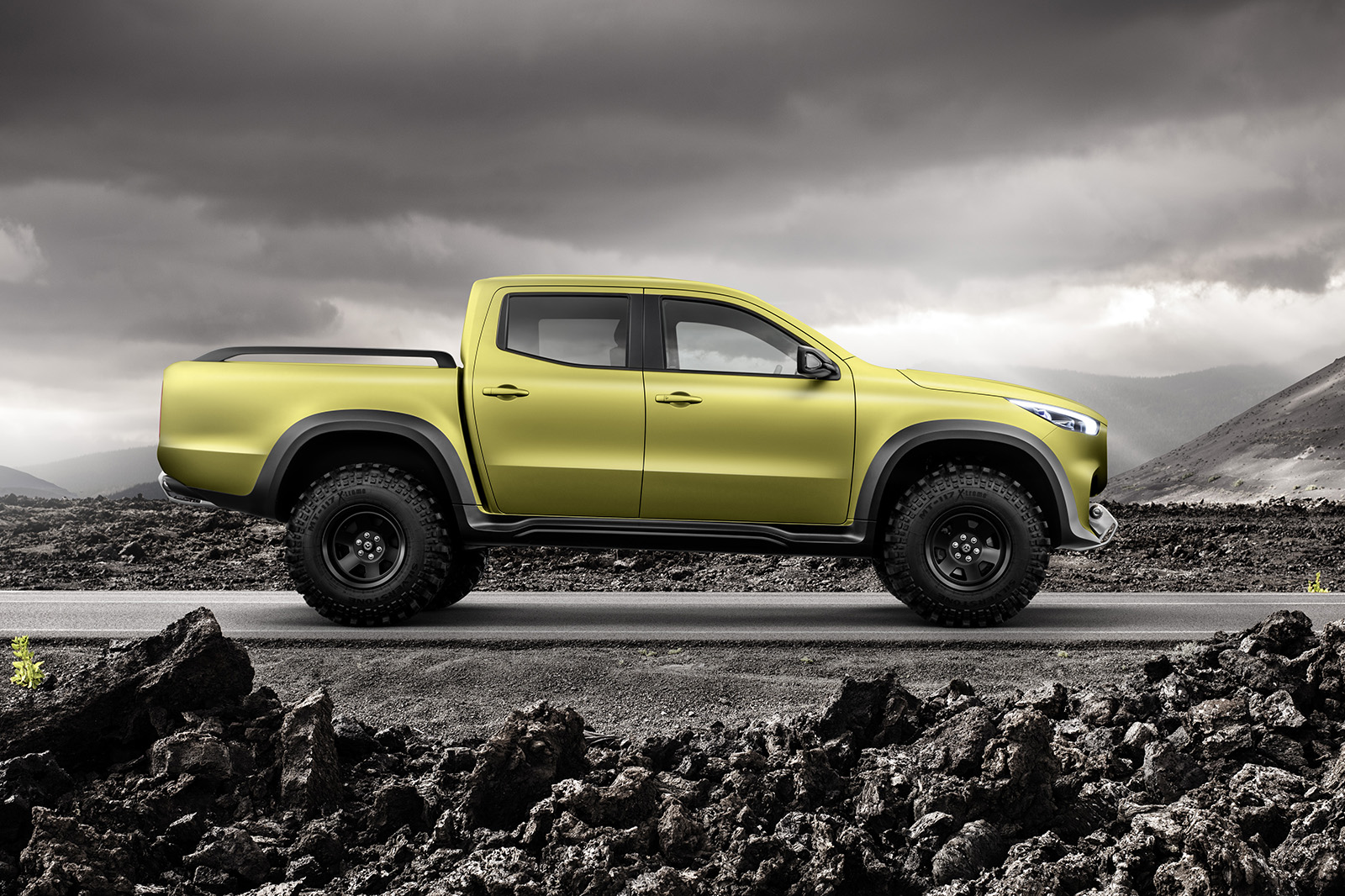 The new Mercedes-Benz has been developed in a three-way joint venture with parent company Daimler?s alliance partner Renault-Nissan. It will be produced alongside its sister models, the Renault Alaskan and Nissan Navara, in factories in both Spain and Argentina.
The design of the X-class remains true to a series of sketches of the new one-tonner released early last year. The overall surfacing treatment and individual design details evident within the body are similar to those adopted by the V-class in a move clearly aimed at linking it visually with the rest of Mercedes-Benz?s existing commercial vehicle line-up.
The front ends of both of the new concepts feature unmistakable Mercedes-Benz styling touches, including the German car maker?s traditional grille treatment with a prominent centrally mounted three-point star emblem along with the company?s latest headlamp lineage.
A prominent scuff plate integrated into the lower section of the front bumper and winch on the powerful adventurer attempts to convey the go-anywhere appeal of the new pick-up, which will be offered with both in a range of differing styling lines in a bid to provide it with what one Mercedes-Benz official described as the ?broadest possible market reach?.
By contrast, the stylish explorer sets out provide the X-class with a more athletic touch, with a power dome within its bonnet and heavily flared front wheel arches that help to emphasis visual width while providing the new pick-up with the ability to house wheels up to 22-inch in diameter, as sported by the more road biased versions of the new X-class concepts.
Four conventional front-hinged doors provide entry to the cabin, which receives two individual seats up front and a bench seat in the rear capable of accommodating up to three adults in the stylish explorer concept.
Behind its cabin, the X-class features a pick up bed similar to those featured on the Nissan Navara and Renault Alaskan, while each of the new concepts adopt their own unique tail lamp treatment within the tailgate section; the stylish explorerflaunting a full width oval shaped graphic and the powerful adventurer more conventional vertically stacked units on either side. The latter also features rails within the sides of the pick up bed.
The loading carrying potential of the new Mercedes-Benz pick-up is put at 1100kg, while the towing capacity of the range topping diesel V6 model that will form part of the initial wave of X-class models in selected markets is a claimed 3500kg. 
Inside, the dashboard and cabin appointments are modelled closely on those of the latest V-class commercial vehicle, complete with various touches from the C-class, including a free-standing central monitor as well as a rotary controller with integrated touchpad functions for the infotainment system. 
Carry over items from its sister pick-ups, the Nissan Navara and Renault Alaskan, include a traditional cable operated hand brake together with various controls within the centre console, including those for the air conditioning and various driving assistance systems.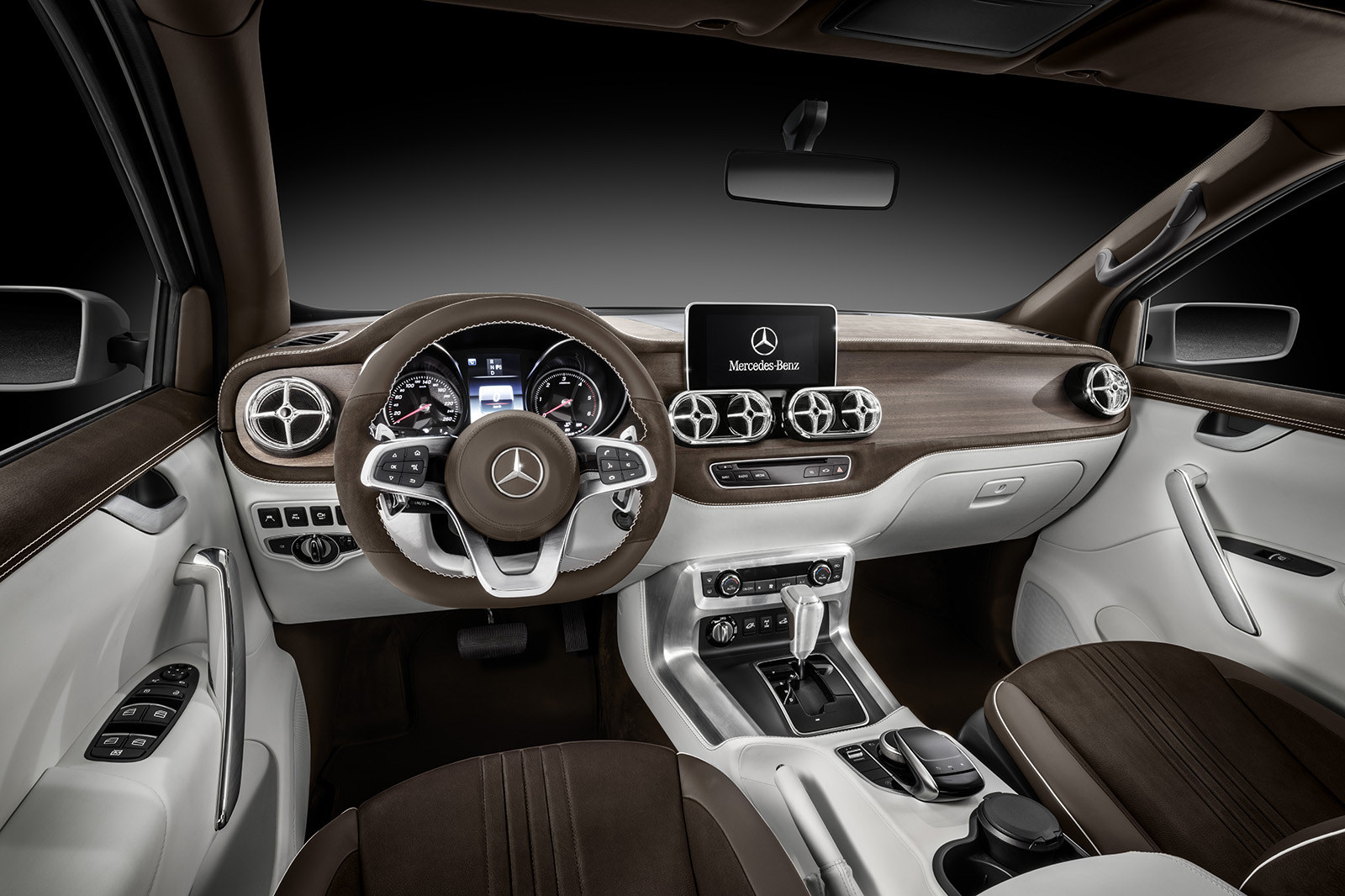 Among the features set to appear on the production version of the new Mercedes-Benz is a so-called communication module featuring an on-board SIM card that will enable owners to communicate with the infotainment system directly from their smart phone. 
Safety has also taken a prominent role in the development of the new pick-up, which Mercedes-Benz says will receive many of its existing camera, radar and ultrasound sensor based driver assistance systems in a move officials suggest will place it at the top of the pick-up class in terms of both standard and optional passive safety equipment.
The head of Mercedes-Benz?s commercial vehicle division, Volker Mornhinweg, has confirmed the first variant of the X-class will offer seating for five and be pitched as what he describes as an ?urban lifestyle and family vehicle? much in the mould of the stylish explorer. A range of accessories, including a bed cover, will enable customers to customize the new pick-up from the outset of sales.
A more utilitarian follow up model is expected to get a more rugged appearance and off-road options in line with look and features showcased by the powerful adventurer concept.
Mornhinweg says Mercedes-Benz?s commercial vehicle division has identified five different customer groups for its latest model: families, trades people, land owners, adventurers and individualists. ?We will thus appeal to new customers who have not considered owning a pick-up before,? he says.
Among the engines planned to power the X-class are yet-to-be-specified four-cylinder petrol and diesel units together with the top-of-the-line V6 gasoline engine showcased in the concepts of the Mercedes-Benz pick-up revealed in Stockholm, Sweden.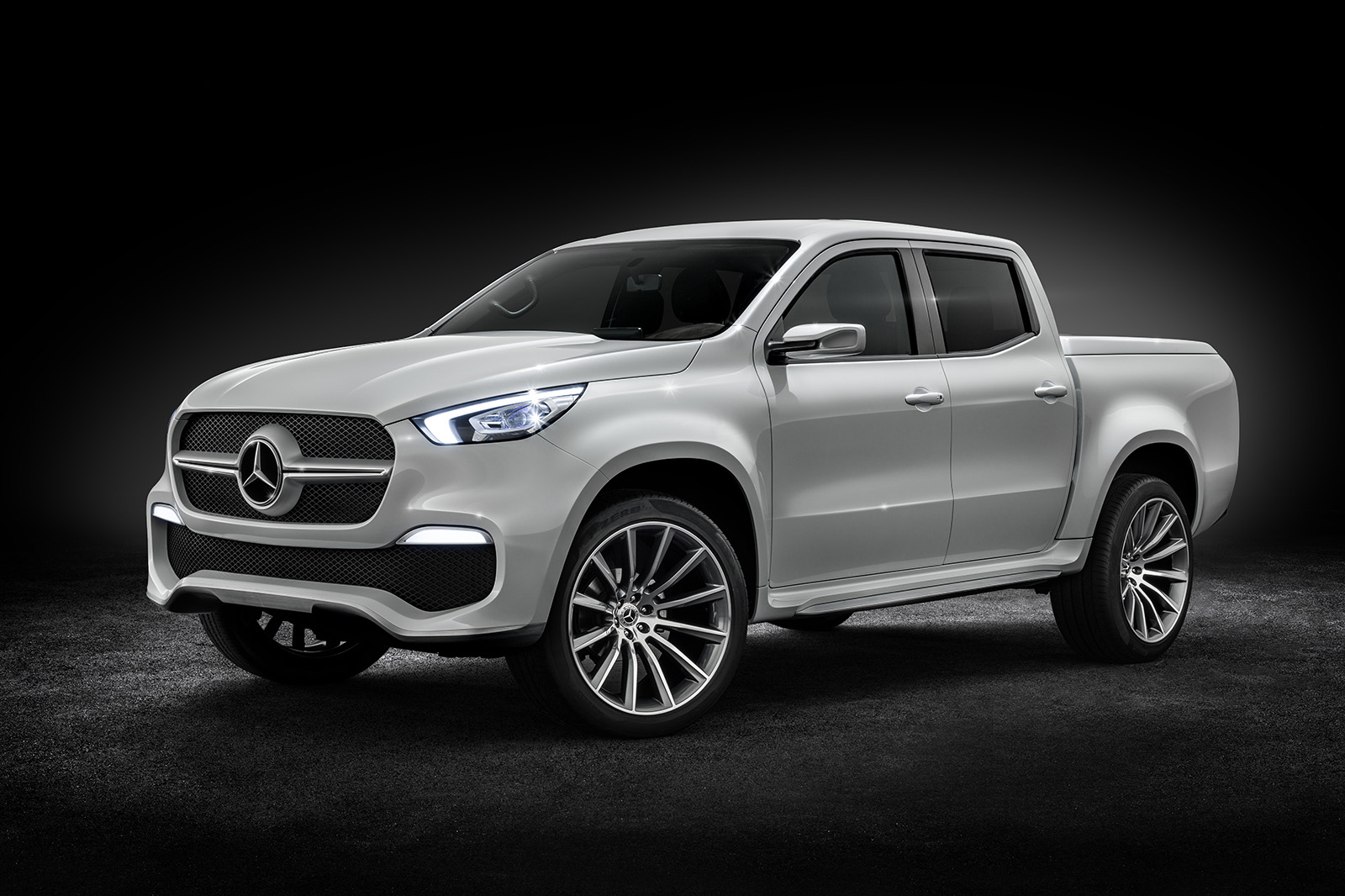 Alongside standard rear-wheel drive for lower end models, the new pick-up will also receive a 4Matic four-wheel drive system as an option (standard on the V6) in combination with a transfer case offering low-range gearing, on-demand differential locks and electronic traction control for added ability away from the bitumen.
Underpinning the new Mercedes-Benz is a ladder frame platform and uniquely tuned version of the chassis used beneath the Nissan Navara and Renault Alaskan, with a MacPherson strut set-up at the front and five-link arrangement at the rear. 
With the introduction of the X-class, Mercedes-Benz intends muscling its way into a global mid-size pick-up market put at around 2.3 million per annum. The undisputed global market leader is Toyota, which traditionally shifts around 700,000 of its Hilux/Tacoma each year. 
Central to the up-market competition for the new pick-up is the recently facelifted Volkswagen Amarok.
Among the main markets being targeted by Mercedes-Benz with the new X-class are Australia, Argentina, Brazil, Europe and South Africa.
Production for the Australian, European and South African markets will kick off at an existing Nissan factory in Barcelona, Spain in 2017.  The X-class for South American markets, including Brazil and Argentina, will roll off assembly lines in Cordoba, Argentina beginning in 2018.
Mercedes-Benz says it is investigating the possibility of X-class sales in North America - the world?s largest pick-up market. ?Nothing is final just yet. We have possibilities in NAFTA based production facilities that would allow us to build and market the new model in the US, but the priority is establishing it in other markets first.?